Problems viewing this email? Please select 'always display images' or click here
INVESTMENT OFFER: TIGNANELLO 2011
Tignanello 2011

£510 per 12x75cl - Best UK Market Price

| | | |
| --- | --- | --- |
| | | |
| • | | 95 points from Antonio Galloni. |
| • | | Growth projection: 30-50% over the next 3 years. |
| • | | The flagship wine of Piero Antinori who helped revolutionise the Italian wine scene and in particular the wine making region of Tuscany. |
| • | | Best value high quality vintage in recent years with a score of 95 points from Antonio Galloni. |
| • | | Global brand power - experiencing strong demand from Asia, Europe and the Americas. |
| • | | Highest production but drinks the earliest out of the 3 wines, leading to rapid reduction in supply. |
"Kirsch, rose petal, pomegranate, exotic spices and mint are woven together in a fabric of notable class in the 2011 Tignanello. An exotic wine that captures the essence of the year, the 2011 is endowed with magnificent complexity, nuance and class. The silky, polished finish makes the 2011 incredibly appealing today, but the wines from this site have always aged very well. The 2011 is going to need time to shed some of its baby fat, but it will always remain extroverted and racy to the core. I can't wait to see how the 2011 ages."

Score: 95

Antonio Galloni, vinousmedia.com, September 2014


Estate Background
The wine which led the way for the Super-Tuscan movement which swept the world before it; the evolution of Tignanello represents a number of historic innovations for Italian wine: the first Sangiovese to be aged in French-style barriques, the first abandonment of the mandatory portion of white grapes in a Tuscan red wine blend and the first wine to adopt the non-native Cabernet Sauvignon. From 1971 to this day, Tignanello is around 85% Sangiovese, with Cabernet varieties making up the remainder. It is a warm, velvety and inviting wine with an opulent palate that often boasts black cherries, spices, vanilla and tobacco, and smooth, silky tannins.
Super Tuscan Wines - At a Glance
Super-Tuscan wines have been experiencing an increase in demand over the last few years, offering buyers both very strong scores and value for money. The powerhouse Italian region is currently experiencing strong demand from Asia, Europe and the Americas. James Suckling recently noted that Super Tuscans 'globally lead the way in fine Italian wine trading' and also stressed that high end wine collectors in Hong Kong and Shanghai are particularly keen on wines such as Tignanello, Ornellaia, Masseto & Sassicaia. This is reflected by Italian wine sales increasing year on year since 2009, with the limited production aiding the mass appeal.
Focusing in on our recent recommendations from the region, below is a table to show how each one has performed over that time period.

Average performance of 22.47% has been generated by involving clients in the top releases from Tuscany and we expect this strong price trend to continue given that the top label wines from this region trade at an average price of £1,850 per 12x75 compared to £3,940 for the Bordeaux Firsts.
Investment Analysis
Italian wines have certainly been dominant in the volume traded stakes this year but still represent incredibly good value in comparison to the top wines of Bordeaux and Burgundy. Super Tuscans are certainly having a good run and this looks set to continue as a result of healthy demand and attractive release prices. Tignanello offers investors the opportunity to maximise the potential of this area of the market with average growth across comparable vintages of 57% over the last 5 years.
Vintage Comparison
When drawn in line with recent comparable vintages, the value and growth potential is clear to see:

(2007 has been excluded as a lower scoring vintage)
2004 Vintage - 94pts, A Price Trajectory Comparison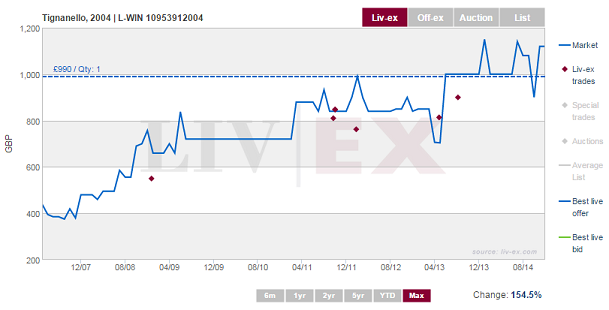 As can be seen from the graph above, since its release in 2006 the 2004 vintage has continued to appreciate consistently averaging c.19% CAGR. With the 2011 vintage being rated higher than the 2004, and with similar quality across the board for Tuscany, the 2004 is a suitable benchmark for performance.
Key Investment Points
Reg. Company No: 06350591 | VAT No. GB 129 9514 84 | St Andrews House, Upper Ham Road, Richmond TW10 5LA.

© 2014 All Rights Reserved. Cult Wines Ltd & Wineinvestment.com | You must be 18 or over to order.