Problems viewing this email? Please select 'always display images' or click here

INVESTMENT OFFER:
GRIOTTE-CHAMBERTIN 2009 GRAND CRU, DOMAINE PONSOT
Griotte-Chambertin 2009 Grand Cru, Domaine Ponsot (94 pts BurgHound)


£1,200 per 6 bottle case
(18 CASES AVAILABLE - EXCLUDING MANAGEMENT FEE)

"The results are as distinctive as the methods…these are perhaps the most powerful wines in Burgundy…it is amazing how phenomenal Ponsot's wines can be"



Robert Parker Jr




Key Points

| | | |
| --- | --- | --- |
| | | |
| • | | Total Annual Average Production = 3,950 bottles = c. 660 cases (6x75cl). |
| • | | One of the most iconic wine producers in Burgundy. |
| • | | Burgundy continues to perform well - high levels of demand at auction. |
| • | | Strong long term potential, highly collectable. |
| • | | We are the Lowest UK price at around 5% below market. |
| | | |
Background

Ponsot was one of only a dozen domaines to begin estate bottling prior to the war in 1934 and after training as a lawyer, Hippolyte's diplomatic skills proved key helping to define the Appellation d'origine controlle system in Burgundy throughout the year of 1935.

Fast forward a generation and it is now the grandson of Hippolyte; Laurent Ponsot who runs the domaine having taken over winemaking duties from his father Jean-Marie in 1983. His production methods have been unique ever since and the domaine grows wine with a clear biodynamic theme; using no fertilizers, pesticides or weed killers and refraining from the use of a more common sorting table, favouring grapes hand picked into wicker baskets. With many winemakers now seemingly desperate to make their biodynamic status official and despite many similarities in his methods of production, Laurent Ponsot insists that the domaine is distanced from this tag.

The wines are late harvested, with Ponsot often the last domaine to harvest in the Cote de Nuits and then aged slowly on lees for up to 30 months.


Focus on Griotte-Chambertin

1990 vintage = 95 pts (best ever score) = £6,108 per 12 (£509 per bottle) +154.5%
2005 vintage = 94 pts = £4,200 per 12 (£350 per bottle) +75%

2009 was originally scored 92-95 pts and Allen Meadows says the following:

''This is a really impressive effort and if the palate complexity can eventually match that of the nose, this should be able to achieve, or perhaps even exceed, the upper end of my predicted range.''

If the wine does perform in barrel in line with Allen's suggestions, then it would become the highest scored vintage of this wine produced with the potential to be greater than the 1990.

''Overall, Ponsot has fashioned brilliant wines in 2009 and while at this early stage they're not quite as good as his other worldly '05s, there isn't much to separate the two vintages.'

This would suggest the 68% disparity in price between 09 and 05 is worth a closer look. Buyers looking to pick up the best value option between the two, will undoubtedly side with the 2009 pushing prices upwards..


Comparison



Price Comparison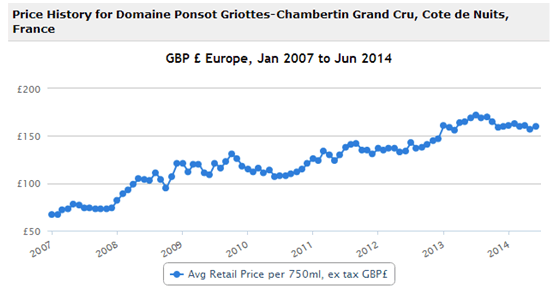 The above table shows the recent price appreciation of this wine on average over the past 7 years. There has clearly been a growing interest in Ponsot's offerings across the board but the Griottes-Chambertin Grand Cru has moved more steadily than others and remained somewhat under the radar.




Vintage Comparison


Vintage quality is arguable more important than individual critic scores in Burgundy, so it is important to look at the relative quality of the 2009 vintage versus equivalent vintages.

The table above clearly highlights the value merit of the 2009 vintage by comparison to the 2005 and 1990. Incidentally, 2009 is considered alongside the other great vintages of Burgundy. Thus, at present the gap in price does not correlate with their comparable quality..




Burgundy Performance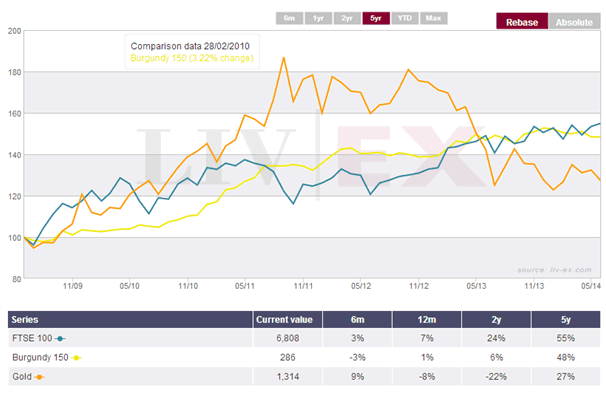 'Top Burgundy has outperformed top Bordeaux by a staggering 50% since the market peaked (June 2011)'
Liv-Ex.


Reg. Company No: 06350591 | VAT No. GB 129 9514 84 | St Andrews House, Upper Ham Road, Richmond TW10 5LA.

© 2014 All Rights Reserved. Cult Wines Ltd & Wineinvestment.com | You must be 18 or over to order.