Problems viewing this email? Please select 'always display images' or click here

INVESTMENT OFFER:
CARRUADES DE LAFITE 2013
Carruades de Lafite 2013


£980.00 per 12 (88-90 NM score)
UK BEST MARKET PRICE - EX MANAGEMENT FEE

We only have 40 cases (12x75cl) at this highly competitive buy price and therefore this is a client only offer! We would advise all clients to consider taking up an allocation in some capacity ahead of this position being closed out..


Cult Wines Recomendation
Following our recent success with le Petit Mouton; the second wine of Mouton Rothschild, we have done further investigation into other First Growth Estates and their better valued second wines. Our search has led us to the darling of Bordeaux, Lafite Rothschild and more specifically its second tier offering Carruades de Lafite.
This is only our second recommendation from what was a difficult vintage and whilst we are treading with caution for the 2013 EP campaign, we feel that alongside the Petit Mouton, the Carruades de Lafite '13 will provide immediate value, strong short term performance and cement itself as a staple addition to all client portfolios.
When making moves in 'off prime' vintages, value is essential and with comparable physical vintages trading at over £1,700 per case the Carruades de Lafite 2013 is clearly very well priced for the investor and has plenty of room for substantial price movement ahead of physical delivery in Spring 2016.

Key Points

•
£980 per 12.


•
(88-90) score from Neal Martin writing for eRobertParker.com.


•
Second wine of the legendary 1st Growth, Lafite Rothschild.


•
Still carries 'cautious' favour in Asian market.


•
Comparable, physical vintages trade at a minimum of £1,600:

- 2000 (90) @ £2,050
- 2004 (89-90) @ £1,760
- 2005 (89) @ £1,760
- 2006 (90) @ £1,680
- 2007 (90) @ £1,760
- 2008 (91) @ £1,600


"The Carruades de Lafite is a blend of 64% Cabernet Sauvignon, 29% Merlot, 4% Cabernet Franc and 3% Petit Verdot. It has quite a floral bouquet with touches of dried violet petals infusing the crisp blackberry fruit, laced with cedar and a touch of smoke. The palate is medium-bodied with a supple entry, starting with black fruit but gently moving to more red fruit towards the finish. There is not the usual persistency, but it has pleasing purity and approachability."

Score: (88-90)
Neal Martin

, eRobertParker.com
April 2014
Brand
Carruades de Lafite is the second wine of the world famous Chateau Lafite Rothschild, and is one of the most famous and prestigious wine producing estates in the world. It is based in the Medoc, on the left bank of the Gironde River, situated in Bordeaux France, and has been under the ownership of the wealthy Rothschild family since the 19th century.
Investment Analysis

As can be seen from the graph below, the 2013 Carruades de Lafite is the cheapest on the market. The score (bare minimum) is in line with that of 2006 and 2007, with comparisons being drawn directly to the '07 which currently trades at over £1,750, representing 85% growth.

The most recent physical vintage of Carruades de Lafite is the 2011, which is scored at the bottom end of the 2013 spread and actively trades at £1,300 per 12. This is a clear price disparity of over 35%, which we expect to be gained over the next 24 months..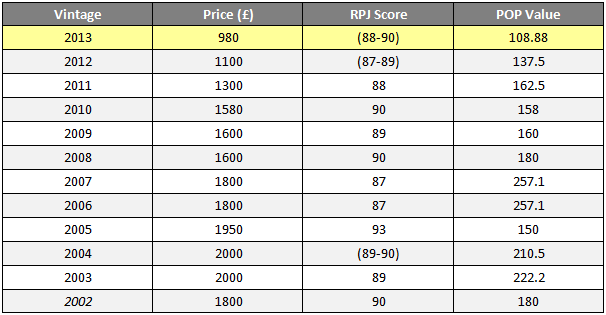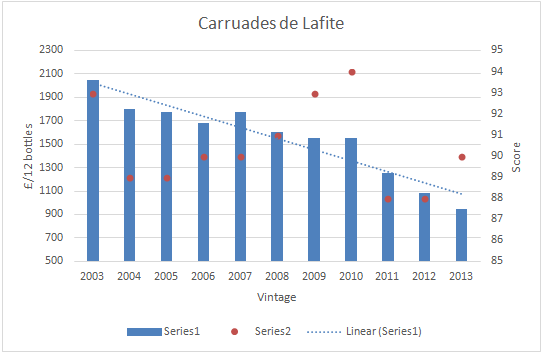 Key Points:

• Very little downside risk – most affordable Carruades de Lafite vintage.
• Growth projection of 35% ahead of physical release in Spring 2016.
• Compared to 2007 vintage, trades over £1,750.00 per 12.
• Very limited availability at this buy price.
• Surge in demand from Far East expected on physical delivery.


Reg. Company No: 06350591 | VAT No. GB 129 9514 84 | St Andrews House, Upper Ham Road, Richmond TW10 5LA.

© 2014 All Rights Reserved. Cult Wines Ltd & Wineinvestment.com | You must be 18 or over to order.