Wine Investment Offer - 7th August 2015
La Mission Haut Brion 2012 - £1,350 per 12x75cl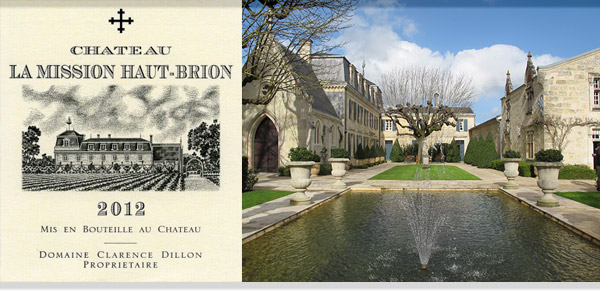 La Mission Haut Brion 2012 - 97 Points - £1,350 per 12x75cl OWC


Price exclusive of management fee



'At first-growth levels of quality, this is a stunning wine'


Rober parker - April 2015 LMHB 2012



Key Investment Points:



Recently upgraded from 91-94pts to 97pts by Parker.
Wine of the vintage alongside Haut Brion (98pts).
£1,350 per 12x75cl, Best UK Price.
Prices are yet to move following the recent upgrade, market focus has been held elsewhere with the release of the 2014 and the recent 2005 re-scores.
Offers value and growth potential against vintages off a similar mark.
Production down to only 5,000 cases for 2012 Vs average productions levels of 7,000 per year.
2012 a great year for Pessac, comes close to rivalling 2009/2010.
| | | |
| --- | --- | --- |
| | Want to invest in La Mission Haut Brion 2012? | |
| | | |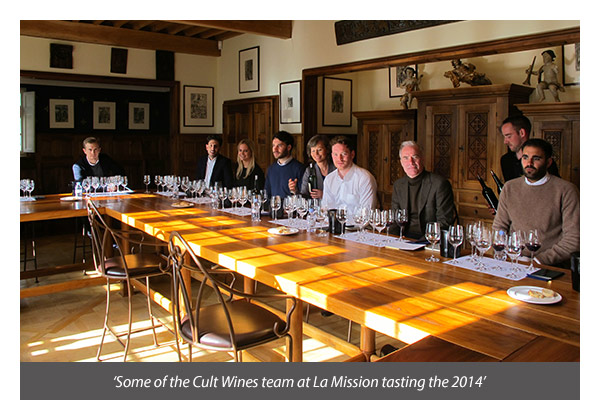 Estate Overview:

La Mission Haut Brion comes from the Pessac-Léognan appellation, classed among the Grand Crus in the Graves classification of 1953. The Chateau has a rich history in producing fantastic wines, something that has led to La Mission being labelled as "the 6th First Growth Estate' or the 'unofficial First Growth'.

La Mission Haut Brion has become a clear favourite amongst wine enthusiasts due to the consistent levels of quality produced by this estate. It is also none other than Robert Parkers favourite Bordeaux producer, making up a large majority of his own personal cellar. This is reflected in his scoring for LMHB, with the estate holding the record for the most 100 point wines, having no less than 7 to date! A comparison to two well-known First growth estates, Lafite Rothschild 3 x 100pts and Mouton Rothschild only claiming 4 x 100pts, shows why this wine is so highly regarded.


Tasting Notes:

As for the 2012 La Mission Haut Brion, this wine (41% of the total production) continues to perform as it has for nearly a century. At first-growth levels of quality, this is s stunning wine that is full-bodied and very concentrated with notes of graphite, subtle charcoal embers, crème de cassis, blackberry and underlying subtle earthiness. The wine is full and powerful, rich and concentrated. And sure enough, the alcohol level tips the scales at 15% from a blend 62% Merlot and 38% Cabernet Franc. This is a big, blockbuster La Mission Haut Brion that should age effortlessly for 30-40+ years. However, the tannins suggest that this wine should not be touched for another 5-6 years, as its one of the more backward of the 2012 Pessac-Léognans. Bravo!



Robert M. Parker, Jr | Score: 97 | Apr 2015 | Drink: 2020 - 2060




Parkers View on the 2012 Vintage:

What stands out about the bottled 2012 Bordeaux is that they performed as well, if not better, than the barrel-tastings, which is always a great sign. The most successful sectors in 2012 were Pomerol, Pessac Léognan and parts of St.-Emilion. Low yields and a rather surprising ripeness (alcohol levels run from 13.5%-15% across the board) was not far off the record level of alcohol achieved in the two great vintages of 2009 and 2010. However, the acidities were low and the wines made from yields in Bordeaux that were the lowest since 1991. This has translated into some surprisingly big, rich, concentrated Pomerols, Pessacs and St. Emilions that are low in acidity, high in alcohol and loaded with flavor.


Price comparison: LMHB 2012 Vs First Growth 2012



The table above clearly demonstrates the relative value LMHB 2012 offers as the '6th First Growth', only bettered in quality by its neighbour Haut Brion.

The 2012 vintage is the only vintage since 1929 to have a score of 97 points, so identifying direct benchmarks isn't easy. However, the following table presents a compelling case to suggest the 2012 should comfortably find a trading level of £2,000+ per case over the next 3-5 years.




| | | |
| --- | --- | --- |
| | We only have a modest allocation at UK market best and would therefore encourage our client base to contact their portfolio manager to secure this highly attractive option. | |
| | | |

Summary Points:



Best value wine from the 2012 vintage.
Has only just been physically released.
Production levels lower than average of 7,000 cases.
Minimal downside risk at current price.
60-90% growth over a 5 year term.
Cult Wines Unit price 5% below rest of UK market.

Reg. Company No: 06350591 | VAT No. GB 129 9514 84
St Andrews House, Upper Ham Road, Richmond TW10 5LA.
© 2015 All Rights Reserved. Cult Wines Ltd & Wineinvestment.com | You must be 18 or over to order.