Problems viewing this email? Please select 'always display images' or click here
INVESTMENT OFFER: LEOVILLE LAS CASES 2005
Leoville Las Cases 2005 (98 Pts)


£1,795 per 12 bottle case


EXCLUDING MANAGEMENT FEE

Limited availability


Key Points

98 points from Robert Parker.

Parker's scores have consistently improved at each tasting, as have his tasting notes (see below).

100 points from James Suckling.

Traded above £2,250 at the top of the market.

Currently closest it's been to initial release price.

2005 vintage for Bordeaux underscored by Parker and expected for retrospective re-score later this year.

Parker has admitted on multiple occasions that he was initially over-conservative with scores due to high tannins and many should merit more points in due course.

2003 Las Cases was rescored from 93+ to 96 in his retro of the '03 vintage which was published in August 2014.

Directly compared to the 1986 - 100 points, seen 140% growth over the last 10 years.
"Another titanic effort from the Delon family, the 2005 Leoville Las Cases is probably the greatest wine made at this estate since Jean-Hubert Delon's father produced the 1986 and 1996. Only 37% of the production made it into the 2005, a blend of primarily Cabernet Sauvignon with less than 13% Merlot and Cabernet Franc. An inky/ruby/purple color is accompanied by reticent aromatics that, with considerable coaxing, offer up subtle notes of toasty vanillin intermixed with lead pencil shavings, wet rocks, and enormously ripe, intense black cherry and creme de cassis. The wine hits the palate with a full-bodied, layered mouthfeel as well as enormous extract, concentration, and purity. This ageless, monumental claret requires a minimum of 15-20 years to approach maturity, and should last for a half century. It is about as classic a Leoville Las Cases as one will find. Anticipated maturity: 2020-2060"

Score: 98 Pts
Robert Parker

, Wine Advocate #176
April 2008
"This concentrated, classically built, structured claret is meant for the long haul, but it will not provide much pleasure over the next decade. Anticipated maturity: 2015-2030+"

Score: (92-94) Pts
Robert Parker

, Wine Advocate #164
April 2006
"The 2005 Leoville Las Cases is revealing more power, weight, and richness than it did last year… compared the 2005 to the 1996 and 1986 produced by his father, and that has become even more evident as it has aged in barrel. This classic St.-Julien should be at its peak between 2018-2050+"

Score: (94-96) Pts
Robert Parker

, Wine Advocate #170
April 2007
Bordeaux 2005
At release the 2005 was proclaimed to be one of the greatest Bordeaux vintages ever produced. With eight estates having a potential 100pt Parker score in the bag, the wines were released at record highs. At bottling, however, only two were awarded the triple digit score and subsequently prices softened. The main reason for the easing of scores from Robert Parker were the extraordinarily high levels of tannins present which made the vintage largely unapproachable for drinking at a young age and, as a result, he pushed back their 'expected maturity' windows and deemed them worth reproaching years later.
Contrary to Parker's conservative views, the other predominant critics – namely James Suckling, Lisa Perroti-Brown, Jancis Robsinson and Steven Spurrier – backed the 2005s to the hilt and maintained their high scores. Parker is still the main market mover though and his scores, more than the others combined, brought prices back down to a sensible level.
10 years after release with eight in the bottle and the 2005s have started to show well. He has, over the years, admitted on several occasions that he was overly conservative and that many leading Bordeaux should merit higher scores.
We aim to take advantage of this stock pre-rescore and at the lowest price available since release, having identified it as a likely contender for an upgrade.
Investment Analysis

The 2005 has been directly compared to the legendary 1986 on multiple occasions, not only by leading critics but by Jean-Hubert Delon himself. The 1986 – a 100 point wine – currently trades at £3,000 but has previously tipped above the £3,300 mark.
Bearing in mind 2005 is considered to be a superior vintage, there is reason to expect a positive rescore from its current 98 and a subsequent price move.
The chart below illustrates growth over the last 10 years of the 1986, showing over 140% growth for the period.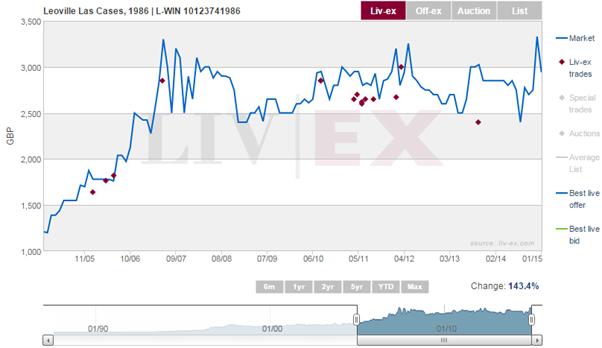 The Liv-ex charts below show the immediate effect on comparable wines after being awarded 100 points from Robert Parker: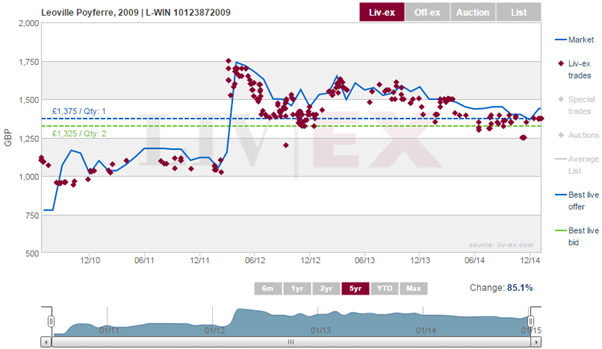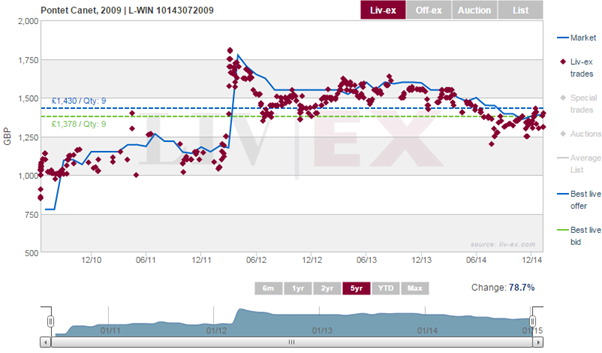 For the owners of the Chateau, a 100 point vintage brings a wealth of benefits; rise in sales, a boosting of brand power, buyer and market attention to name a few.
There are prospective shorter-term returns in excess of 20% available but the true potential will be in the long-term, holding this wine for the 5 year period – or longer – to make the most of this potential Classic Bordeaux.
Summary
Reg. Company No: 06350591 | VAT No. GB 129 9514 84 | St Andrews House, Upper Ham Road, Richmond TW10 5LA.

© 2015 All Rights Reserved. Cult Wines Ltd & Wineinvestment.com | You must be 18 or over to order.