Problems viewing this email? Please select 'always display images' or click here

INVESTMENT OFFER:
VEGA-SICILIA UNICO 2004
Vega-Sicilia Unico 2004 (97 Pts)


£950 per 6 bottle case
(EXCLUDING MANAGEMENT FEE)

Limited availability


Key Points

•
£1,900 per 12.


•
Wines released 10 years after vintage so this is newest on the market.


•
97 points is the second highest score that's been award to this Vega-Sicilia.


•
Unico is the only Spanish wine in the Liv-ex 1000 index and falls in the 'Rest of the World 50' which is the best performing sub-index of the last 2 years.


•
Comparable vintages

- 1991 (95 pts) £3,000
- 1994 (96 pts) £2,900
- 1995 (97 pts) £3,500
- 1998 (98 pts) £2,950.


•
Stock has come directly from Spain, so top provenance is key.


"Pablo Alvarez described 2004 as a textbook vintage with perfect temperatures and rain just when it was needed. The 2004 has a haunting bouquet of dark brambly black fruit, cassis, honey, a tang of marmalade and bacon fat. It already boasts an intense, burly bouquet that will require years to soften. The palate is full-bodied with succulent, ripe, intense black cherries, white pepper, minerals and liquorice and it fans out beautifully towards the finish with tar-tinged black fruit interlaced with black pepper. This is a multi-dimensional Unico, more masculine and grander than the 2005, perhaps the sibling of the 1994?"

Score: 97 Pts
Neal Martin

, eRobertParker.com #20

2


August 201

2
Brand
Vega Sicilia, situated in Ribera del Duero, has founded its success on its meticulous wine-producing practices: In the vineyard it applies low yields, aided by green harvesting, and a painstaking grape selection. In the winery, wines undertake a complicated series of rackings from huge barrels to new and old oak. Despite the very prolonged barrel ageing, e.g. the 1970 Unico has over 16 years, the wine flavours are never dried out or overly oaky when mature, which is compelling evidence of the superb quality of its raw materials.

Unico is known as the 1st growth of Spain due to its consistent high scores and standing in the global marketplace, high above any other from Spain.
Investment Analysis

Less than 7,000 cases are produced annually, with the vast majority of stock only available through an allocation basis to a 5,000 long waiting-list and low availability on the UK market. With that in mind, when an allocation becomes available, it's worth snapping up.

Vega Sicilia Unico is the only wine from Spain in the Liv-ex Fine Wine 1000 index. It falls into the ROW 50 sub-index, which has had the best sub-index performance over the last two years, rising 16.5%. Vega Sicilia Unico 1995 has been one of the biggest risers in the Liv-ex 1000 during this period, climbing 37%. The 1995 is the only other vintage to have scored 97 pts and currently trades for £3,500, representing an increase of 85% on the 2004.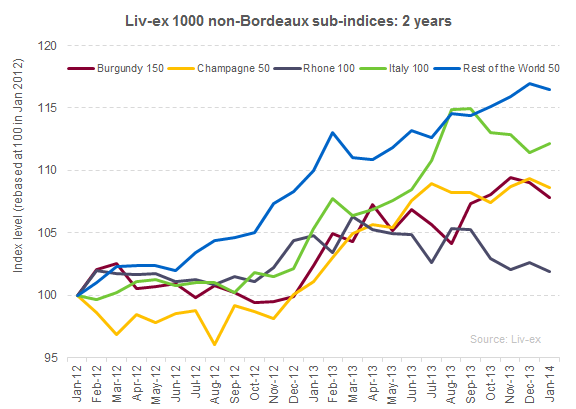 Comparable vintages, seen above are trading between 40-85% higher than the 2004. Shown below, this vintage is currently priced much closer to the level of significantly lower scored vintages, averaged around 93 points.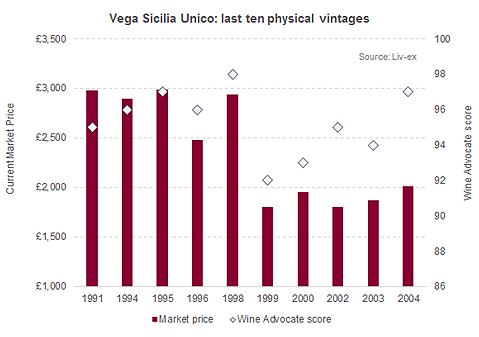 Reg. Company No: 06350591 | VAT No. GB 129 9514 84 | St Andrews House, Upper Ham Road, Richmond TW10 5LA.

© 2014 All Rights Reserved. Cult Wines Ltd & Wineinvestment.com | You must be 18 or over to order.