Problems viewing this email? Please select 'always display images' or click here
INVESTMENT OFFER: MASSETO 2011 - 100 pts (JS)
Masseto 2011 - 100pts (JS)

@ £1,100 per 3x75cl (ex-fees)

Described as Italy's Petrus
Compared by James Suckling to the 2001 vintage, the only other year he has scored Masseto 100 pts.
2001 trading at nearly double the price (£2,000 per 3 bottle case)
Strong market sentiment for Super Tuscans
Approximately 3,000 cases produced annually.
Italian wine provides strong diversification benefits against Bordeaux and Burgundy.
I tasted the recent vintages of (Masseto) in Rome a few weeks ago and they were fantastic quality. The 2011 Masseto, which should be in the market later in the year, is a perfect wine and reminiscent of the legendary 100-point 2001. From the moment you put your nose in the glass, the wine shows phenomenal character of spices, ripe fruit and flowers with hints of citrus peel. The palate is full-bodied yet perfectly integrated with fine tannins that give the wine incredible definition.

''Wow. Fabulous aromas of currants, rosemary, mint and orange peel. Perfect nose. Full body with perfectly integrated tannins. It's long and incredible with tangerine, toasted-oak, berry, terracotta and chocolate flavors. It lasts for minutes on the palate. This needs at least five years to soften but so spellbinding now.'' Score: 100 pts
Brand


This single-vineyard Merlot cuvee is produced inmuch smaller quantities than its older brother, commanding around 3 times the price of Ornellaia on average. First appearing in 1986 (though first vintage was named simply 'Merlot'), clay-rich soil is responsible for the creation of a rich, opulent and seductive wine which enraptures the senses with black cherries and dark chocolate aromas. Finessed, balanced acidity with a hint of citrus on the finish reveals the Italian influence on this cuvee of French Merlot. Now amongst the strongest performers within the Liv-ex Super Tuscan 50, the status that Masseto holds has led it to be nicknamed 'Italy's Petrus', reflecting the prices and scores it can achieve in truly great vintages such as 2001, 2006, 2010 and now 2011.

Price Comparison: The 2011 vintage measures up favourably against the current trading prices of all recent vintages of Masseto as well as against vintages of comparatively high quality. The graph illustrates the strong medium-long term potential of this wine.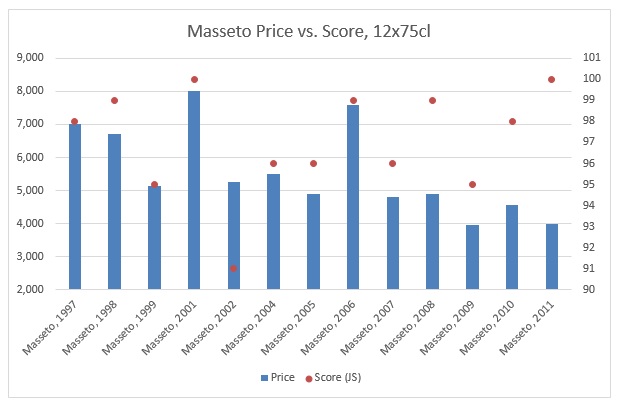 If we use the average trading price of all recent vintages of Masseto as well as the average price of all Masseto vintages scored above 98 pts and directly compare this against the only other vintage scored a perfect 100 pts by James Suckling (2001) we can project that that 2011 vintage will be worth (£5,561 - £8,000).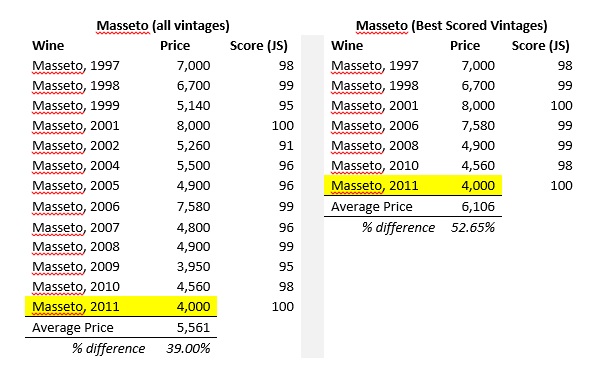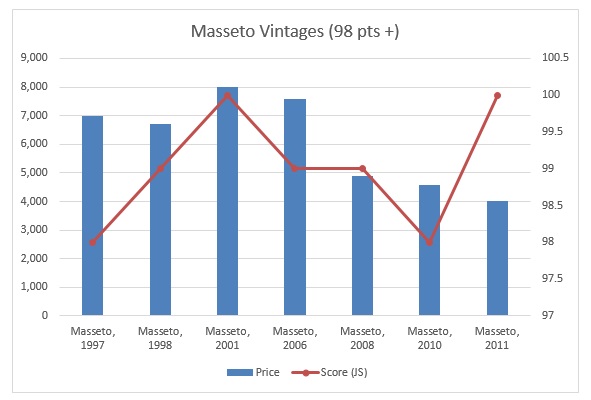 | | | |
| --- | --- | --- |
| Wine | Price | Score (JS) |
| Masseto, 2001 | 8,000 | 100 |
| Masseto, 2011 | 4,000 | 100 |
| % difference | 100.00% | |
We therefore believe that the 2011 vintage of Masseto has the potential to return 39 – 100% over the next 3-10 years.
General Market Performance
Data provided by Liv-ex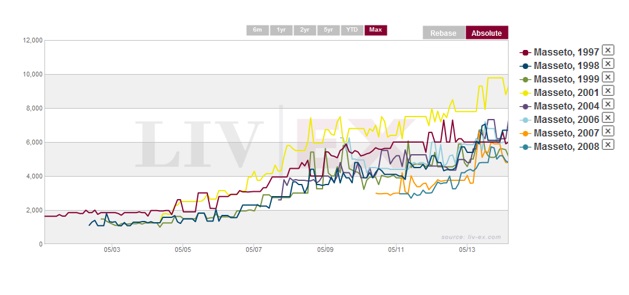 2001 (100 pts): 100.0% over 6 years
The 2001 vintage which Suckling directly compares the 2011 vintage to, has shown steady and consistent growth over the past 6 years. Appreciating in value c. 100% since it was trading at the same level the 2011 is now, 6 years ago. This shows the track record of Masseto to achieve the project returns.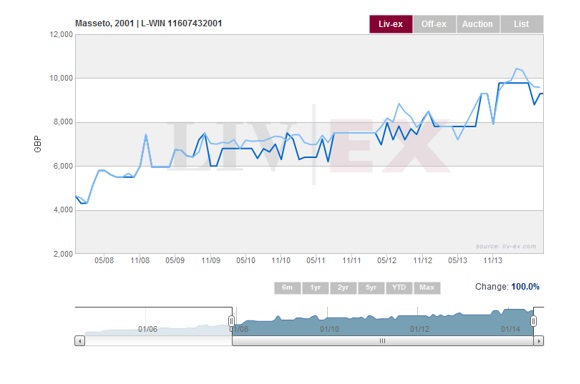 We are happy to offer this wine at £1,100 per 3 bottle case. This wine will undoubtedly perform in the short and long term and will be a fantastic addition to a portfolio.
Reg. Company No: 06350591 | VAT No. GB 129 9514 84 | St Andrews House, Upper Ham Road, Richmond TW10 5LA.

© 2014 All Rights Reserved. Cult Wines Ltd & Wineinvestment.com | You must be 18 or over to order.