Cult Wines Offer - Penfolds Grange, Shiraz 2010
100 pts @ £1,700 per 6 x 75cl Bottles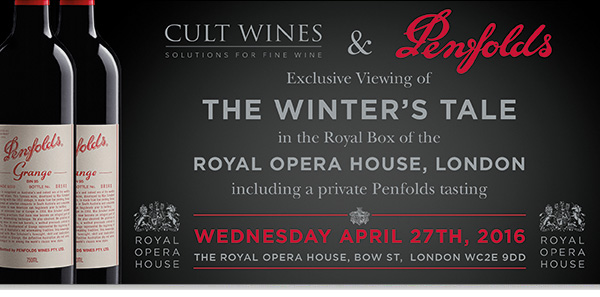 We are delighted to announce that we are offering our clients a unique opportunity to enjoy a fabulous evening in the Royal Box at the Royal Opera House on 27th April 2016. We have exclusive use of the box which will include a private Penfolds tasting for four clients with one guest each, please See here for details.

Wines to be tasted on the evening:

• Penfolds Yattarna Chardonnay
• Penfolds Bin 389
• Penfolds RWT
• Penfolds Grange – Back Vintage tasting TBC
• Penfolds Fortified

For each case of Penfolds 2010 that you purchase a ticket with your name will be included in the draw to be one of the four to experience this amazing evening.



Penfolds Grange, Shiraz 2010 (100 pts) @ £1,700 per 6 x 75cl Bottles


'This is a classic Grange that will please the serious collectors.
A wine of genuine pedigree'



James Suckling - 100 pts




Key Investment Points


Released 15% cheaper than the comparable 2008.
Australia's most collectible and recognised wine.
100pts from James Suckling and 19/20 from Jancis Robinson.
UK best market price.
60th anniversary release.
Average 10 year performance of vintages within their optimum drinking window (1981-2001*) is 130.15%.
Part of Rest of World 50 index, up 122.3% in 12 years.




*Excluding 1986, an anomaly with 1,687.39% growth over the last 10 years




| | | |
| --- | --- | --- |
| | Want to invest in Penfolds Grange, Shiraz 2010? Ask your portfolio manager or... | |
| | | |


Tasting Notes

"The 2010 Grange arrives with much expectation and does not disappoint. This is a powerhouse, structurally superior to both the 2009 and 2008 vintages and breathtakingly dense, long and precise. The nose has cola, blackberry, vanillin, hard brown spices of all kinds, coal smoke, meaty charcuterie elements and a strong tarry, savory note that speaks of the 85% Barossa Valley componentry. The palate has super deep tannins that fan out through flavorsome black fruits. These are purposeful tannins; they bristle on the palate, tantalizing and assertive yet playful, strong not aggressive. The power here is the thing; this has mouth-coating density and terrific drive, so tightly coiled, it gives enough away to suggest a very, very long cellaring wine is here. This is a classic Grange that will please the serious collectors. A wine of genuine pedigree. Better in 2026."



James Suckling - JamesSucking.com | Score: 100 | October 2014




Brand

Penfolds, Grange is Australia's most iconic brand and for those who are not familiar with the wine simply known world over as 'Grange', here as some key facts:



Penfolds estate founded in 1844.
Penfolds Grange was first produced in 1951 by Max Schubert to rival Bordeaux's Grand Cru Classé and was named Grange Hermitage until 1990.
Grange is a multi-vineyard, multi-district wine - grapes are sourced from various locations in South Australia.
Average production of Grange is between 7,000 and 9,000 cases annually.
Grange is regarded as one of the world's leading estates, with an average Robert Parker score of 95.13 over the last 20 vintages (1992-2011); a 'First Growth from down under'.


The release of the 60th vintage of Grange has coincided with a 'luxury world tour', which showcases the estate amongst a 'big stakes' clientele of wine enthusiasts in New York, LA, Canada, Singapore, Japan, Thailand & Shanghai. The value of diversification cannot be underestimated in this market, with different regions marketing their respective powerhouse wines in their own unique character. However, how does Grange match up against similar status wines from other regions?





Although we do not advise considering these as direct comparisons, it does illustrate the relative value that Australia's leading wine offers against the top wines from Bordeaux, Spain, Italy and California. One of the key reasons for this could be the current supply of Penfolds Grange on the general marketplace. The next table clearly shows how quickly supply decreases for 10 vintage of Grange after a couple of years on the market:






Performance Analysis

Grange should be considered a longer-term hold than many comparable Bordeaux or Italian wines, due to the smaller secondary market and initial supply. The chart below tracks the 10 year performance of Grange vintages that are within their optimum drinking window (1981-2001, excluding 1986 which eclipsed others with almost 1,700% over the period):






Average 10 year performance: 130.15%

Grange comes under the Liv-ex 1000 sub-index, 'Rest of the World 50', which has, since information was first available (early 2004) demonstrated 122.3% movement. When set against leading global equities, this maintained the lowest rate of volatility and third highest rate of growth:






Penfolds in Asia

Wine Australia's latest report reveals that the value of Australian wine exports climbed 14% to AUS$2.1 billion in 2015, reaching its highest value since October 2007. However, the strongest growth was seen in China which grew 66% to AUS$370 million. Hong Kong was also the fifth largest market and increased 22% to AUS$132 million.

Supporting this figure, Treasury Wine Estates (the owner of the Penfolds range) unveiled their 2015 collection - including the 2011 Grange - in Shanghai last October; the first time this has occurred outside of Australia. The company said in August it expects Asia to be its biggest profit driver within 18 months.





Affluent Chinese consumers have been known to favour Penfolds due to its similarity to the saying for 'poor and rich' - pín fù - which suggests moving from the former to the latter state.


Summary

Penfold Grange 2010 is a titan of a wine and therefore a staple addition to any serious wine collector's portfolio. We acknowledge that this is likely to be a long-term hold but that should not discourage clients from taking up a significant position whilst stocks are available. We forecast growth of 100% + over a 10 year hold with limited volatility, which in itself is an attractive proposition for any investor.



100pts from James Suckling.
Potentially the greatest vintage for Grange.
Long term hold.
Average 10 year performance 130.15%.
Australia's First Growth equivalent.
Fast-growing demand in Asia.
| | | |
| --- | --- | --- |
| | We only have a modest allocation at UK market best and would therefore encourage our client base to contact their portfolio manager to secure this highly attractive option. | |
| | | |

Reg. Company No: 06350591 | VAT No. GB 129 9514 84

St Andrews House, Upper Ham Road, Richmond TW10 5LA.
© 2016 All Rights Reserved. Cult Wines Ltd & Wineinvestment.com | You must be 18 or over to order.