Problems viewing this email? Please select 'always display images' or click here

INVESTMENT OFFER:
CHÂTEAU PAVIE 2011
Château Pavie 2011 (93-95 Pts)


£1,350 unit price per 12
(EXCLUDING MANAGEMENT FEE)

Limited availability


Key Points

| | | |
| --- | --- | --- |
| | | |
| • | | #1 brand in Liv-ex 2013 Power 100 list. |
| • | | #2 value for money brand in Liv-ex 2013 value 100 list. |
| • | | Most affordable modern vintage of Chateau Pavie. |
| • | | Parker set to provide in bottle scores for 2011 vintage in Spring 2014. |
| • | | Chateau Pavie elevated to Premier Grand Cru Classé A - alongside Cheval Blanc & Ausone in new St. Emilion Classification. |
| • | | Huge investment into new cellars (see right) and marketing/brand building areas. |
| • | | Pavie vintages have risen by 12% since re-classification. |
| • | | Low production, enigmatic winemaker, and a favourite of Robert Parker. |
| | | |
"Another terrific success for the flagship estate (a 92-acre vineyard situated on the famed limestone and clay-rich slopes of Cote Pavie) of Chantal and Gerard Perse, the 2011 Pavie is composed of 70% Merlot, 20% Cabernet Franc and 10% Cabernet Sauvignon. The harvest took place between September 20-30, with final yields of a mere 28 hectoliters per hectare. The natural alcohol is 14.3%, and the 2011 may be the biggest, richest, most massive wine of the vintage. With thrilling levels of concentration, tremendous purity, high but sweet tannin, a skyscraper-like mouthfeel, and terrific intensity, depth and palate presence, this larger-than-life effort will require 5-8 years of cellaring, and should age effortlessly over the following 25-30 years."

Score:

(93-95)
Robert Parker, Wine Advocate #200
April 201

2
Investment Analysis

Right Bank wines have posted the most consistent growth rates from Bordeaux, with the Liv-ex Right Bank 100 now having posted 15 months consecutive gains. Shown below, a breakdown of the components of Bordeaux 500 (Liv-ex's most comprehensive index and reflects trends in the wider fine wine market. It represents the price movement of 500 leading wines and is calculated monthly using the Liv-ex Mid Price.)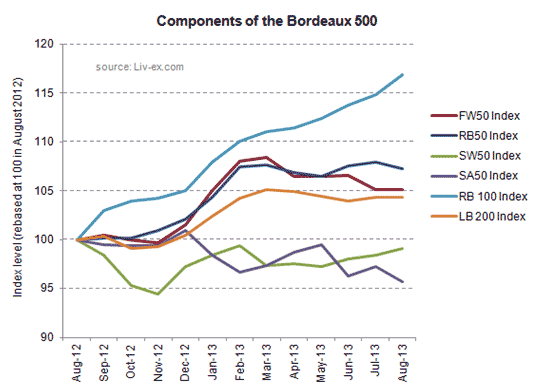 This index is dominated by the Right Bank 100, which has drawn a lot of market attention over the last couple of years with investors focusing on quality as well as 'value for money'. A large portion of this growth can be attributed to the reclassification of Angelus and Pavie.


Reclassification

In September 2012, the results of the long-awaited St Emilion re-classification were announced. The big winners were Angelus and Pavie, which were upgraded to Premier Grand Cru Classe A to sit alongside Cheval Blanc and Ausone. In the year since then, both have seen solid activity on the secondary market, and substantial price rises across all recent vintages.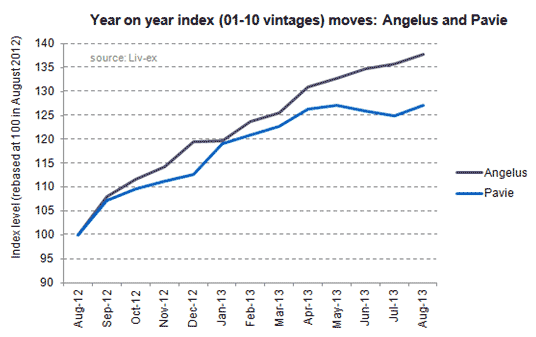 Throughout the course of 2013 we witnessed the prices of almost all vintages of Pavie rise, following its Re-classification the winter before. At the start of last year the average market price for Pavie's 2000-2009 vintages was around £1,700 - it is now around £2,100. This price movement has drawn our attention to the 2011 vintage, which now looks massively undervalued by comparison.

The list of top 10 performers in the wine market for 2013 comprised of three off prime Pavie vintages which were trading at a similar level to what the 2011 is at now. We expect this positive price trend to continue for Pavie across the board but anticipate the 2011 to be leading the pack this year.

As shown below, we are currently offering Pavie 2011 at £1,350 per 12x75 - which is not only far more affordable than the other vintages, but also has speculative En Primeur potential. It is the only recent Pavie vintage available at under £125 a bottle and is also the first vintage to be physically released since the reclassification to Premier Grand Cru Classe A.


Investment Value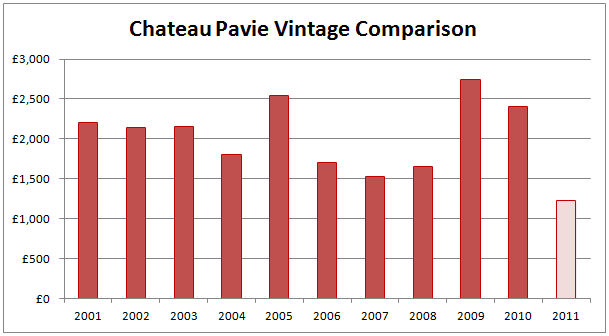 In an effort to demonstrate the value of the 2011, one must consider Parker scores as well as price. A simple way to explore the value of a wine in this manner is to use our very own POP Value Chart. A wine's POP score is its price-over-points ratio, our loose measure of value. It is calculated by dividing the price of a nine-litre case of wine by a shortened 20-point Parker score. We calculate this 20-point score by simply subtracting 80 from the official Parker rating and dividing the market price by this value. In theory, the lower the POP score, the better value a wine is. For the 2011 vintage the in barrel score of 93-95 is represented by a mid-point score of 94.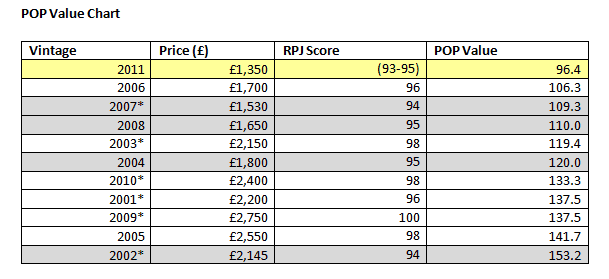 As you can see in the table above, we have highlighted (in yellow) the 2011 vintage and it is by far the best value vintage currently available. Also highlighted (in grey) are the closest vintages to the 2011 in terms of score. These have an average price of £1,781 per case, highlighting the value and growth potential of the 2011. Based on the average price of physical Pavie vintages, we conservatively project growth in the region of 20% over the next 12 months.

What has also become apparent when looking back at the recent barrel to bottle scores from Parker for Pavie is that it certainly tends to age well in barrel. Parker gave an improved score in bottle for six out of the 10 most recent vintages (see* in table) e.g. 2001 went from (94-96+ pts) in barrel to 96 pts in bottle. Those that didn't improve in score remained the same eg. 2005 went from (98-100 pts) in barrel to 98+ pts in bottle.

With Parker scheduled to release his in bottle scores for the 2011 vintage in Spring of this year, we expect Pavie to cement itself as one of the wines of the vintage.


Brand - Power and Value 100

In November, Liv-ex and The Drinks Business released the 2013 edition of the Power 100 (annual list of the most powerful brands in the fine wine market) and Value 100, which focuses solely on Bordeaux wines that have achieved an average score of more than 90 points. In order to identify lower-priced buying opportunities, all of the labels that are trading at more than £2,000 per case are removed. For the first time in its eight year history, the Power 100 list was not topped by a First Growth or DRC. Instead, the #1 and #2 spots were taken by Pavie and Angelus respectively; a testament to the importance and legitimacy of their recent status upgrade. Pavie moved from 3rd up to 1st and now sits as the most powerful brand in the world.
Investment summary

• Most Affordable Pavie vintage available on the market.
• Growth in the region of 20% expected over the next 12 months.
• #1 Power Brand in the wine market for 2013.
• Likely to be well scored in bottle from in barrel score of 93-95pts.
• Market sentiment for Pavie extremely strong.

Reg. Company No: 06350591 | VAT No. GB 129 9514 84 | St Andrews House, Upper Ham Road, Richmond TW10 5LA.

© 2014 All Rights Reserved. Cult Wines Ltd & Wineinvestment.com | You must be 18 or over to order.