Problems viewing this email? Please select 'always display images' or click here

INVESTMENT OFFER:
MOUTON ROTHSCHILD 2013
Mouton Rothschild 2013 (92-94pts TWA)


£1,100 per 6 bottle case
(EXCLUDING MANAGEMENT FEE)

"Château Mouton Rothschild has been doing very well in terms of marketing and PR in Asia, especially mainland [China], this brand-building helps the popularity of Mouton"

David Wainwright, MD of Zachys Asia - April 2014


Key Points

| | | |
| --- | --- | --- |
| | | |
| • | | Widely regarded as the top First Growth from the 2013 Vintage. |
| • | | Top performing First Growth estate in 2014. |
| • | | Most affordable Mouton Vintage available by over 10%. |
| • | | Lower production levels across the board from the 2013 vintage, meaning supply demand imbalance favourable for investors. |
| • | | 'Lesser' Mouton vintages trade on average at £3,000 per 12. |
| • | | Zero downside risk and strong upside in short term. |
| • | | Mouton ranked second highest wine in the Liv-ex 2013 survey. |
| • | | Expected growth of 40% over next 24 months. |
| | | |
"The Grand Vin is a blend of 89% Cabernet Sauvignon, 7% Merlot and 4% Cabernet Franc, the latter close to exceptional according to Philippe Dhalluin. It has less new oak (85%) because the new wooden vats impart their own raw woody character. It has a well-defined, classic bouquet that you might describe as "no frills". The palate is well balanced with clean and mineral-rich black fruit and a pleasant salty character towards the finish. Classic in style, this is a very fine Mouton with real panache."

Score: 92-94pts
Neal Martin, Wine Advocate
April 2014
Bordeaux 2013 – Investment Potential

It has been more than well documented, that the 2013 vintage certainly isn't going to make its way in to the history books alongside the 09/10 Vintages. Bad news if you are a lover of Fine Wine for consumption, but in some cases, great news if you are an investor seeking price disparity and the chance to make some strong short-medium term gains. With production levels on average down by 20-30%, and in some cases quality above average, there are some clear investment opportunities within this vintage.

2013 is a difficult vintage that has followed two poorly priced En Primeur campaigns. The three wines that have reacted to the market conditions sufficiently are – Lafite, Carruades and Mouton – whose 2013 are the cheapest vintage by over 10%, all of which we have been actively recommending. The graph below, taken directly from Liv-ex demonstrates these price disparity's.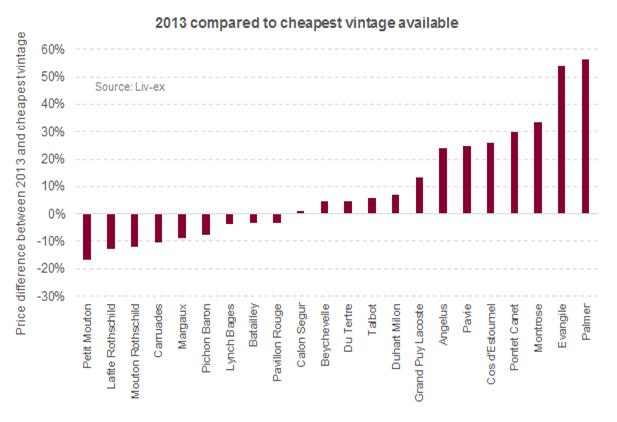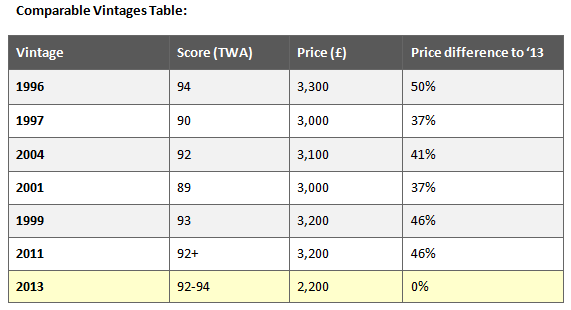 As it can be seen from the table above, there is a clear price disparity between equally scored Mouton vintages on the market. We would expect to see this price gap close significantly over the next 18-24 months, ahead of the 2013's being physically bottled. Upon physical release our direct benchmark is the 2011 which has been given a score of 92+, and is actively trading at £3,200 per case. This would represent a Percentage movement of 46% over a 24 month period.


Brand Momentum
In what has been a difficult 2 years for First Growth demand across Asia, Mouton seems to have been the brand least effected by the previous downturn in demand, and has been the strongest performing First Growth Estate so far this year.

David Wainwright, managing director of Zachys Asia Fine Wine, further confirmed this opinion when he spoke to wine writer Rebecca Gibb earlier this year explaining "Château Mouton Rothschild has been doing very well in terms of marketing and PR in Asia, especially mainland [China], this brand-building helps the popularity of Mouton.".
Investment Summary
• Limited downside risk & strong upside in short term.
• Conservative growth projection of 40% in next 24 months.
• Stable growth projections over the Medium-Long Term.
• £1,000 more affordable than 2011 (92+pts).
• UK best market price – 7% below the bottom of the market.
Reg. Company No: 06350591 | VAT No. GB 129 9514 84 | St Andrews House, Upper Ham Road, Richmond TW10 5LA.

© 2014 All Rights Reserved. Cult Wines Ltd & Wineinvestment.com | You must be 18 or over to order.