Problems viewing this email? Please select 'always display images' or click here
INVESTMENT OFFER: DOMAINE CLAUDE DUGAT
Domaine Claude Dugat


Charmes Chambertin 2011 (92 pts)

£2,075 per 12 x 75cl

Charmes Chambertin 2012 (94-96 pts)

£2,675 per 12 x 75cl
Investment Points

| | | |
| --- | --- | --- |
| | | |
| • | | Since 2010 Burgundy index has far outperformed other investment markets. |
| • | | Claude Dugat is widely regarded as one of Burgundy's best producers. |
| • | | Tiny production estate (less than half the average for Burgundy) with cult following. |
| • | | Both 2011 & 2012 are staple additions to a wine portfolio. |
| • | | Projected growth in the region of 80-100% over a 5 year hold. |
| • | | Burgundy accounted for 6 of the top 10 performers in the latest Liv-ex 'Power 100'. |
Brand
Claude Dugat is the undisputed star of Gevrey-Chambertin and one of France's most respected winegrowers. The family's viticultural history began in the early 19th century, when Annet Dugat, a mason from the Auvergne, had come to Burgundy to work on the region's canal systems. He married a vigneron's daughter in Gevrey and established a path for himself and the generations of Dugats that followed. Claude's father, Maurice, bought the Grange des Dimes in 1955, a historic landmark in Gevrey, and changed the name to the Cellier (Cellar) des Dimes. This ancient barn-turned-winery, built in the 13th century on Gallo Roman ruins, had once stored tithes of grapes and grains being given to the Church. In focusing on the preservation of the family terroirs at every step of the process from grape to glass, he has since been able to achieve powerful yet elegant Pinot Noirs and earn himself a worldwide reputation for excellence.
Not only is his estate tiny, at less than five hectares, but his typical yields of 18 hectolitres per hectare are also tiny – less than half the average for Burgundy. While he may produce the same numbers of grapes as his neighbours, the berries are half the size. Claude's attention to detail extends to knowing each individual vine in his vineyard, which he tends personally, with his horse. Given this extreme micro-production and attention to detail, as well as Claude's holdings in some of Gevrey's finest vineyards, it's perhaps not surprising that the wines show a virtually unparalleled natural intensity of fruit, making them hugely sought-after.
2011
£2,075 per 12

92 points from Wine Advocate

Most affordable vintage on the market

Comparable vintages

2007 (91 pts) £2,300

2001 (90-92 pts) £3,400

1991 (92 pts) £4,000
| | | |
| --- | --- | --- |
| | | |
| | "Moving on to the trio of Claude Dugat's Grand Crus, the 2011 Charmes-Chambertin Grand Cru has a quintessential "Charmes" bouquet with vivacious scents of dark cherry, blueberry and quince, suffused with an almost sorbet-like freshness. The palate is medium-bodied with a slightly sinewy entry. It coalesces in the second half and displays very fine, supple tannins with plenty of juicy Pinot fruit just cloaked under the 100% new oak at the moment, although everything is balanced and in sync. I would afford this three or four years in bottle for it to fully integrate. Drink 2016-2025." | |
| | | |
Neal Martin
, eRobertParker.com #208,

August 2013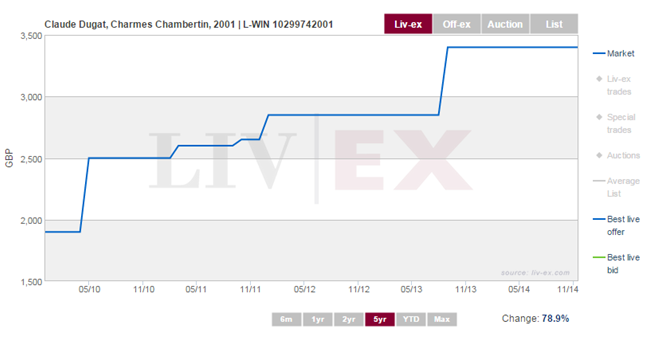 2012
£2,675 per 12

(94-96) points from Wine Advocate

Best value, high scoring vintage

Comparable vintages

2009 (95 pts) £3,300

2005 (93 pts) £5,075

1999 (96 pts) £7,620

1993 (96 pts) £6,550

1990 (96 pts) £8,400
| | | |
| --- | --- | --- |
| | | |
| | "The 2012 Charmes-Chambertin Grand Cru comes from Claudes' 0.25-hectare parcel of vines. It has a strong marine influence on the nose that is well defined and expressive, carrying and absorbing the new oak with ease. The palate is medium-bodied with a satin-like texture, very well judged acidity and the new oak beautifully interwoven into the intense sorbet-fresh fruit on the harmonious finish. This is one of the finest wines from this vineyard." | |
| | | |

Neal Martin
,
eRobertParker.com #210,
December 2013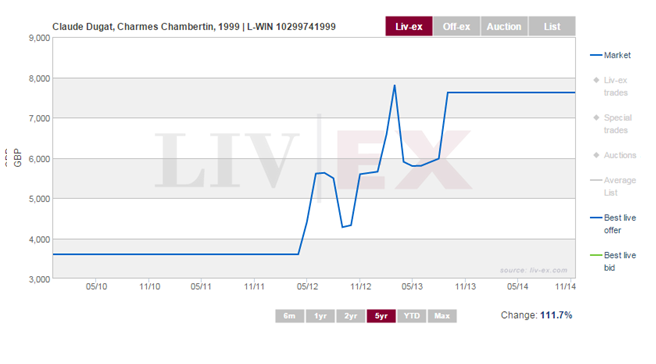 As the graph below illustrates, the 2011 will provide stable and reliable growth over a long period whereas the 2012 will achieve higher rates but shows more volatility in doing so.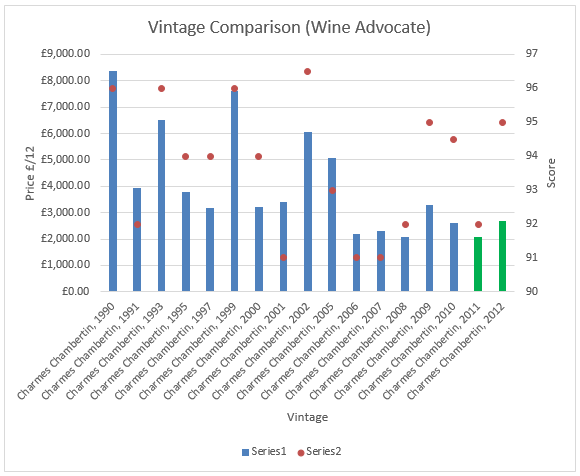 By using the vintage comparison graph above, we are able to project and identify accurate growth expectations based on the levels comparative vintages are trading at. Both vintages represent an attractive upside at their current price points and given the continued demand for wines from the Burgundy region, we would certainly expect both vintages to be the standout performers.
Burgundy
Focusing more broadly on the performance of Burgundy as a region, we have extracted a graph which directly compares the performance of the Burgundy 150 to that of the FTSE 100, Crude Oil and Gold since the beginning of 2010.
Not only does this highlight the stability of the Burgundy market, but also confirms its resilience to wider market corrections. As a region its ability to show this stability is down to a number of reasons, foremost down to the minute production levels coupled with strong global interest and consistent high levels of quality. These attributes have cemented the region as a must have part of any diverse wine collection or portfolio. Our ability to extract maximum value and investment potential from this area of the market is perfectly demonstrated by both vintages of this highly desirable Grand Cru.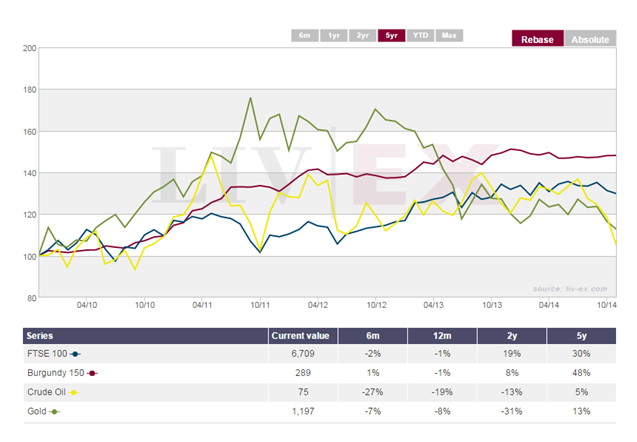 Further illustrating the ongoing performance of the region, Burgundy accounted for 6 of the top 10 brands in terms of growth in the recently published Liv-ex 'Power 100'.
Reg. Company No: 06350591 | VAT No. GB 129 9514 84 | St Andrews House, Upper Ham Road, Richmond TW10 5LA.

© 2014 All Rights Reserved. Cult Wines Ltd & Wineinvestment.com | You must be 18 or over to order.