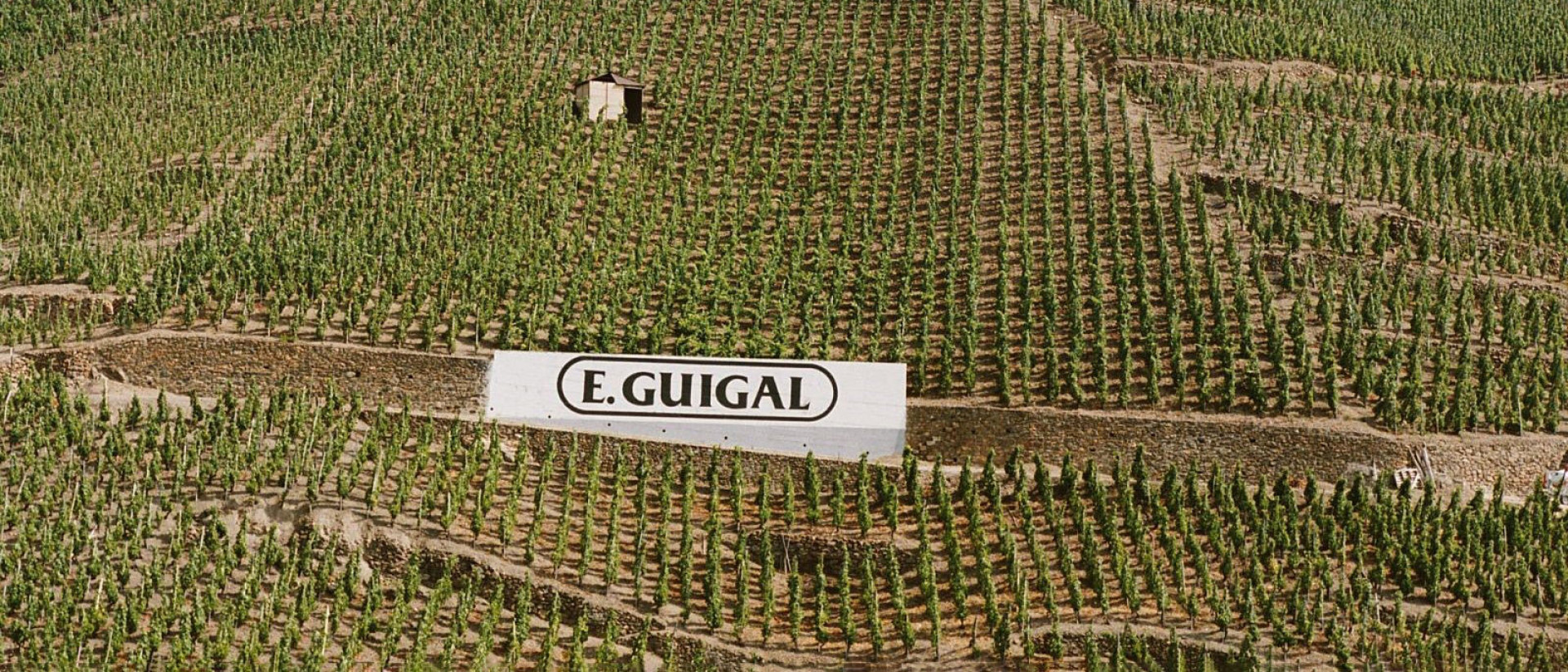 Producer profile
Annual Production (Grand Vin)
Guigal is the only winery in Rhone with its own cooperage and makes 850 barrels annually.

The Guigal label only landed in 1946, but in its short life has made serious waves throughout the northern Rhone, most notably in Cote-Rotie, with its selection of single vineyard releases (affectionately dubbed La Las), which were responsible for igniting renewed interest in the region in early 2014.
The estate was founded by Etienne Guigal, who fell in love with area as a 14-year-old apricot picker back in 1924. After working as a vineyard hand, then as a cellar master, he formed Ets, Guigal (short for Establissements Guigal). Over time, the family purchased a number of other properties, including Vidal Fleury (the estate which kick-started Etienne's interest in winemaking), Chateau d'Ampuis, Domaine Jean-Louis Grippat and Domaine de Vallouit. Such is the volume of wine produced by the estate that three hectares of cellars are required to vinify and store it.
After Etienne passed away in 1988, Guigal was managed by his son Marcel, and under his direction the estate become world renowned. Today, his son Philippe is director and enologist, but Marcel remains on hand to ensure the Guigal name continues to enjoy its ascent throughout the northern Rhone – and indeed the world.
The Guigal name has always commanded a premium – the 2003 La Las vintage set the record for the most expensive release of any Rhone wine ever – but considering Guigal's Cote-Roties have received more 100-point scores from Robert Parker than any other wine, it's safe to say the estate's wines are firmly in ultra-premium territory. More so following the release of the 2010 La Las trio, which helped propel the Rhone's share of trading on Liv-ex to three times its typical monthly average.
All vintages since 2010 have not quite reached the quality of the 2010 vintage, that said the La Las delay their releases and we have not had the 2015, 2016 & 2017 - three of the greatest vintages that the Northern Rhone has seen.
The family is known for its focus and commitment – neither Marcel nor Philippe are marketers. Their exquisite wine does all the talking, leaving the family to concentrate on making exceptional vintages. With that unlikely to change, Guigal quality will remain extremely high, along with its prices.
No more than 400 cases are made of the La Las making them one of the hottest releases in the wine calendar.
La Mouline - Côte Blonde
A key player in the seminal 'La Las' trio, this deep ruby red wine has scored 100 points from Parker on no fewer than 11 occasions in the last 10 years going back to 1978. Boasting floral notes, aromatic intensity and a harmonious, soft mouthfeel, La Mouline offers a unique tasting experience unmatched by other wines.
La Turque - Côte Brune
Another critic-delighter, La Turque has seen a clutch of 100-point scores over the last few years. Like the other two La Las wines, it's aged in 100% new oak for 42 months, and offers a cherry and blackberry nose, flexible palate and wonderful concentration of tannins. An excellent expression of its Cote-Rotie terroir.
La Landonne
Perhaps the most lauded of the La Las trio, La Landonne – again with a handful of 100-point scores for the last few vintages alone – is a 100% Syrah blend, almost black in colour and offering a rich bouquet of dark fruit, leather, liquorice and roasted spices. This hugely expressive wine offers a truly rare intensity of flavour.
Chateau d'Ampuis
A consistently high scorer with Parker (the 2009 and 2010 vintages were awarded 97 and 99 points respectively), this 93% Syrah blend is made with vines planted in the 16th century and offers a spicy black fruit nose, delicate oak aromas and a structured, powerful palate. Made in tiny quantities and always fiercely contested in release.
Condrieu La Doriane
A fresh, thrillingly mineralised dry Viognier which has won acclaim from critics across the board, the La Doriane offers an ultra-precise yet full bodied expression of white flowers, apricot and peaches, with a powerful and aromatic intensity.
An investment like no other
We make investing in fine wine as effortless as drinking it - combining human expertise, data-driven tech and a love for fine wine.