Chateau La Mission Haut Brion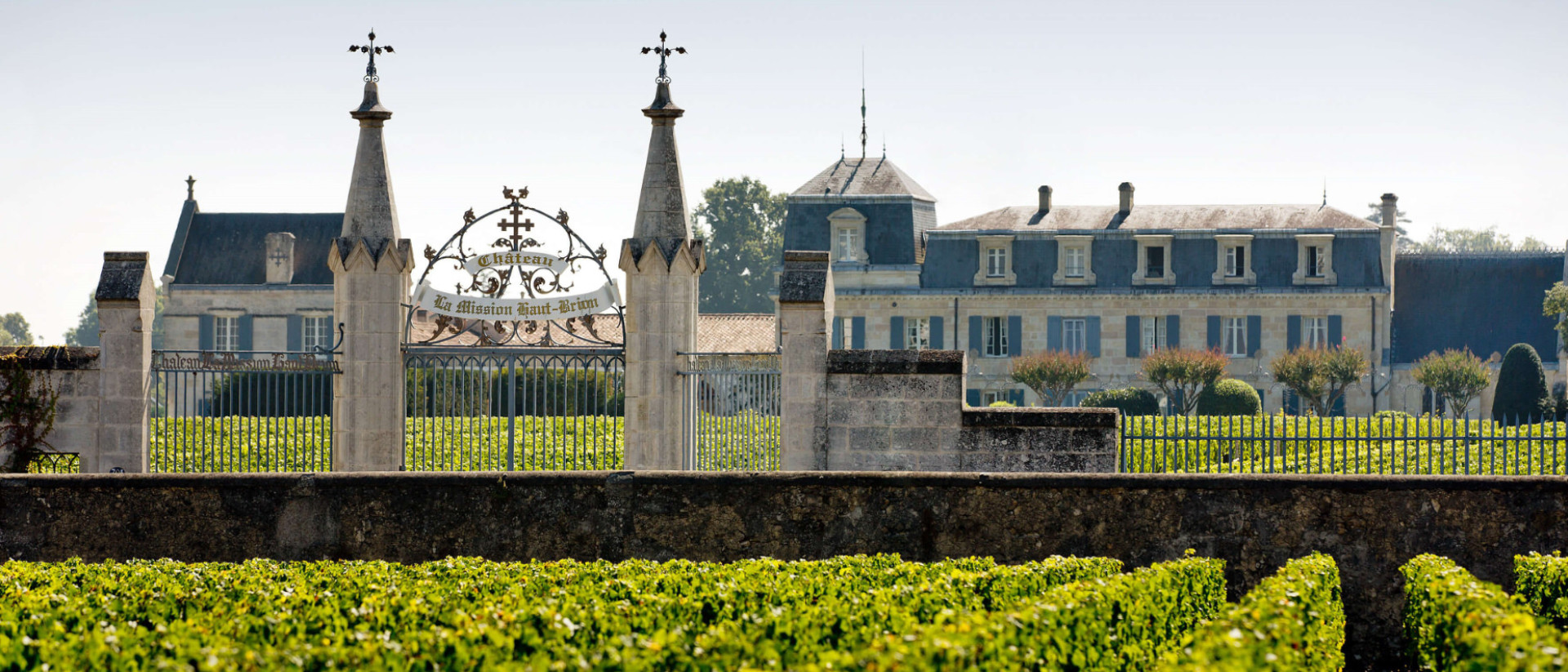 Producer profile
Prince Robert of Luxembourg
Annual Production (Grand Vin)
Cru Classé de Graves en Rouge
La Chapelle de la Mission
The Chateau has a rich history in producing fantastic wines, something that has led to La Mission being labelled as 'the quintessential insider's wine'.

Both Chateau Haut-Brion and Chateau La Mission Haut-Brion are owned by the French company, Domaine Clarence Dillon SAS. They produce a total of nine wines including two of the finest Bordeaux whites (Chateau Haut-Brion Blanc and La Mission Haut-Brion Blanc) as well as recently acquired right bank estate Chateau Tertre Daugay, which was renamed Quintus. As with most of the premier Bordeaux domaines, Clarence Dillon has built a portfolio of wines of almost unparalleled quality.
La Mission and Haut Brion are the figureheads of the group, but the demand and prestige these wines bring has helped Dillon create a stable of wines which share in the brand and status. In recent years the group has focused its branding and marketing around the unique historical significance both La Mission Haut Brion and Haut Brion hold in the wine world. Whilst never being classified a first growth like neighbour Haut Brion, many consider La Mission Haut Brion to be the 'sixth first growth'. In 2017, Chateau La Mission Haut-Brion ranks 14 in the Liv-ex Power 100, a list of the most powerful brands in the fine wine marketplace.
There are very few wine-critics who do not regard La Mission Haut Brion to be one of the finest estates in Bordeaux. In fact many believe this to be 'the quintessential insider's wine', a wine for wine lovers and the critic's favourite. US critic's James Suckling and Robert Parker Jr both sing the praises of this great estate; the former emphasising the amazing consistency over the years and the latter awarding the wine a maximum 100 pts no fewer than 5 times since 1982, with potentially another 100 pts to be awarded for the 2016 vintage. Famed critic Michael Broadbent hides no shame in his admiration for La Mission Haut Brion, believing it to be a magical estate capable of producing wonderful wines from the greatest vintages.
"A poor La Mission is still a better wine than most; a good La Mission is a great wine and a great La Mission can be a religious experience."
Neal Martin, robertparker.com
In 1919, the Woltner family took over the dilapidated estate of La Mission Haut Brion and this represented the watershed for the modern era. Although at the time the wine sold for 1 franc more per bottle than Latour, it was the work of Henri Woltner who came to be known as a 'wine-maker genius' who revolutionised the estate post 1921. After the death of Henri in 1974, the estate was run by Francoise Woltner and Francis DeWavrin, daughter and son-in-law of Fernand Woltner. In 1983, the property was acquired by Domaine Clarence Dillon SA, who already owned neighbouring Haut-Brion. Despite sitting opposite each other for centuries with a rich intertwined history, this acquisition represented the first time the two estates fell under the ownership of the same proprietor.
Since then, both great estates have gone from strength to strength under the stewardship firstly of Jean-Bernard Delmas and following his departure in 2003 of his son Jean-Philippe Delmas. New equipment and a bottling line were installed in 1996 and a new construction which replaced the previous small cellars was opened in 2007. Today the grand estates are still owned by the Dillon family and are represented by Prince Robert of Luxembourg.
An investment like no other
We make investing in fine wine as effortless as drinking it - combining human expertise, data-driven tech and a love for fine wine.



Wine from this producer: La Mission Haut Brion