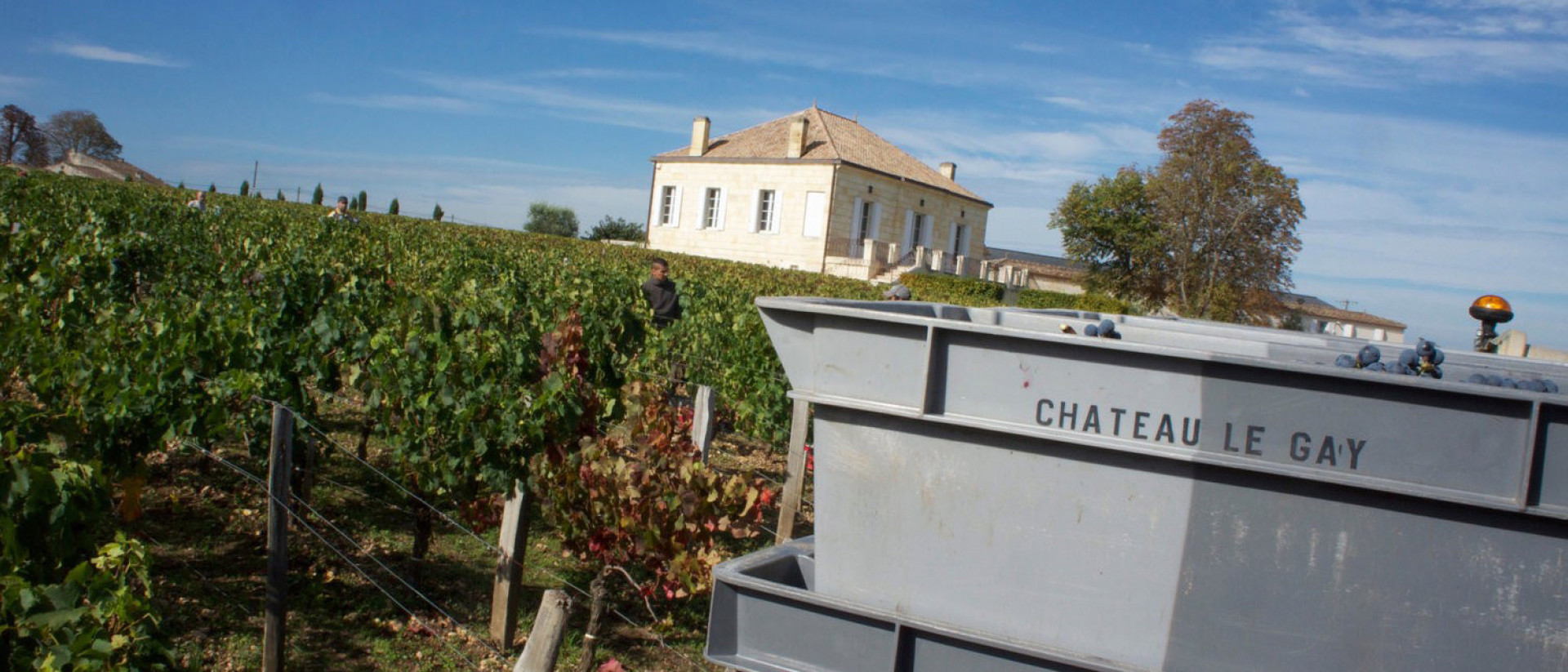 Producer profile
Annual Production (Grand Vin)
Former owners Therese and Marie Robin, both committed spinsters, ran the estate together for six decades.

There is no doubt that the passion and dedication of Catherine Pere-Verge helped turn Chateau Le Gay from an acceptable Bordeaux estate into one of tremendous promise and potential. The wines produced under Andre Robin's careful management have gained almost legendary status, but the wine created by his daughters took on a hard, tannic and beefy characteristic. Catherine's influence turned things around, and from 2005 the quality and style from this otherwise fantastic terroir have taken a great leap forward.
Made from near-miniscule yields of just 15-20 hectolitres per hectare, Le Gay's wines – typically a blend of 50% Merlot and 50% Cabernet Franc – are concentrated, deeply flavoured and provide the rich, opulent texture one would expect from a solid Pomerol. One that certainly stands up to its illustrious neighbours – Domaine de l'Eglise, Chateau Gazin and Chateau Lafleur-Petrus to name a few – and indeed at a much fairer price.
Despite its extensive history, Le Gay has taken its time coming back to the consciousness of the fine wine industry, but it's certainly been helped along by encouraging scores from the likes of Robert Parker and James Suckling. Since 2003 Le Gay's vintages have performed increasingly well, with the 2010 in particular receiving an impressive 99 points from Parker. It's no surprise then that this vintage is performing well in an investment context.
The estate's relatively recent turnaround in operations, couple with promising critic scores, have also helped it for the first time into the Liv-ex Power 100 back in 2013, where it placed a remarkable 10th for investment performance. Since then vintages have seen decent scores and fair prices, although it must be said that the main question mark lies with secondary market - is there enough stock and who is the end consumer?
As is often the case with Pomerol estates, the exact origins of Chateau Le Gay are unknown, although given the proximity of the estates Chateau La Fleur du Gay, Chateau La Croix du Gay and Chateau Vrau Croix du Gay, it seems likely that the name at least relates to a historical figure of some significance in the area.
It is known, however, that during the 18th century the estate was owned by Louis-Leonard Fontemoing – his family being important negociants and landowners that crop up repeatedly throughout St Emilion and Pomerol profiles. By the mid-19th century, the estate had found its way into the hands of the Greloud family, namely Henri Greloud. In 1872, a small plot of nearby vines were added to the his portfolio, but was kept separate from the Le Gay estate. This new vineyard is today known as Chateau Lafleur.
Upon Henri's passing, the estate was sold in 1915 to Andre Robin, who had married Henri's granddaughter Gabrielle Greloud, effectively keeping Chateau Le Gay in the same family. During this time, Andre made significant improvements to the estate under the motto "qualite passé quantite" (quality surpasses quantity). In 1946 the estate was passed to Andre's daughters, Therese and Marie, who produced good quality, if rather robust, wines during their period of ownership.
After the death of Marie Robin in 2001, the estate was purchased by relative outsider Catherine Pere-Verge (nee Durand), who, in her 60s, had spent her life in the crystal ware business, her family running the world's largest crystal glass manufacturing business Arc International. It's rumoured that the sale cost as much as €25 million.
Despite knowing very little about viticulture, Catherine studiously learnt the ways of wine and embarked on a mission to completely overhaul the estate. Further vineyards were acquired, new winemaking facilities installed and the services of Michel Rolland enlisted. Critic scores rose accordingly, and Catherine branched out in the business, purchasing other estates and vineyards.
When Catherine passed away in April 2013, the reins of the reborn Chateau Le Gay were passed to her son Henri Parent, who is now responsible for all of Catherine's Pomerol empire, including Château La Violette,Château Tristan and Château Montviel in Pomerol, as well as Château La Gravière in Lalande de Pomerol.
An investment like no other
We make investing in fine wine as effortless as drinking it - combining human expertise, data-driven tech and a love for fine wine.



Wine from this producer: Chateau le Gay