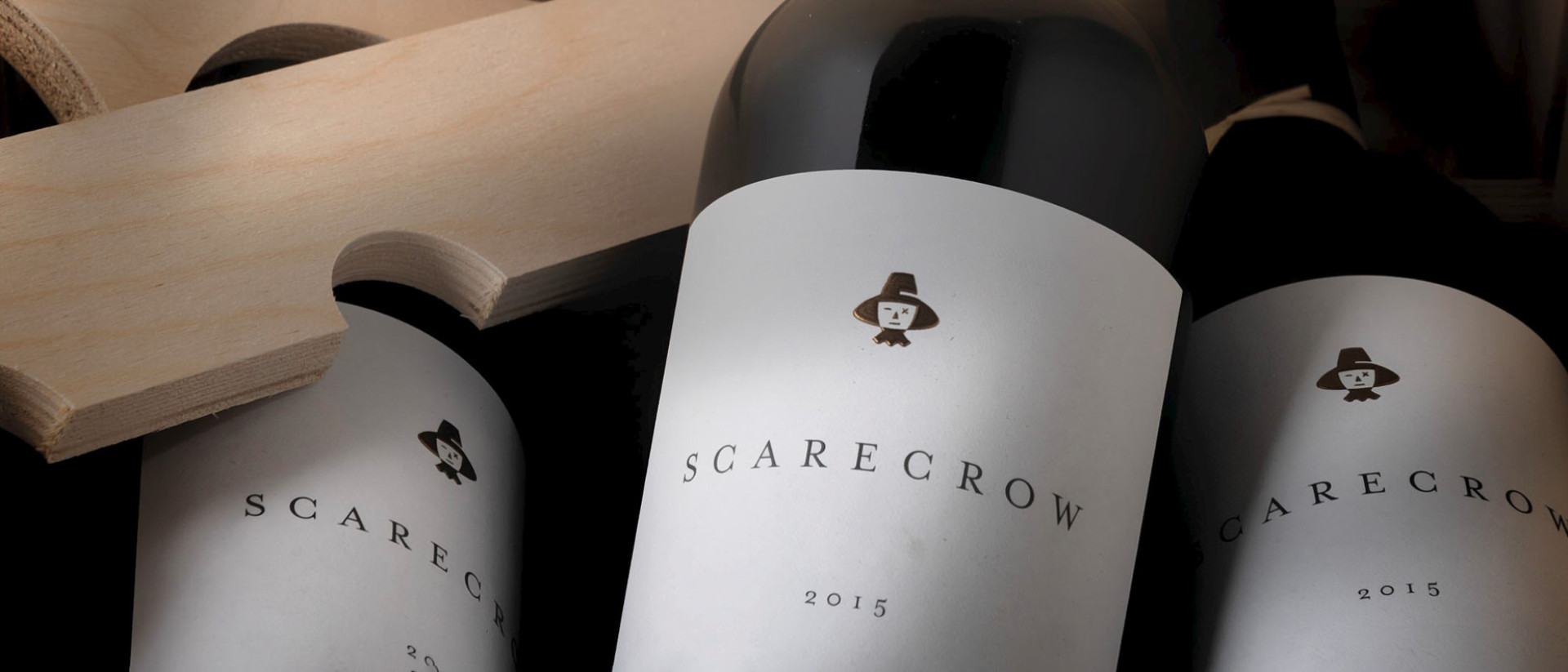 Producer profile
Annual Production (Grand Vin)
The grapes from the Scarecrow vineyard, in its formative years, were used to create Opus one, Inglenook and Phelps Insignia.

Like Dorothy and her friends in The Wizard of Oz, Scarecrow Wine has followed a bright path to success, and although the estate's history is a short one, it's risen quickly – much like the 1939 movie – to legendary cult status.
The scene opens in 1943 when Joseph Judson Cohn, an MGM executive producer (of films such as The Wizard of Oz), acquired the 195-acre Rutherford property, adjacent to Inglenook Winery. Two years later his illustrious neighbour persuaded him to plant grape vines on his estate, and the Cabernet Sauvignon fruit from this 80-acre patch was sold to Inglenook. In later years, the fruit would also be sold to the likes of Opus One, Joseph Phelps Vineyards and Robert Mondavi Winery – highly-respected names and therefore indicative of the quality of JJ Cohn's fruit.
Cohn died in 1996 aged 100, and the heirs put the property up for sale. The initial $4m valuation quickly shot up to $33.6, and in 2002 Francis Ford Coppola of the Rubicon Estate Winery purchased the property in a package deal with Cohn's grandson Bret Lopez. Coppola got most of the vineyard, while Lopez and his partner Mimi DeBlasio received the property buildings, 25 acres of partially planted vineyards and just two acres of the original 1945 Cabernet vines.
These vines would go on to become the backbone of Scarecrow – the name decided upon by Lopez in honour of Cohn (the estate's second wine, M. Etain, can be translated in French to 'Tin Man'). After engaging the services of winemaker Celia Welch, Scarecrow released its debut vintage in 2003 to resounding success, and subsequent vintages quickly established the estate as a key player in both the Napa Valley wine business, and in cult wine legend.
With such a small production (less than 800 cases) and general purchase via mailing list, Scarecrow wines aren't easy to get hold of, which naturally means they're in extremely high demand – as is always the case for cult wines of this stature.
The 2015 vintage – the estate's most recent release – sold out almost immediately, with it's near perfect 99 point score. Other vintages, the 2012 and 2010 with 98 points each, the 2004 with 99, and the 2014 with a perfect 100, are so sought after that many indexes don't even carry value data on them, such is tendency of investors to safely squirrel them away.
This is why Scarecrow has consistently set the bar at Premiere Napa Valley auctions. In 2009, five cases sold for $80,000. In 2011, five cases sold for a record-breaking $125,000, and in early 2014, five cases sold for a record-smashing $260,000. With the 2017 sale seeing one single case of the 2014 go for $200,000, who knows what the future holds...
Scarecrow
One of the most Bordeaux-like Cabernet Sauvignons to be found in the Napa Valley, this 100% blend offers a warm, rich and silky palate, sweet wafts of jasmine, rose petal, cherry and vanilla aromas, and a juicy, full-bodied finish.
M. Etain
The estate has had a second wine since the 2008 vintage, this 100% blend is a lighter, fruitier take on Scaregrow's Grand Vin, offering raspberry and fresh plum tones. Texturally, the wine has enough backbone to lend serious base notes of power, but shows restraint despite the complexity of flavours.
An investment like no other
We make investing in fine wine as effortless as drinking it - combining human expertise, data-driven tech and a love for fine wine.



Wine from this producer: Scarecrow