'The ultimate "garage" winery, this operation's back alley warehouse looks like a set scene from the movie Mad Max, but inside are the elixirs of dreams'.
Robert Parker Jr, Jun 2008

'One of the world's most creative wineries, Sine Qua Non is turning out world-class wines of extraordinary complexity and individuality'.
Robert Parker Jr, Feb 2002

'It is hardly surprising that all wine graphs in the United States seem to be heading in one direction…a wine revolution has been taking place across the country'.
Jancis Robinson
In 1994 an Austrian émigré set about purchasing fruit from three leading 'Rhone Ranger' California vineyards - Alban, Stolpman, and Bien Nacido. Manfred Krankl, and his wife Elaine, then set about producing 100 cases of what is now the winery Sine Qua Non's (SQN as it is often known) maiden vintage –named 'Queen of Spades'. This predominantly Syrah based wine was the first in a now world renowned and sought after list of individually named, bottled and labelled cuvees primarily produced from the Syrah or Grenache varietals. The winery has also grown since 1994, and they now produce wine from grapes grown across four different Californian vineyards, with the main property situated in Ventura. Krankl's eccentric, unique and often brilliant approach to wine making is one of the fundamental reasons that these wines are amongst the most collectable in the world; comparable to the very top wines produced in the Cote d'Or, Bordeaux and Napa Valley.
Typified by very low yields, SQN has two flagship wines; one being a Syrah blend and one Grenache. No two vintages are ever named the same, and each year the shape of the bottle changes along with the label which Krankl designs himself. Whilst this variety can be confusing for the uninitiated, the unique nature of these wines cannot be underestimated, with many considered rare artefacts, and this is without taking into account the contents of the bottle.
It cannot be denied that Manfred Krankl is one of the finest and most revered winemakers in the world, the wines he produces are considered to be the finest expression of native Rhone varietals in the new world. In total The Wine Advocate has rated 16 of their wines perfectly, with only Guigal (31) and Chapoutier (34) receiving more.
Sine Qua Non: 100pt Wines
Syrah Touche 2012 , Grenache Rattrapante 2012 , Grenache Stockholm Syndrome 2010, Syrah Stockholm Syndrome 2010, A short in the Dark (Syrah) 2006, In The Crosshairs (Grenache) 2006, Non Atlantis Fe 203 1A (Syrah) 2005, Mr K The Straw Man Marsanne Vin de Paille 2005, The 17th Nail in My Cranium Eleven Confessions Vineyard 2005, Mr K The Straw Man Marsanne Vin de Paille 2004, Ode To E (Grenache) 2004, The Inaugural (Grenache) 2003, The Inaugural (Syrah) 2003, Just For the Love of it (Syrah) 2002, Suey TBA 2000, Incognito (Grenache/Syrah) 2000.
From the most recent 2014 releases, there is another potential 100 pointer; Syrah Piranha Waterdance (97-100pts).
Investment Case for U.S Wines
We've compiled a Cult Wines mini-index of U.S. wines which we have traded over the past three years. This index features wines such as Dominus, Screaming Eagle, Harlan, Scarecrow & Opus One. The wines enter the index at the date of acquisition for our client portfolios and leave at the date of sale.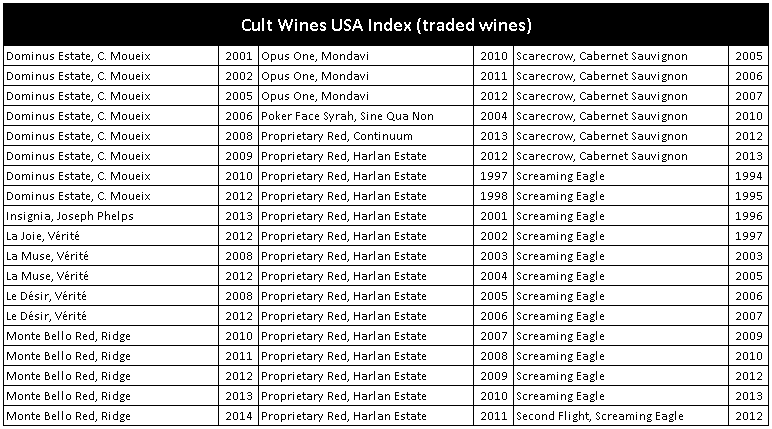 The CW U.S.A Index is currently up 43.4% over the past 3 years. Today, the wines of California have never been so highly coveted, surpassing their European equivalents and producing some of the most electrifying wines anywhere in the world. None more so than SQN.
Arguably the ultimate 'cult' wine, SQN's wines are distributed through a mailing system that is known to have a waiting list for the waiting list. Much like some of the top Burgundy Grand Cru, individuals lucky enough to receive their direct allocations are very reluctant to sell their caches. The result of this is a hugely restricted supply on the global secondary market, and even more so on the European market.
The rare nature of these wines does mean that reliable and current price data is scarce, however below are some examples of price trajectory of a selection of wines over a 5 year period.
SQN Wines
SQN, A shot in the Dark (Syrah) 2006, 100 pts RP
Current market value - £9,600 per 12 (based on loose bottle price)
The soon-to-be-released 2006 A Shot in the Dark is composed of 96.5% Syrah and 3.5% Viognier from the 11 Confessions Vineyard in the cool Santa Rita Hills. Performing better from bottle than it did from barrel, this prodigious red exhibits incredibly velvety tannins, a seamless style, and no noticeable oak (which is remarkable given the fact it spent 32 months in barrel). Dense purple to the rim with an extraordinary perfume of blueberry pie, blackberries, soy, Asian spices, and hints of forest floor and charcoal, this is a complex, rich, seamless, well-balanced tour de force in winemaking. A full-bodied, exuberant, unabashedly California Syrah, it will offer stunning drinking over the next 10-15+ years.

RP 100 points Aug 2010.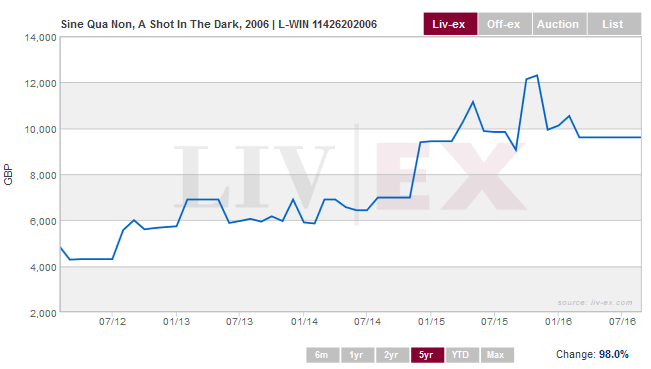 SQN, Icognito 2000 (Greanache/Syrah) 100 pts
Current market value - £15,000 per 12 (based on loose bottle prices)
2000 Incognito: This remains an historic wine and probably the greatest Grenache (95% Grenache and 5% Syrah) made in California up to this timeline. We were lucky enough to have this from a magnum at the vertical tasting, although I have recently had it from my cellar, as I have drunk the last remaining 750 ml formats I owned. A classic casebook in the glories of Grenache, this wine, which does have a little Syrah in it, has a dense plum/ruby color and an explosive nose of kirsch liqueur, incense, wood spice, pepper and earth. Ripe, full-bodied, and opulent, with a velvety texture, a magnificent, multi-layered, skyscraper-like mouthfeel, yet no sense of heaviness or any jagged edges, this is a glorious, voluptuously textured Grenache that scores high on all hedonistic and intellectual levels. I can't see it getting any better, as it is fully mature, so owners of it are advised to drink it up over the next few years.

RP 100 pts 2011.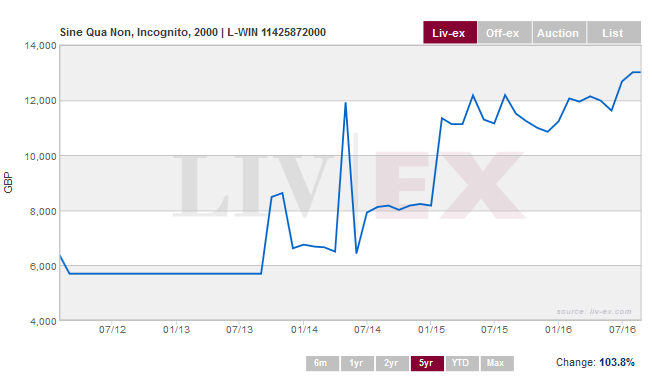 SQN, On Your Toes, 2001 (Syrah)
Current Market Value £23,500 per 12 (loose bottle prices)
The virtually perfect 2001 On Your Toes is 100% Syrah (aged 39 months in new oak) from three vineyard sources, White Hawk, Alban, and Stolpman. I have already consumed two bottles of this extraordinary wine and, amazingly, the oak is less noticeable than in SQN's Syrahs bottled after a normal elevage of 24-26 months in wood. It boasts a gorgeous blue/purple color to the rim as well as exceptional aromas of pure creme de cassis and blackberries intertwined with acacia flowers, licorice, and delicate, subtle toast notes. In the mouth, it is pure silk. An opulent, voluptuously-textured offering that cascades over the palate with no hard edges and nothing out of place, it is a brilliant tour de force in winemaking that can be drunk now or cellared for more than a decade.

RP 99pts Jun 2005.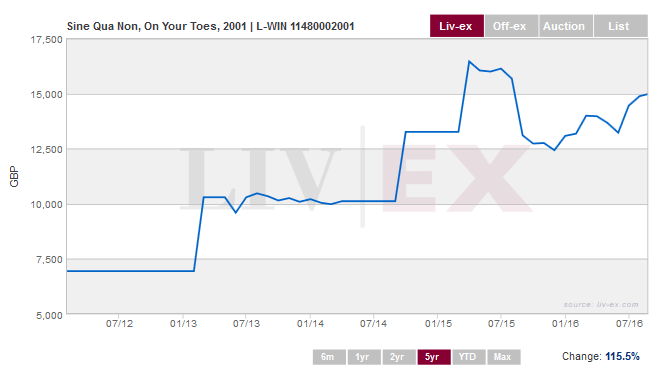 SQN, Li'L E 2003 (Grenache) 99 pts
Current Market Value £23,500 per 12 (loose bottle prices)
2003 Little E: Named after Manfred Krankl's wife, Elaine, this blend of 78% Grenache, 12% Mourvedre and 10% Syrah was one of the first cuvees from the estate's 11 Confessions Vineyard in the Santa Rita Hills. The rest of the fruit came from the Alban, Alta Mesa and Bien Nacido sites. Aged primarily in 300-liter hogsheads, this wine performed brilliantly in the tastings, starting a succession of prodigious Grenaches to emerge from Sine Qua Non. Fabulous fruit intensity, with loads of black cherry, black currant, licorice, incense, and some smoke are followed by a wine with good acidity, velvety yet moderate tannins, and a wonderfully layered, multi-dimensional mouthfeel. This wine is drinking great already, but is still a young wine, from an evolutionary standpoint a mere adolescent, and has at least another decade of sumptuous consumption ahead of it.

RP 99pt Aug 2011.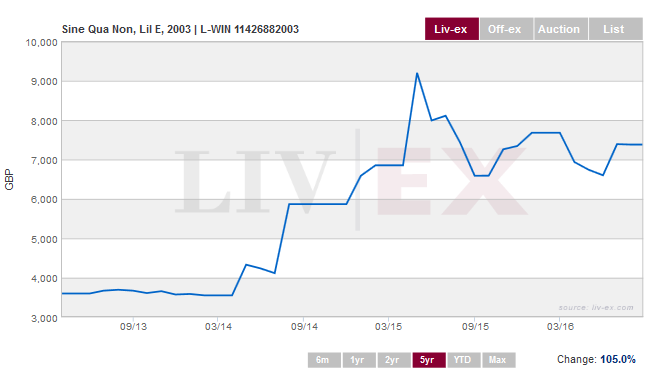 Headline numbers at auction
Often well-documented in wine publications and financial press is the sale of top end wine collections at auction. We have highlighted some landmark results for SQN:
'There's a band of collectors very interested in Sine Qua Non…Some of this stuff is very rare and we've never seen it before at auction. Some of this stuyff never hits the market'.
Conor Kriegel Sotheby's assistant VP.
In May 2014, a single bottle of Sine Qua Non Rose sold for $42,780 to an anonymous buyer on an online auction site winebid.



1995 Queen of Hearts Rose sold at $37,200 (plus the buyer's premium).
Only 25 cases (300 bottles) were ever made.

In February 2015, U.S. auction house, Hart Davis Hart toasted the sale of 50 lots of SQN, 45 of which met or exceeded their high estimates.
In March 2015, three half bottles (3x37.5cl) of 2002 Sine Qua Non E Rose sold for $4,200.



The sale at Bonhams featured 80 Sine Qua Non lots in total, reporting several new high records for the label.
Other examples included double magnums (3L) of 2004 Poker Face and 2004 Into the Dark in a single OWC that realized $13,200; three bottles and one magnum of 2001 Rien Ne Va Plus in OWC that brought $6,600; two magnums of 2002 Just For the Love of It in OWC that sold for $7,800; and six bottles of 2003 The Inaugural in OWC that took in $8,400.
An extremely rare collection of SQN in magnum formats will be on offer at Sotheby's upcoming Hong Kong auction on September 3rd – this is a particular draw amongst multiple First Growth vintages & Bordeaux right bank rarities.
This is certainly the most coveted Californian wine and there is a six-year waiting list to prove it, in order to get an allocation of Krankl's Syrahs, Roussanes and sweet Semillons. A strong showing at next month's Hong Kong auction could be a further catalyst for the Krankl Cult!
To reiterate, it is a challenge to analyze these wines. I know they are distinctive, and I think I am beginning to understand why they are so much greater than just about every other Syrah or Grenache-based wine in California. In short, it is talent and incredibly meticulous hard work. No one works as hard or is as maniacal about a vineyard's viticulture and winemaking as Manfred Krankl. Take that, add in exceptional talent, humility, top-notch vineyards, and I believe I understand the fundamentals of why these wines are so special.

Robert Parker, 2007
Here is a list of the 10 most expensive SQN wines and Robert Parker rating if available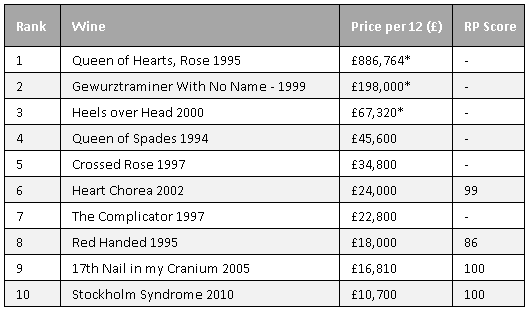 *based on a loose bottle price.
A word from our Head of Fine Wine
Sine Qua Non – translates from Latin as essential action, condition, or ingredient. Is this an essential wine? I believe so, for me this wine is all about passion and a visionary approach to winemaking by brave couple Elaine & Manfred Krankl. First time produced in 1994, just 4 barrels of Syrah that manage to capture the imagination of wine lovers from all around the world. The style of the wines are unapologetically full bodied with great concentration. Despite all of the richness, the varietal character manages to shine through, with aromatic nauance creating another layer of quality. Every year bottles have different name a shape with labels designed by Manfred himself, minuscule quantities produced annually, around 4000 cases across several different wines. All those elements seem to me to be in just right quantities to make something simply extraordinary.
Key Facts for investors
16 perfect 100pt wines, only to be eclipsed by Chapoutier & Guigal.
Produce wines of Rhone style predominantly from Syrah and Grenache.
First vintage was in 1994.
Each vintage, although essentially the same wine, is named individually each year with an entirely new label and bottle.
Total of 3,500-4,000 cases produced each year; typically 200-600 of each of the two main cuvees.
A six-year waiting list to get an allocation of Krankl's Syrahs, Roussanes and Sweet Semillions.
Upcoming auction at Sotheby's in Hong Kong expected to help integrate the brand into the Asian wine market.
Risks:

Drastically low levels of liquidity.
Wine may not trade for some time therefore there can be a lack of reliable price data for valuation purposes.
Specialist market.
Potential extended period for liquidation.

Benefits:

Prices for SQN have consistently double in value over a 5 year hold.
As a result of the quality and scarcity of these wines, demand far outstrips supply.
Potential to take prized wines such as these to auction.
Often available in large formats or collection cases – lending itself to a premium on re-sale.
Regional data of U.S. wines is very positive: best performing Index over the past 5 years with limited volatility largely due to restricted supply resulting in lower liquidity.
Upward trend for U.S wines and the leading names are enjoying high levels of demand.
Cult Wines U.S Index up 43% over the last three years.