Penfolds Grange, Shiraz 2012
£1,865.00 per 6x75cl
Inclusive of management fee.
£1,825.00 per 6x75cll
Retail Price.
Key Points
Unit price is 30% cheaper than the release price of the comparable 2008 vintage.
Australia's most collectible and recognised wine.
19/20 from Jancis Robinson.
UK best market price.
Average 10 year performance of vintages within their optimum drinking window (1981-2003*) is 146.25%.
Part of Rest of World 50 index, which is up 144.19% in 12 years.
Over the past 15 years Grange has consistently featured in the top 25 most searched for wines on Wine Searcher.
Circa 6,000 cases produced each year.
*Excluding 1986, an anomaly with 1,687.39% growth over the last 10 years
Tasting Notes
"81% Barossa, 19% McLaren Vale from a dry winter. 98% Shiraz, 2% Cabernet Sauvignon. Acidity 6.8 g/l, pH 3.63. 18 months in new American hogsheads. Gago likens this vintage to 1963 and describes it as 'luxury that treads lightly'.

Very dark purple. Floral notes and P Gago says 'formic acid'. Heady and powerful. Such savour and yet breadth too. Very sweet but then cool. Great depth and reminds me of a cool pool in a wood. Spice and sweetness. Will not be disappointing. Very smart. Long and creamy. Really energetic. Luscious fruit. "
Score: 19-20 points - Jancis Robinson, jancisrobinson.com, September 2016
Brand
Penfolds, Grange is Australia's most iconic brand and for those who are not familiar with the wine simply known world over as 'Grange', here as some key facts:
Penfolds estate founded in 1844.
Penfolds Grange was first produced in 1951 by Max Schubert to rival Bordeaux's Grand Cru Classe and was named Grange Hermitage until 1990.
Grange is a multi-vineyard, multi-district wine - grapes are sourced from various locations in South Australia.
Average production of Grange is circa 6,000 cases produced each year.
Grange is regarded as one of the world's leading wines, with an average Wine Advocate score of 95.13 over the last 20 vintages (1992-2011); a 'First Growth from down under'.
The 2012 Grange is being released in conjunction with Saint-Louis, one of France's most renowned crystal houses.
Brand Repositioning
Grange has been produced in an uninterrupted sequence of vintages since 1951, the quality and global appeal of this wine firmly cements its place amongst the great wines produced from around the world. From a price perspective, how does Grange compare to the great wines of Bordeaux, Spain, Italy and California? Below is a comparison with wines from other regions with a similar average critic score and global appeal.

Although it would be overzealous to use the above as direct comparisons, it does illustrate that there is plenty of scope for growth for Australia's First Growth equivalent particularly given its iconic status and ability to penetrate new markets.
Over the past 2-3 years it is clear that the Penfolds owners, Treasury Wine Estates (the largest global wine company) have had a clear strategy to reposition their leading wine at a level comparable to the wines mentioned above. Away from their traditional Australia based global release of the wine each year, they are now undertaking a 'luxury world tour' showcasing the estate amongst the upper echelons of their global clientele. The marketing budget for this wine has now increased considerably, with premium events taking place in New York, LA, Canada, Singapore, Japan, Thailand, Shanghai, Dubai and the UK before Christmas.
On the back of this, the release prices of Grange have been increasing over the past 3-4 years to reflect the burgeoning global customer base, particularly in Asia. More so than other wines, purchasing Grange upon release, and thus directly from the estate is fundamental to the investment merit of these wines. There is unmistakably a long term hold, however when liquidating this position at the end of its cycle, having the wine as essentially 'ex-cellar' will be of the upmost importance to the eventual buyer.
Index Performance
Over the past 5 years diversification has been a fundamental requirement for any successful investment focussed collection of fine wine. Outside of the famous French and Italian regions, California and more specifically Australia's leading brand offer an attractive long term upside. The growth of Liv-ex's 'Rest of The World 50' index highlights the strong and stable performance of wines outside of the Old World over the past 5-10 years.


Wines included in this index are from the following producers;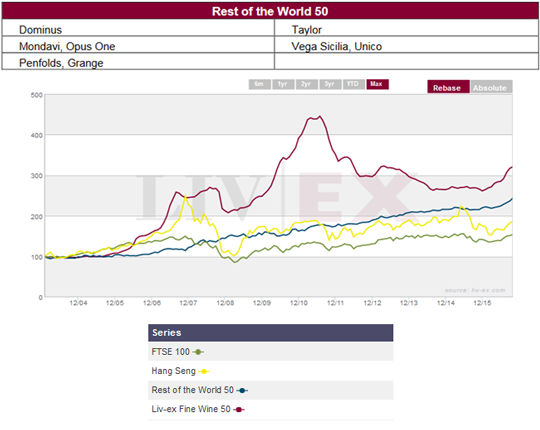 Over the past 12 years the absolute returns for the FW50 (241.5%) have been greater than the rest of the world (RoW) 50 (144.19%), however the volatility has been significantly lower by comparison. Referencing the graph above, the trajectory of the RoW50 index during 2008 in particular, underlines the critical diversification characteristics that wines from these regions are able to offer, alongside consistent and low risk returns.
Performance Analysis
Grange is a wine that requires a long term hold in order for it reach its full potential from both a drinking and investment perspective. This is dictated by the style of the wine, smaller secondary market (compared to Bordeaux) and the levels of production. However, when viewed from a long term perspective the performance of Grange has been extremely positive.
Below is a breakdown of each vintage produced since 1981 that has reached its appropriate drinking window, alongside the 10 year performance and number of cases available on the market :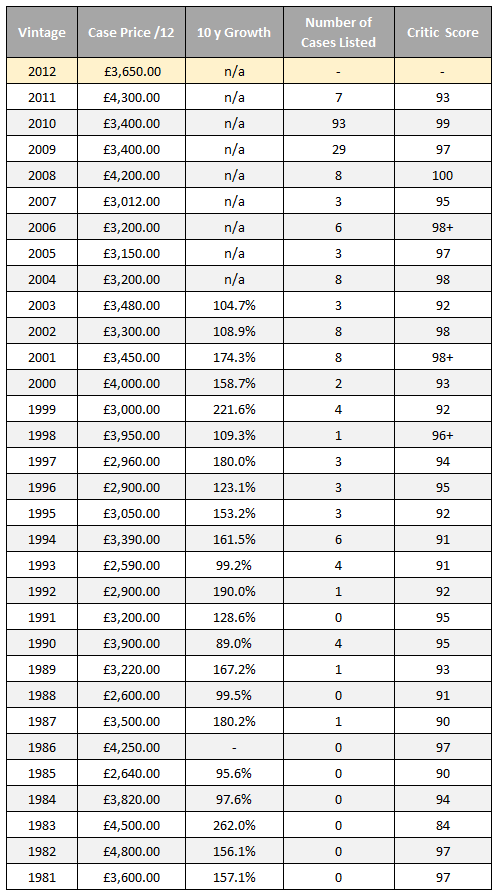 What is clear from the table above is that the supply on the secondary market diminishes very quickly after it is released, underlining the benefit to those who purchase Grange upon release; this way collectors are able to access the most competitive price and guarantee the provenance of stock. As discussed above, due to the style of the wine, we advise clients hold this with a minimum outlook of 10 years.
Penfolds in Asia
'For me at the moment the only brand that rivals the fame of Penfolds in China is perhaps Chateau Lafite Rothschild. Having said that, with Penfolds' rich variety of products and deep penetration in the local distribution networks, even Lafite is in for a difficult battle.'
Terry Xu, Decanter China 11 May 2016
Wine Australia's latest report reveals that the value of Australian wine exports climbed 14% to AUS$2.1 billion in 2015, reaching its highest value since October 2007. However, the strongest growth was seen in China which grew 66% to AUS$370 million. Hong Kong was also the fifth largest market and increased 22% to AUS$132 million.
Supporting this figure, Treasury Wine Estates (the owner of the Penfolds range) unveiled their 2015 collection - including the 2011 Grange - in Shanghai last October; the first time this has occurred outside of Australia. The company said in August it expects Asia to be its biggest profit driver within 18 months.
Affluent Chinese consumers have been known to favour Penfolds due to its similarity to the saying 'coming into wealth'.
Summary Points
19/20 from Jancis Robinson.
Average 10 year performance for vintages that have reached their recommended drinking window is 144.26%.
Australia's First Growth equivalent.
Rapidly growing demand in Asia.
For the past 15 years it has never been lower than the 25th most searched for wine globally on Wine Searcher.
Recommended 10-15 year hold with a growth projection of 80-200%.
Limited cases available on first release.