Screaming Eagle 2014 97pts (RP) @ £5,395.00 per 3x75cl
'The tell-tale sign of this iconic wine is its extraordinary purity of crème de cassis fruit, which is displayed abundantly in the 2014.'

Robert Parker
Key Points
Latest release from Screaming Eagle Winery.
Most affordable vintage.
California's most iconic wine.
Average 12 month performance across last 21 vintages 20.23%.
CW US index up 44.8% in 3 years (1/10/13 – 01/11/16).
97pts from Robert Parker.
Only 880 cases produced in 2014.
In Liv-ex's top three performing wines for 2015.
Average WA score since first vintage of 97+pts.
- Higher than any other wine over the same period.
Tiny production of 800-1,000 cases per annum.
Globally there are only listings for 10 out of the last 22 vintages.
California continuing to grow in popularity globally, listings for US wine more than doubled in the UK in 2015.
Comparable vintages, market price per 3 bottle case.
- 2009 (96pts ) @ £6,000.00 – 11.2%.
- 2004 (97pts ) @ £6,600.00 – 22.3%.
- 2002 (97pts) @ £7,400.00 – 37.1%.
- 1999 (97pts) @ £6,200.00 – 14.9%.
- 1993 (97pts) @ £10,119.00 – 87.5%.
Older vintages trades at a significant premium:
- 1992 (99pts) @ £22,704.00 + 320.8%.
Estate Overview
If any wine exemplifies the California cult wine phenomenon, it's Screaming Eagle, a wine brand synonymous with consistent, near-perfect critic scores, high prices, tremendous demand and, of course, short supply. As it stands, it is the most expensive American wine however the most critically acclaimed, the lack of availability in the market is astonishing. All 800 cases produced annually go to the lucky recipients at the top of a long queue of subscribers. It is nearly impossible to secure older vintages and the most globally sought after U.S wine.
The 57-acre vineyard was purchased by original owner, founder and former real estate agent Jean Phillips, in 1986. At the time, the estate was planted with a mix of varieties, most of which Phillips sold to other Napa wineries – but not all. One single acre, home to around 80 vines of Cabernet Sauvignon, piqued her interest, and she sought the opinions of Robert Mondavi's employees on the commercial potential of a wine made from these vines.
'Potential', it seems, was something of an understatement: the 1992 vintage, released in 1995, received a 99-point score from Parker. At the time Phillips sold this vintage for $125 per bottle, and even then it was regarded as the most expensive wine produced in California! As the positive reviews flooded in and further fantastic vintages were produced, prices climbed higher and higher, and vintages continued to sell out.
In 2006, Phillips sold the estate to Charles Banks and Stanley Kroenke after they allegedly made her an offer she couldn't refuse. The sale is rumoured to have cost around $30m, but many speculate the figure was even higher. Three years later, Banks left to pursue other viniculture challenges, leaving Kroenke as the sole proprietor.
2014 – Vintage Overview
As a vintage, 2014 will largely be remembered as the year that a large earthquake struck Napa Valley in late August. It was also the second year in a row whereby droughts had affected production levels, leading to early harvests. Although 2013 is a vintage that will go down in history for California, 2014 still has plenty to offer.
Robert Parker summarises the vintage well with the following quote 'Post-bottling there is an exuberance and flashiness to the 2014s, as they have clearly put on weight now that they're in bottle. I thought this was a very good to excellent vintage when tasting from barrel, but I now have to rate it now as another superlative year based on how the wines showed from bottle'.
Investment Analysis
The table below demonstrates the value the 2014 offers against its predecessors, and also tracks the 12m, 2 year and 5 year performance of the last 23 vintages.
* Using single bottle listings where accurate data unavailable.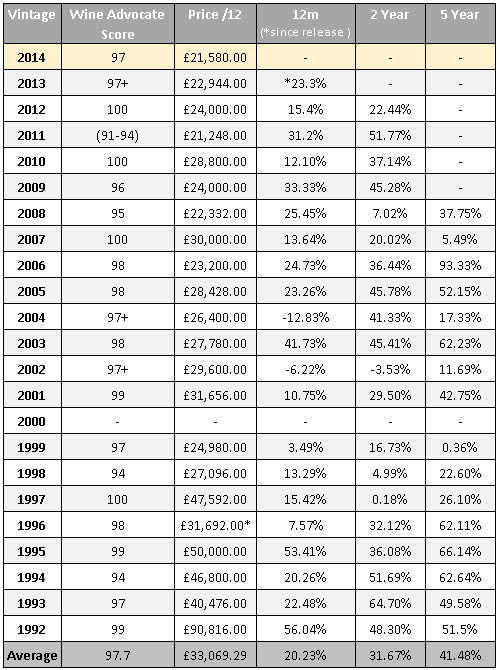 We've compiled a Cult Wines mini-index of U.S. wines which we have traded over the past three years. This index features wines such as Dominus, Screaming Eagle, Harlan, Scarecrow & Opus One. The wines enter the index at the date of acquisition for our client portfolios and leave at the date of sale. The return across this index over the 3 year period is 44.8%.
*Index (1/10/13 – 01/11/16)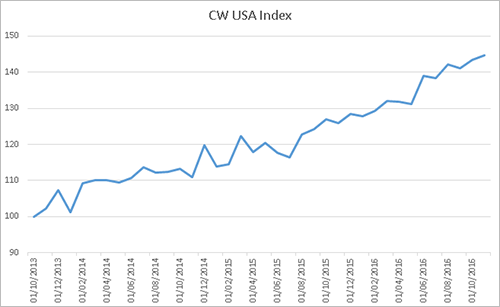 As can be seen, much like Burgundy, exposure to the most revered wines from California is proving to be a key component in our private client portfolios.
The graph below highlights the growth of the most recent comparable vintage, 2009 since Jan 2012. The graph is plotted against a series of mainstream financial markets, with Screaming Eagle 2009 outperforming by 33% in the past 24 months.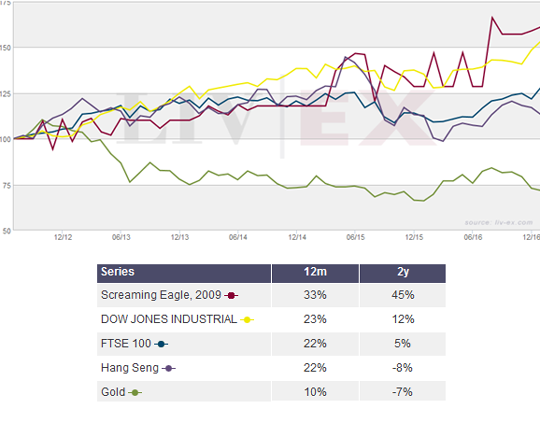 Summary Points
Most affordable vintage.
Tiny production levels – make this one of the most over-subscribed wines in the world.
Highest average score of 97.5pts since first vintage.
Recommended hold of 5-7 years with a significant upside over this term.