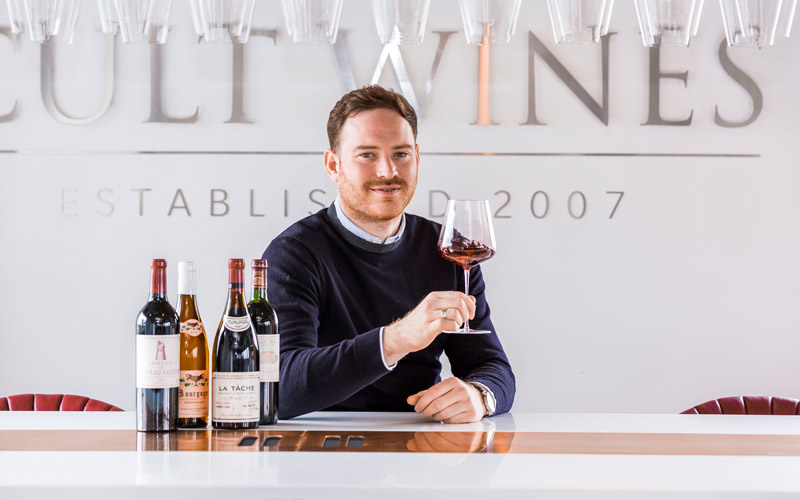 Tom Gearing, Cult Wines Co-Founder and Managing Director
Cult Wines, the leading fine wine asset manager, has today announced that its client assets under management (AUM) has risen to £100m, up from £65m AUM 12 months ago.
This remarkable achievement caps off an exceptional start to 2019 for the company, which was recently recognised in the 2019 Sunday Times HSBC International Track 200 for the second year in a row, placing 73rd.
Tom Gearing, Cult Wines Co-Founder and Managing Director, said:
"Cult Wines has carved out a reputation for providing expert advice on investment-grade fine wine, underlined by our dynamic and forward-thinking approach to analysis and research. Reaching the £100m AUM figure is a landmark. AUM is a clear sign of the confidence and trust our clients place with our firm. We have ambitious plans for the next 12 months and today's announcement is a strong endorsement of our hard work and determination."
Patrick Thornton-Smith, Commercial Director at Cult Wines, added:
"Fine wine investment, as an alternative asset diversification tool, is growing in popularity and now represents a prudent investment strategy. Moreover, it is an enjoyable way to make good returns, engaging in the absorbing world of fine wines. Investment in alternative assets, including fine art, classic cars or investment grade wine, are appealing to a far broader audience. Traditional vehicles, such as equities, cannot add the extra value that physical, asset backed ownership can deliver. We maintain that fine wine investment should be simple, enjoyable and profitable."
For year-end 2018 revenues at Cult Wines increased by 54% to £52m with international revenue growing by 64%. In 2017, Cult Wines received the Queen's Award for Enterprise, the most prestigious corporate accolade that a UK business can win.