Key Information:
Founded in: 1948 by Francois Raveneau, run by Jean-Marie and Bernard Raveneau.
Wine making team: Isabelle Raveneau (daughter of Bernard), Maxime Raveneau (son of Jean-Marie)
Grand Cru vineyards: Les Clos (0.5ha), Blanchots (0.64ha), Valmur (0.75ha)
Premier Cru vineyards: Vaillons (0.4ha), Butteaux (1.49ha), Montee de Tonnerre (2.51ha), Foret (0.67ha), Monts-Mains (0.36ha)
Approx. total annual production: 50,000 bottles
Grape Variety: 100% Chardonnay
Liv-ex 2019 Power 100 Rank: 73 (up from 30 places from 2018)

Executive Investment Summary:
Very strong investment opportunity in selected wines and vintages from Domaine Raveneau – The King of Chablis.
Previously one of the underdog regions of Burgundy, Chablis is suddenly more famous and making wines that command collectible prices.
Our market insight tells us that global interest in the greatest white wines is ever increasing and our analysis demonstrates the value on offer amongst top producers in Chablis.

High potential upside with limited downside but with likely less liquidity than a Côte-d'Or comparable, such as Montrachet.

Exclusive and very limited production.

Buy recommendation:
We have firm buy recommendation across multiple wines and vintages for Raveneau. Due to the scarcity of stock currently available the max allocation per client is £10k. Once you have indicated your investment appetite, your portfolio manager will send you a breakdown of the wines with supporting analysis.
Estate Background
Domaine Raveneau was founded in 1948 when Francois Raveneau combined vineyards he had bought himself with vineyards owned by his wife's family.
Francois's father, Louis Raveneau, owned several parcels in Chablis but sold them during the 1950s. It was a challenging time in Chablis during that period: production had been severely disrupted during World War II, affecting the liquidity of the producers. Furthermore, the area was plagued by grape phylloxera. However, Francois Raveneau still saw Chablis' great potential and took advantage of decreasing land prices to expand his domaine continuously throughout the 1960s and 1970s - including important parcels on some of Chablis' fine Grand Cru vineyards.
Francois Raveneau built the reputation of this estate with his inimitable style. Later his two sons Bernard and Jean Marie took over the reins. Jean-Marie joined in 1978 while Bernard joined a few years later. The popularity of the wine amongst connoisseurs around the world soon boomed. The new generation is now in place to pursue the tradition, Isabelle (daughter of Bernard) continues to uphold the tremendous quality and unrivalled consistency of these truly world-class wines. She joins a growing list of 'next generation female winemakers' in Burgundy who are at the top of their game.

The Wines: Rare and highly sought after
Today, Raveneau produces three Grand Cru and five Premier Cru wine, all of which are painfully finite. Across these celebrated vineyards, approximately 50,000 bottles of wine are produced each year. To put this in perspective, this is less than half of the annual production of Domaine Leflaive (Puligny-Montrachet ).


Investment Performance
Please note that the available data for these wines is limited as a result of the low production.

The charts below track average 5-year performance for some of the leading vineyards.

The chart below demonstrates the average 5-year return % by sites vs the benchmark Burgundy Index – Liv-ex Burgundy 150.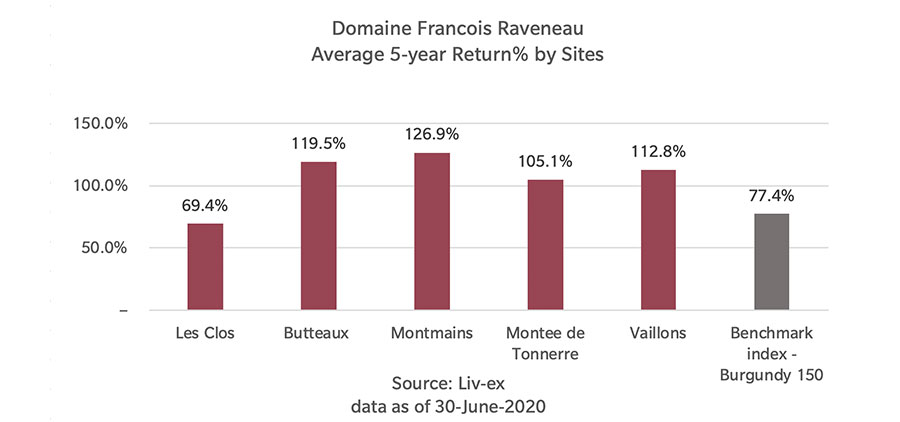 The chart tracks the 5-year performance across four vintages of 1er Cru Montée de Tonnerre vs Liv-ex Burgundy 150 (dotted line)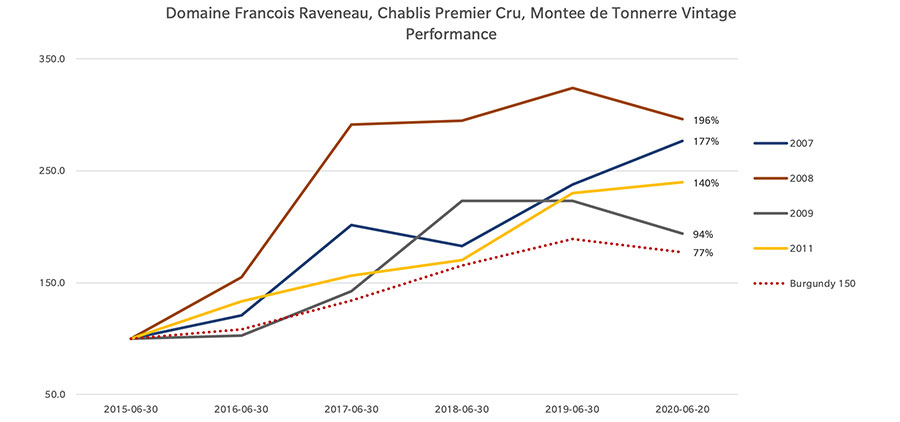 Conclusion: The Finest Expression of Chardonnay
Finding value in Burgundy is a challenge, especially for the whites, where prices can easily exceed £500.00 per bottle and that's before you bring the likes of Coche, Ente or d'Auvenay into the equation. Previously regarded as an underdog or overlooked appellation, Chablis boasts some of the finest expressions of Chardonnay at a fraction of its neighbours' prices and is suddenly becoming more famous.
The chart below displays three of the most coveted bottles in Burgundy and compares their average price per bottle.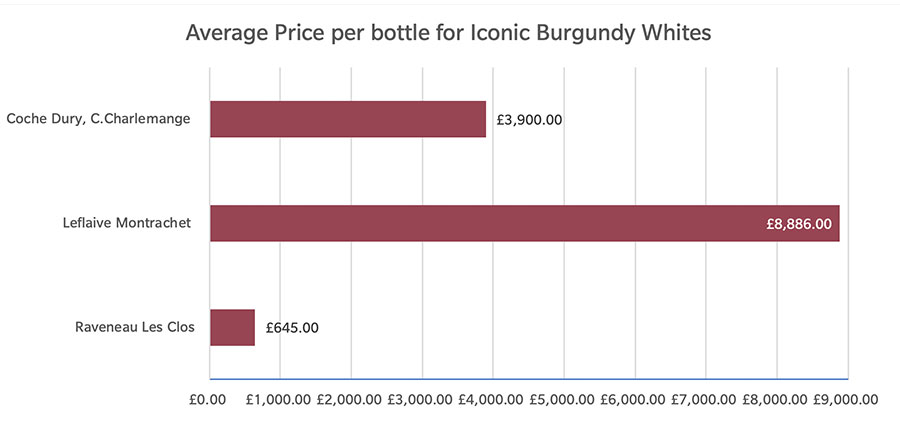 Our recent trading activity indicates that there is an increasing appetite from collectors and consumers around the world for the most celebrated white wines. However, seeking out these wines is a complex challenge due to the scarcity compared to similar quality reds. Within this category, there is no doubt that the wines of Domaine Raveneau continue to be some of the most sought-after and highly prized in the world.