Key points:
Quality is improving due to dedicated efforts of winemakers and positive effects from climate change. 2019 has received widespread praise as a possible 'vintage of the century.'
German wines are making up a greater share of the fine wine trade as the global market realises their potential.
Riesling is at the forefront of renewed interest in German wine and has many favourable investment characteristics.
Pinot Noir in Germany benefits from a warming climate, improving its strong investment potential.
The reputation of German wines has enjoyed much-deserved improvement in recent years. If the world continues to wake up to the full breadth of amazing wines on offer in Germany, we think the region's investment market could see considerable growth in the coming years.
There are signs this is already underway. A major theme over the past year has been the fine wine market's global diversification, of which Germany is becoming an important driver. Liv-ex reported how Germany generated in 2020 a much larger share of the market activity of its 'Rest of World' index while overall volumes leapt higher (Figure 1). We think these trends can persist and see several factors why the market for German wines has an exciting future.
Figure 1 - Germany's growing trade share
Germany's % of 'Rest of World' by value and numbers of wines traded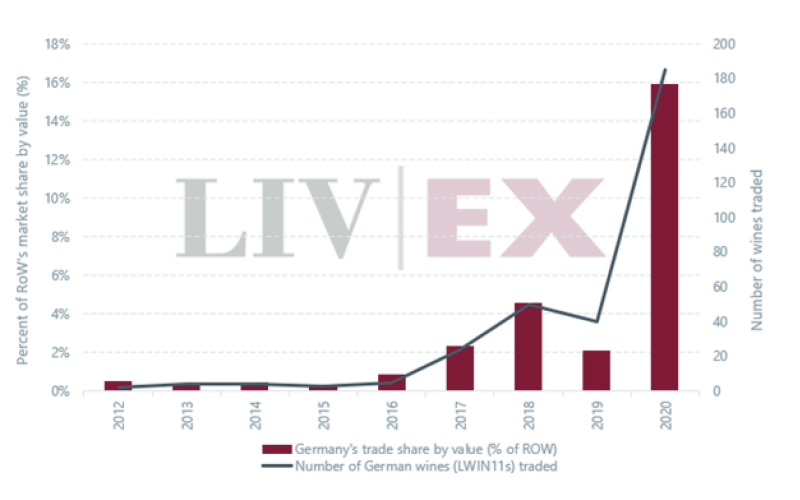 Source: Liv-ex (published on 20 Jan 2021)
Improving quality
The 2019 vintage could become the turning point in German fine wine. Experts have spoken about a steady improvement in recent decades, but praise appears to be hitting new heights. Jancis Robinson called 2019 a 'breakthrough vintage" while James Suckling's website labelled it as a possible "100-point vintage" that could be "remembered for decades, possibly even generations." High praise indeed.
Much of this acclaim stems from winemakers' increased attention on bringing to life their unique terroirs. They have cast aside the country's reputation as a producer of simple, light-bodied wines in favour of diverse and unique fine wines.
But there is another force at play. Climate change is having a (mostly) positive impact on German wine by causing warmer, longer growing periods in this cool climate region. Every vintage since 2014 has seen temperatures above long-term averages, meaning grapes consistently ripen in a larger range of locations. This allows growers to focus on bringing out the characteristics of a particular location and vintage conditions through the wine. This increased sense of 'uniqueness' adds to a wine's prestige, an important feature that boosts investment credentials.
The warmer climate has been a particular boon to red wines. Although certain regions of Germany have long histories with Pinot Noir, known in the country as Spätburgunder, the recent warm growing seasons mean a range of different regions produce complex, age-worthy reds that can compete with renowned Pinot Noir regions globally. The German Wine Institute has noted there has also been more planting in recent years of international red varieties, including Merlot. This trend should pull in more attention from a global audience.
Investment credentials
Germany is producing higher quality wines across its 13 protected designation of origin (PDO) regions, and critics have highlighted the improving quality in a broad range of varieties including Pinot Blanc, Pinot Gris, Gewurtztraminer and Silvaner. However, Riesling and Pinot Noir hold the most potential to grow their international fine wine status, in our view.
Riesling - The grape that is most closely associated with German wine is at the forefront of the country's growth in stature. Jancis Robinson recently called Riesling "the greatest white wine grape in the world." Whether you agree or not, Riesling has considerable investment upsides:
Uniqueness

– Riesling forms a point of differentiation for Germany. The country is already widely considered the preeminent Riesling region with its own signature characteristics and styles. It is also not widely produced in other fine wine regions, meaning Germany has an edge on the market that can support its price appreciation potential as demand grows.

Diversity

– Another unique selling point of German Rieslings is the range of styles produced. Dry style Rieslings are improving in quality and may have wider appeal. Exceptional quality can also be found among the typically off-dry Auslese and Spatlese or the sweeter Beerenauslese and Trockenbeerenauslese. James Suckling's top 100 wines of 2020 included 12 German Rieslings, seven classified as dry wines while five had some sweetness.

Ageing potential

- Riesling's excellent ageing potential makes it an ideal investment wine. Critics have highlighted that quality Rieslings, both dry and those with residual sugar, are capable of ageing in bottle for decades, longer than most white Burgundies and, according to some reports, on par with red Bordeaux classified growths.
Pinot Noir (Spätburgunder) – In the 1980s and 1990s, a group of producers brought the knowledge and methodology from Burgundy as part of a concerted effort to improve the quality of German Pinot Noir. It has taken time, but we are now properly seeing the benefits in a growing range of complex wines that still exhibit a distinctive elegance, reminiscent of the cool-moderate climate.
Here are the main reasons why we think German Pinot Noirs deserve investment consideration:
Demand

– The soaring success of Burgundy wines testifies to the popularity of Pinot Noir among wine lovers and investors alike. The sky-high prices in the French region are fuelling interest for other quality Pinot Noir regions, such as the US West Coast, New Zealand and Patagonia.

Many German regions share a similar climate, terroir and winemaking knowledge with its iconic neighbour. Baden, in particular, has been mentioned for its similar terroirs to Burgundy. These shared characteristics with a region that has seen colossal price growth since middle of the 2010s should catch the eye of any investor.
Scarcity

– Germany has been making wines from Pinot Noir since at least the medieval period. Although it remains the world's third largest producer of Pinot Noir (after France and the US), many of the best vines were torn out in middle of the last century in favour of white varieties or lesser quality red clones for mass production. In 1970, just over 3.5% of vineyard space was Pinot Noir. This increased to 11% (11,800 ha) by 2019 with more producers selecting high-quality clones. However, it takes a long time before new vines can produce top-quality wines, meaning supply at the high end of the market will remain contained in the medium term.
Investment analysis
Our 2021 Fine Wine Investment Outlook and other reports have emphasised the growing diversity of the investment wine universe. For these reasons mentioned above, and many more, we believe German wines should form part of an allocation to the so-called 'up-and-coming' fine wine regions.
For a guide on how to approach this exciting German opportunity set, please download our brand-new Germany investment report. This report takes a deeper dive into the world of German fine wine including an analysis specific regions, producers and individual wines.