Cult Wines recently highlighted how German fine wine is entering an exciting period, with Rieslings and Pinot Noirs representing a growing investment opportunity. Here, we highlight one of the producers in the report – Peter Jakob Kuhn.
Peter Jakob Kühn – Remarkable Wines of the Rheingau
"Oh, there's nothing special or rare to see here. We are just a family winery with great employees," says Peter Bernhard Kühn, the son of Peter Jakob, about their winery in an interview with the Verband Deutscher Prädikatsweingüter (VDP). We think he's just being modest. Displaying remarkable purity and freshness, the wines of Peter Jakob Kühn are truly something special.
Stephan Reinhardt, writing for Wine Advocate, agrees: "I am running out of superlatives for this biodynamic domain that never fails to surprise me whenever I taste the wines. This is one of Germany's icon producers, and the Rieslings are among the finest Rieslings from planet wine."
The Kühn family has been making wine in the unique conditions of the small Rheingau region for over 230 years. When they took over in the 1970s, Peter Jakob Kühn and his wife Angela dedicated themselves to producing wines of the highest quality that captured the true essence of their 18 hectares of vineyards on the banks of the Rhine.
Their son Peter Bernhard is now the winemaker and continues the family's tradition of maintaining a focus on nature. The estate gained biodynamic certification in 2004 and all grapes are hand harvested. Indigenous yeasts are used during winemaking with no external fining agents in order to maintain the purity of the estate's sites that include south-sloping vineyards next to the Rhine near the villages of Oestrich and Hallgarten.
Amid changing regulations for German winemakers, the family has gained more flexibility to age their wines longer before bottling. The single-site wines are aged for three years before release and even the estate and village wines typically spend a year in the cellar. This added time enhances the wines' complexity and allows them to find a better balance before their release.
The Oestrich Doosberg hilltop site is one of the Kühn's top vineyards and is classified as a Grosse Lage by the VDP. The frequent winds here help keep the grapes dry, protecting them from fungal disease and providing optimal conditions for long ripening times.
The below chart shows Peter Jakob Kühn's 2018 Doosberg Grosses Gewachs (GG) wine has the highest score (by Wine Advocate) since at least 2013 with prices already trending higher compared to the preceding years. The fits a wider trend of high-quality recent vintages driving a growing interest in German fine wine.
Price vs score comparison – Peter Jakob Kühn Doosberg Riesling Trocken GG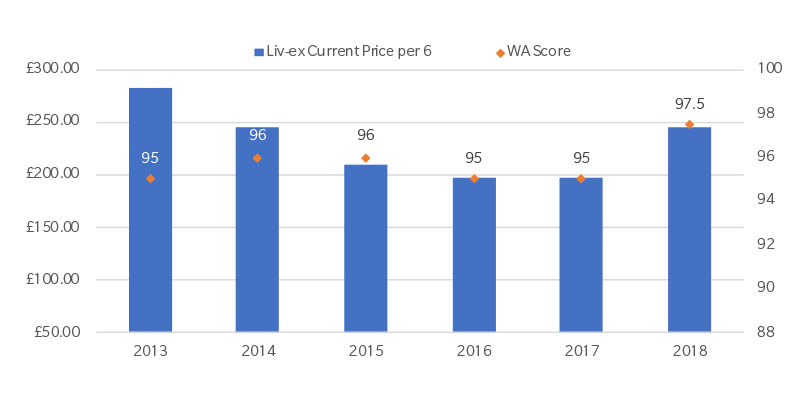 WA = Wine Advocate
Source: Liv-ex, Wine Advocate, Wine-Searcher.com - Prices based on 6x75cl as of 16 Mar 2021
These prices could still trend higher. Wine Advocate put the drinking window for the 2018 Doosberg GG as 2026-2050, meaning its life is just beginning. Stephan Reinhardt added the following tasting note:
"The 2018 Doosberg Riesling Trocken GG is enormously fine and precise and even coolish on the deep and complex nose, given this spectacularly warm and dry year. The deep, clayey soils of the Doosberg, however, didn't cause any stress. On the palate, this is an intense, finely juicy, seamlessly textured, sublime, highly elegant and complex Doosberg with remarkable purity and finesse and a salty finish with a fine grip and lemon flavors. This is an extraordinary Doosberg."
Another Grosse Lage VDP site is the Mittelheim Sankt Nikolaus vineyard, which is named after a statue of the saint on its edge. This site has vines over 60 years old and produces some wonderfully complex wines. The chart below reveals some relative value opportunities from a price per point perspective among the most recently scored vintages.
This highlights the potential for price growth among their recent wines. But we think there is more potential for growth for all of Peter Jakob Kühn's wines, including the yet-to-be released 2019 and 2020 vintages, as the world fully appreciates the potential in German Riesling.
Price vs score comparison – Peter Jakob Kühn Mittelheimer St Nikolaus Riesling Trocken GG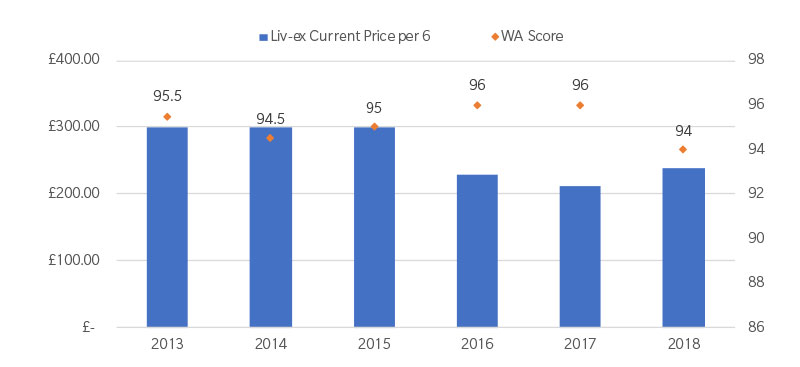 WA = Wine Advocate
Source: Liv-ex, Wine Advocate, Wine-Searcher.com - Prices based on 6x75cl as of 16 Mar 2021
Download the Germany Investment Report
Complete the form below to download your free German Fine Wine Investment report today.