09 November 2023
October 2023 Flash Report - Champagne bucking the trend
Cult Wines Indices – Returns as of 31 October 2023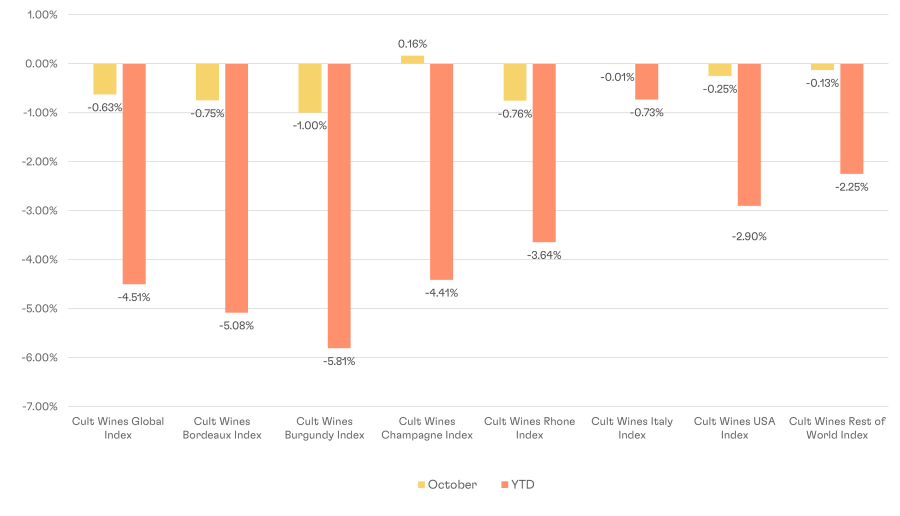 Source: Pricing data as of 31st October 2023. Cult Wines Indices are an objective measure of the global fine wine market based on Wine-Searcher pricing data and rebalanced annually based on strict liquidity criteria. Prices calculated in GBP and results may vary in other currencies. Past performance is not a guarantee of future results.
Fine Wine markets continued to trend lower in October with a 0.63% drop, as measured by the Cult Wines Global Index.
There are still adjustments taking place in the 2 biggest regions, Bordeaux and Burgundy, following the sustained rally in prices from mid-2020 to the end of 2022.
The uncertain economic backdrop remains a factor. Many individual regions are posting month-on-month swings between positive and negative figures, signalling that demand is here but that buyers are price sensitive, a necessary step in bottoming out.
Macro market summary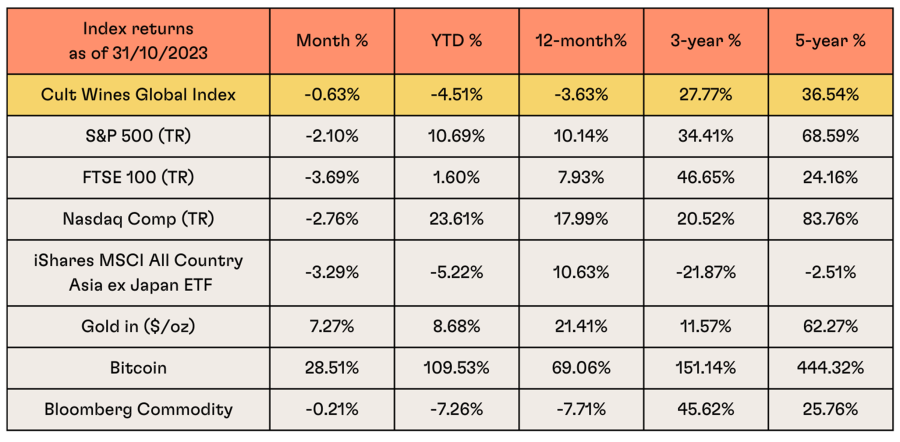 Source: Investing.com, Wine-Searcher as of 31st Oct. 2023. Past performance is not indicative of future returns.
In October, as market sentiment was primarily affected by increased geopolitical uncertainty and a sharp increase in bond yields, stocks and bonds dropped simultaneously.
In China, continued weakness in the real estate sector and reports of new US restrictions on AI chip exports further hurt the market sentiment, with the Shanghai Composite index losing 1.2% on the month.
On bond market, the US 10-year Treasury yield, pushed above 5% for the first time since 2007, primarily driven by the supportive economic data pushing the narrative of "higher for longer" rates. High-yield bond markets have continued to outperform the rest of the fixed-income market year to date, with US and European benchmarks returning 4.7% and 5.7% in 2023, respectively.
Emerging market stocks have felt the most pain by the prospect of 'higher for longer', with MSCI All Country Asia ex Japan dropping 5.2% in October, while developed market equities, as proxied by S&P 500 (TR) and FTSE 100 (TR), fell 2.1 % and 3.7% respectively.
In the UK, higher interest rates appear to be biting, as evidenced by a significant nine-point drop in consumer confidence in October.
Commodities were the notable outperformers as investors fled to gold as a safe haven. Gold price (USD) has increased prices by 8.7% in Oct.
Regional wine performance detail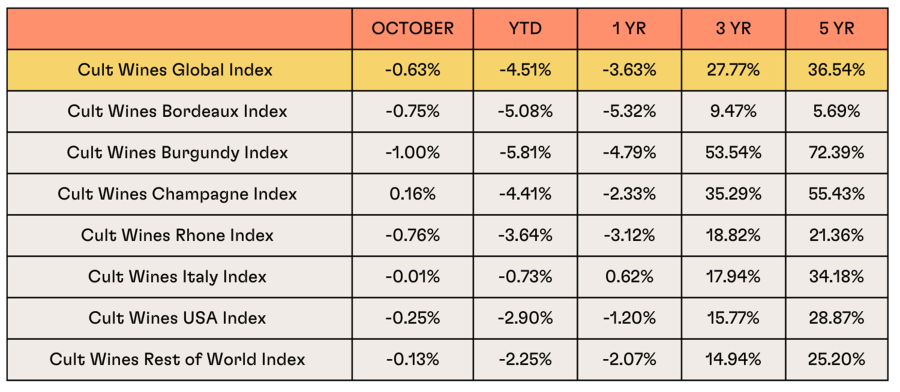 The Cult Wines Burgundy index experienced the biggest decline in October with our Iconic the major laggard year to date. Appetite remains for the region, but investors have become increasingly more selective & price sensitive. For example, the biggest decline came from the iconic Armand Rousseau, Chambertin Grand Cru 2013, whereas the 2020 vintage of the same wine increased in price by 5%.
Bordeaux continued to see price consolidation following its rally in 2020-2022, with the Cult Wines Bordeaux index dropping 0.75% in October. A few First Growths experienced significant price declines, including Latour 2010 (-6%) and Mouton 2017 (-7%), due to slowing demand from Asia. Younger wines, in particular, saw some of the biggest falls in value, with Cheval Blanc 2020 & Calon Segur 2020 among October's worst performers.
The Cult Wine Rhone Index struggled in October, losing 0.76%. Two premium names contributed to the negative tone - Chateau Rayas, Chateauneuf-du-Pape, 2006 & 2009 dropped over 10% in October, while Domaine Jean Louis Chave, Hermitage, Rouge, 2011 lost 8%.
The Cult Wine Champagne index held up with monthly return of 0.16%, largely helped by some strong performance from the Grand Marques category. While grower Champagne have been more affected by the downturn, vintage Champagne from Grand Marques houses have shown resilience in terms of price performance more recently. Among the October's winners are Philipponnat, Clos des Goisses, 2005 (+10%), Pol Roger, Sir Winston Churchill 2013 (+7%) & Cristal Rose 2008 (+5%). Italy prices were stable in October with the index down a marginal 0.01%, affirming the regions' steady and defensive reputation. In a market increasingly sensitive to relative value, Italy offers many well-priced wines. Some of its biggest names led the way in October including two vintages from Gaja, Barbaresco – 2012 (+8%) and 2018 (+5%). Investors who diversified their portfolios with Bruno Giacosa & Tignanello labels reaped the rewards as these producers outperformed the broader wine market.
Characterised by a lack of significant price movement in key wine categories, the Cult Wine ROW index remained relatively stagnant with a 0.13% monthly drop, which can be explained by the relative value offered versus more expensive regions.
2023 Wine Performance League Table – YTD Return % Across Vintages
Source: Pricing data from Wine-Searcher as of 31 Oct 2023. Based on average across all vintages of wines contained in Cult Wines Indices, which are rebalanced regularly based on strict, objective liquidity criteria. Prices calculated in GBP and results may vary in other currencies. Past performance is not a guarantee of future results.
---
Launched in December 2022, the Cult Wines Global Index and Cult Wines Regional Indices form benchmark measurements of the global fine wine market performance with historical data, powered by Wine-Searcher, going back to the beginning of 2014. The Indices are separate from Cult Wine Investment Performance which tracks wines purchased by Cult Wine Investment.
Past performance is not indicative of future success; the performance was calculated in GBP and will vary in other currencies. Any investment involves risk of partial or full loss of capital. The results depicted here are not based on actual trading and do not account for the annual management fees that may be charged to a Cult Wine Investment customer which range from 2.25% to 2.95% depending on the size of the portfolio, and there is no guarantee of similar performance with an investor's particular portfolio.