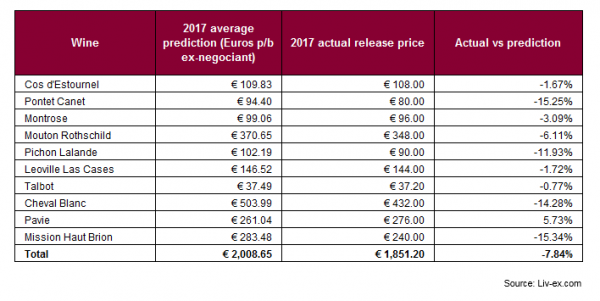 Every year Liv-ex challenges its 400 members to predict the price of a basket of wines from the forthcoming vintage, including top labels such as Mouton Rothschild, Talbot and Chateau Pavie. This year, merchants estimated that the 2017 basket would cost €2,008.65, representing a 11.4% discount on 2016 prices. In fact, the chateaux reduced their prices by more than expected, with the basket costing €1,851 – a 17.1% discount.
Last year's survey saw 90% of merchants underestimate the overall cost of the group of wines, this year 77% overestimated the total cost. Mission Haut Brion was the biggest surprise, releasing at €240 per bottle against the average prediction of €283.48.
Pavie was the only wine to come out above merchants' predictions, releasing at €276, compared to an average estimate of €261.04.