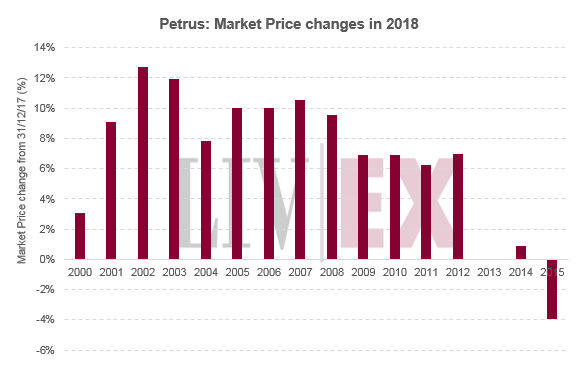 Bordeaux prices throughout 2018 have been relatively flat so far. The Bordeaux 500 is up just 1%, compared to 6% by this time in 2017, and 15% in 2016. However, as Liv-ex notes, some brands are on the rise, with one in particular standing out: Petrus.
The label has veered away from its peer group index – the Right Bank 50 – during recent months, rising 8.6% year-to-date, compared to the overall index's increase of just 2.3%.
All vintages between 2002 and 2012 have risen in value, with the 2002 boasting a 12.7% gain. Activity around the 2006, 2008 and 2009 in particular has helped push prices up.
However, more recent vintages haven't done quite as well. According to Liv-ex: "The market price of the 2015 vintage has fallen 3.9% from £38,000 to £36,500 since the start of the year. This wine was awarded 98-100 points in bottle by Neal Martin, when he was still with the Wine Advocate in 2016.
"Lisa Perotti-Brown then confirmed Petrus 2015 as a 100-point wine in March 2018. James Suckling and Jane Anson agreed with her, but Martin scored the wine a lower 98+, which could explain why there has been a slight fall in price.
The analysis added that considering the 100-point 2010 has a market price of £35,500, "one might expect price convergence between the two wines in the coming months."