Over the summer, Liv-ex reviewed how it calculated fine wine market prices, and changed its algorithms to increase the number of wines with a market price, and give prices that are more up-to-date. The market price is the price you are likely to pay for wine with no conditions on the market (excluding tax and duty). The figure is drawn from the lowest price advertised by leading stockholders, predominantly in the EU.
Traditionally, this formula has been based on wines sold in 12x75 or 6x75 packs. From this summer, packs of 3x75 have also been included, as have US merchant prices, which had led to a rise in data on US wines. Further, machine-learning is used to detect when a wine has become so rare that a single bottle represents a large chunk of the market, and will therefore affect the market price.
Since the changes have been implemented, 19% more wines now have a market price, 33% of wines have market prices processed within the last 35 days, and 133% more US wines have a market price. The biggest improvements have been seen in pricing for old and rare wines.
As the example of Chapoutier Ermitage Pavilloon 1990 below demonstrates, these changes now allow for a more accurate price picture of fine wines, giving buyers a clearer idea of the costs involved in their investments.
Before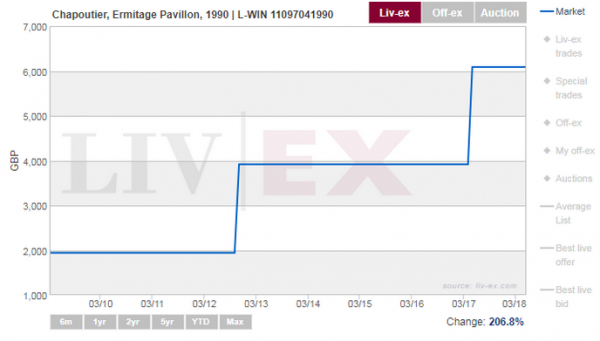 After