Burgundy blooms without DRC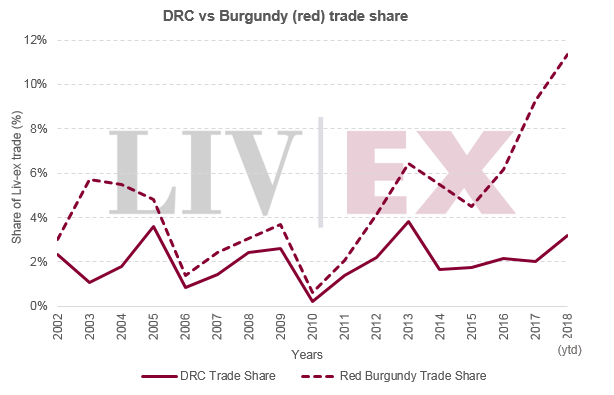 Burgundy is set to see record levels of trade this year, according to Liv-ex. The region's trade share stands at 11% year-to-date, up from a previous record of 9% in 2017.
As Liv-ex notes, DRC historically accounted for the majority of Burgundy's trade share, but more recently the region's share has risen without a significant boost from the First Growth. DRC's share of Burgundy has remained low over the past two years at 28% (having peaked at 78% in 2002 and 2008).
Burgundy's growth can instead be attributed to the broadening market, Liv-ex says: "The breadth and depth of Burgundy trading through the secondary market has evolved considerably. Over the past three years, the number of distinct wines (LWIN7) trading has increased by 89.4%. So far this year, the figure stands at 820."
Italy's trade share hits record high

On the topic of trade shares, Italy's reached a record weekly high of 21.7% by value last week. According to Liv-ex, over the past five years, the region's average annual trade share has drifted between 3.5% and 6.5%. It has experienced a rise in activity this year and currently stands at 7.5%.
This boost can be partly attributed to interest in Sassicaia 2015, which was named last week as Wine Spectator's wine of the year – it went on to lead trade by both value and volume this week. It last traded at £1,670 per 12×75, up 47.8% on its release price in sterling terms.
Cheval Blanc 2013 was also among the top traded wines last week. As Liv-ex notes, Bordeaux 2013 wines have been the best performing vintages over the past three years.
Champagne Lanson claims 2018 harvest is 'incredible'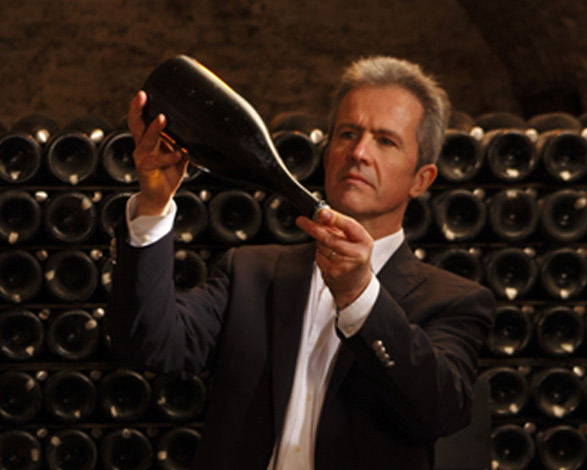 Speaking to the drinks business, Champagne Lanson's chef de caves, Herve Dantan, said he'd never seen a harvest like 2018 and described it as "incredible".
"It's impossible to comment on what the wine will be like as it's too early, but the early signs are good – I really need a better word to describe it! I've never seen such a harvest," he said.
Dantan compared the 2018 to the likes of the 2002, noting that they share many similarities and don't have particularly high acidity.
"Checking the sugar levels in 2018, they weren't too far away from what we obtained in 2002 and had a similar balance. I'll be able to comment more definitively when we begin to taste the wines in January 2019."
He added that the next release of the Lanson Noble Cuvee 2002 will feature a vintage rose. "I don't know why we didn't do it in the first place," he said. "It's rare to have an old rosé on the market."
Castelnau launches limited edition magnums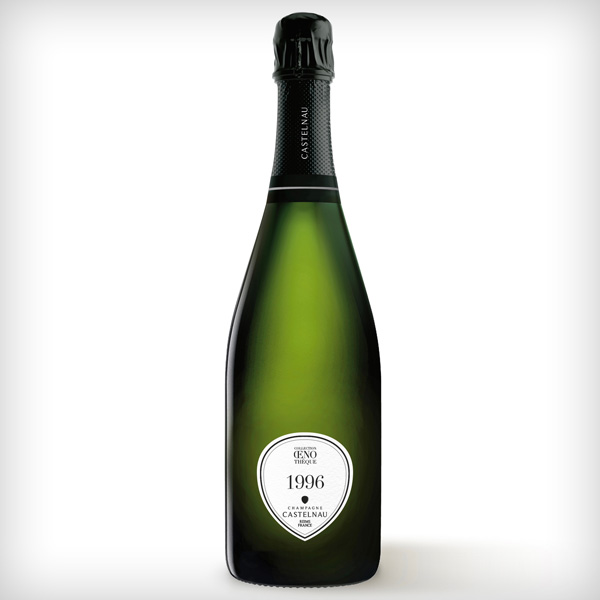 Champagne Castelnau has launched a number limited edition magnums from its Oenotheque Collection in time for Christmas.
The limited release magnums, from the 1995, 1996 and 1998 vintages, are adorned with teardrop-shaped contemporary labels with a minimal aesthetic, and have been released to capitalise on the UK's growing thirst for larger format bottles.
"Magnums are the ideal format for enjoying these vintage Champagnes, which are now over 20 years old. We are delighted to have been allocated a limited number for sale in the UK as the festive season gets under way," said Fernando Guimarey, on-trade sales manager at Castelnau Wine Agencies, adding that "they are the ideal option for larger parties".
The magnums form part of Castelnau's wine library of 'exceptional' vintages, which is home to over 50 years of back vintages.
New record for South African wines at auction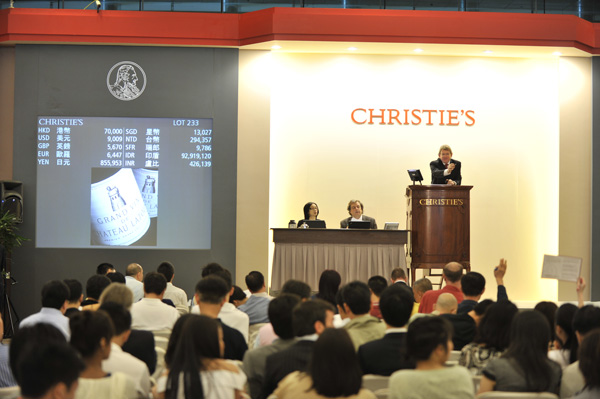 Christie's recent fine and rare wine auction in Hong Kong set a new record for South African wine. A six-bottle lot of Vilafonte Series 'M' 2007 sold for four times its estimate at HK$13,475, making it the highest price yet for the South African winery at auction.
Other notable results from the sale included a Madeira, Bolger Bastardo 1889, which fetched HK$19,600, and a Kloster Eberbach Assmannshäuser Höllenberg Spätburgunder 1959 lot of three bottles, which was sold for HK$110,250.
The auction achieved a sell-through rate of 88% by lot and 95% by value.
Simon Tam, head of wine at Christie's Asia, said: "This season we are thrilled to witness great depth of bidding not only for the revered Burgundies and Bordeaux, but also for the legendary vintages of Madeira and German wines as well as South African wines, which were all rarely seen in the market."