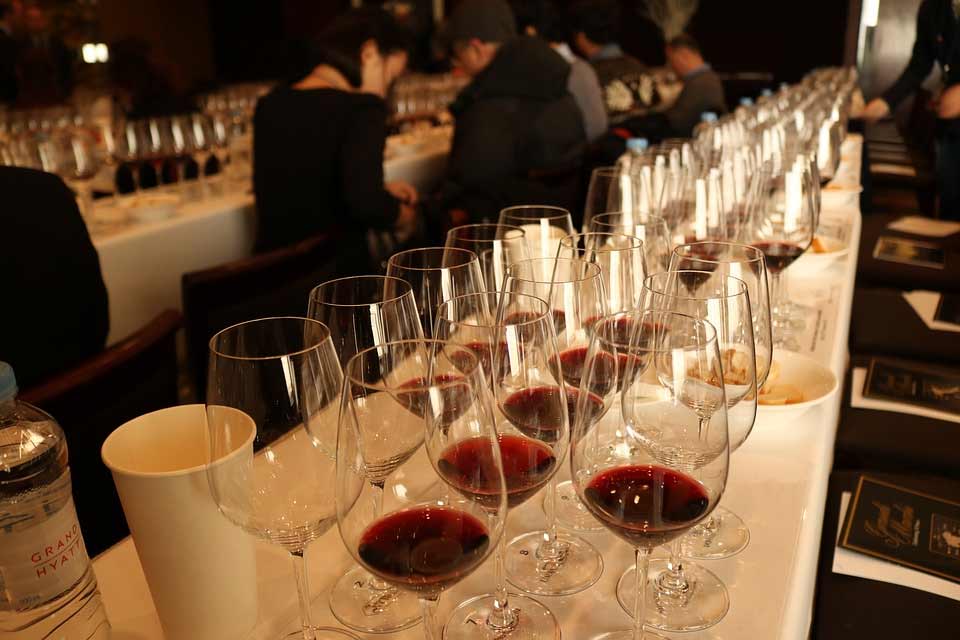 This decade has been searching for a great vintage. With a very shaky start off the back of 2011, 12 and 13, it was looking like the high days of Bordeaux's epic 2009 and 2010 vintages were total flukes- where had the perpetual sunshine and commensurate string of great harvests promised to be the norm by global warming speculators gone?
As a general wine rule of thumb, it seems to be that every decade is allowed three absolutely outstanding vinicultural years. Perhaps this is a rhythm mapped by heaven and earth, decided by the winemakers themselves, or chalked up by accountants- whichever you choose to believe, it seems to have become the norm (in fact in Porto, they are only allowed to declare three 'vintage quality' harvests in this allotted timeframe).
With this in mind, the span of 2011-2020 was well and truly lagging behind and even the universally solid 2014 & 2015 weren't quite enough to buoy optimism. Time was running out and the decade had only four vintages left…enter the 2016s!
A year that began with over 700mm of rain, '16 looked convincingly like a wash-out, but, just as all hope was lost- a switch was flicked and mother nature changed her tune, restoring unabated sunshine to Save the day.
2016, upon release, was widely regarded as ranking at the top of the tree, alongside the other monolithic years, with comparable scores. As we're all aware, buying En Primeur, or 'wine futures'- essentially wine in the barrel, can be difficult to judge. The prices invariably will represent value at first release, but the critic scores are awarded with a spread (98-100, for example), as the wines are far from finished. This allows for speculation and reward from savvy investors, but also carries an element of risk.
Recently both Neal Martin of Vinous and Lisa Perotti-Brown of The Wine Advocate announced for the first time their 'in the bottle' scores. Although still young, these give a far more accurate picture of the wine as a whole- at this point I would like you to read on, but for those without the time, I can candidly confirm the following to be true: The 2016's are outstanding, and surpassed all expectations.
How they stack up- views from the critical critics
Vinous Media: Neal Martin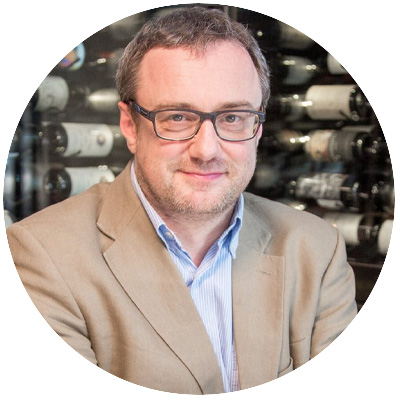 "For once, the frothing hype that presaged en primeur was justified"
Martin begins his report on the wines with the superlatives 'fantastic', 'sublime' and 'entrancing', calling is a year 'when everything came together at the right moments'.
His keys points are:
'The tannins are finer and fruit purer than ever before'- he describes the structure of the wines as being like upgrading your bicycle frame from steel to carbon fibre. Lighter and more delicate, but with all the same strength.
'The delineation and precision are sometimes remarkable'- the aromatics of these wines are what set them apart from other vintages 'there are wines so perfumed that you could just sit and nose the glass all day'
'2016 permitted winemakers to create exactly the kind of wines they wanted' – Martin cites that these are not being tempered by the year's condition, avoiding the extraction of the '09s and the masculinity of the '10s. Balance is the mantra here.
The Wine Advocate: Lisa Perrotti-Brown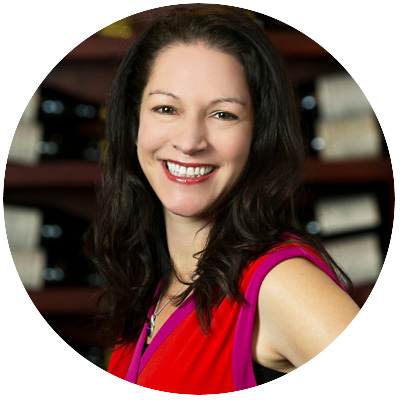 "Totally unique – an exciting new chapter for Bordeaux's greatest vintages"
Perrotti-Brown opens by eloquently sidestepping the elephant in the room, citing Jean-Hubert Delon of Chateau Leoville Las Cases: 'Sometimes the wine is more Pauillac, sometimes more Saint-Julien; this year it is more Las Cases'.
Whilst this vintage will inevitably be compared to the other greats of '10, '09, '05 and 2000, her assertion is that its USP is a Burgundian focus on the terroir of individual vineyards. A quality which allows it to stand apart from other vintages and assert its importance to collectors.
Her key points include:
Older vines were essential for quality- owing to the long dry spell from June to September, the vines with deeper root systems and larger trunks were able to tolerate the hydric stress induced.
An exciting, growing trend toward precision viticulture- at great cost, more wineries have undertaken geological surveys to deeply understand the composition of soils of their estates. This mapping allows more accurate subdivision and thus

vinification

/blending of grapes with complimentary qualities.
What really kicks 2016 up a notch is the consistency of greatness across Bordeaux- Perrotti-Brown proffers the very small berries caused by this hydric stress along with perfect ripeness to create the combination of complexity, intensity, structure and freshness which has made up this vintage.
Vinous Media: Antonio Galloni
"The wines are positively electric and energizing"
Vinous continues its dual perspicacity with insights from Antonio Galloni published just prior to those of Martin. His praise is entirely effusive, stating that he had a hard time going to sleep after even the longest day's tasting because the wines were so exhilarating…
Antonio Galloni points:
'The resulting wines are fabulous and, in many cases, atypical' – Galloni calls out Las Cases, Haut Brion and Trotanoy as usually being 'bruisers' in their youth, but in 2016 calls them 'unbelievably refined'.
'Tremendous quality… from the most humble to the most prestigious'- Quality was written across the board, the sign, he asserts, of a truly great vintage.
'Wide diurnal shifts'- Wider than usual gaps between day and night temperature in September, along with a slightly cooler than average month countenanced the heat of summer and built incredible structure into the wines.
Bordeaux 2016 Scores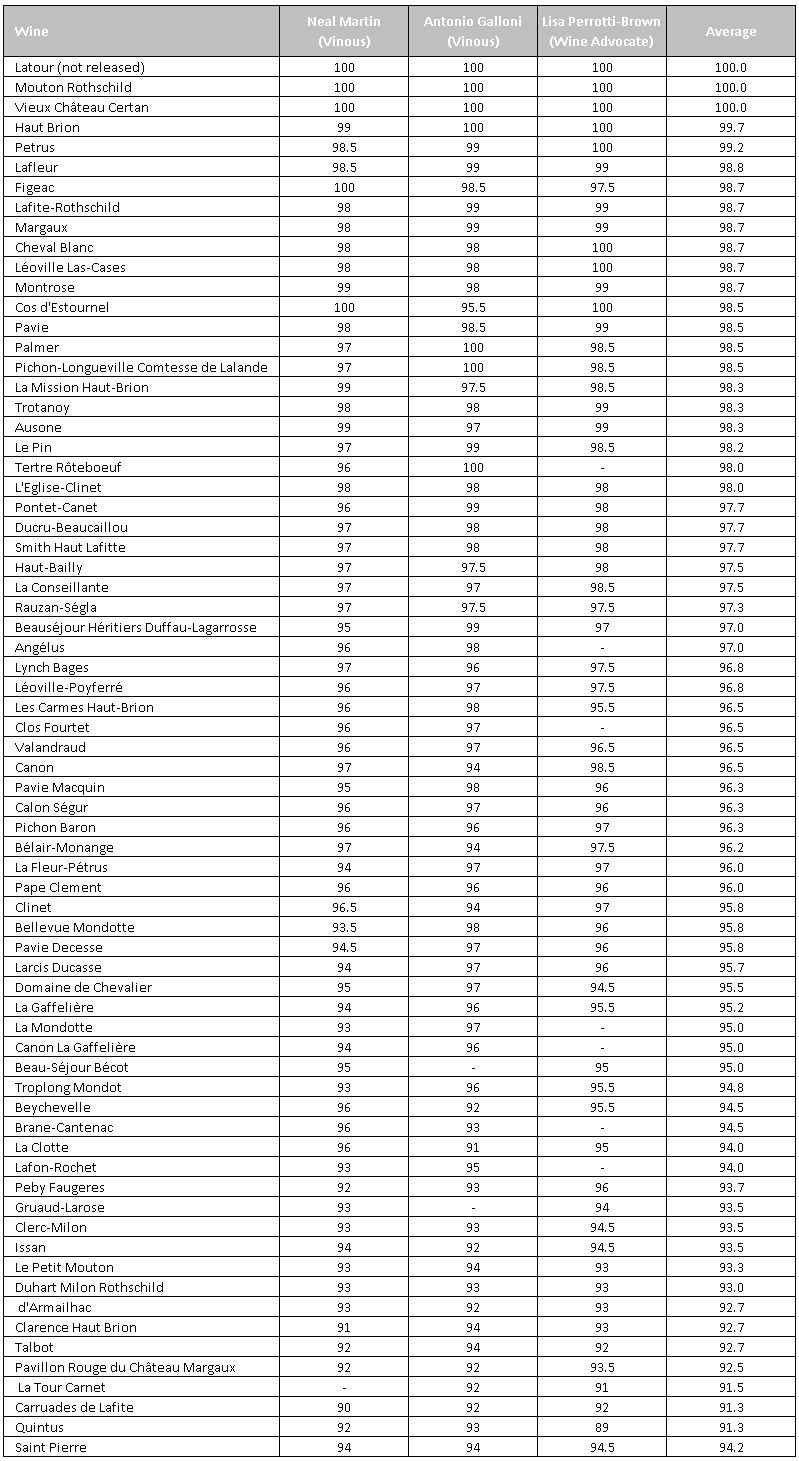 The market landscape and our portfolios
2016's re-rating has produced a total of eight 100 point wines from The Wine Advocate and five from Vinous, an 85% increase on 2015, a list of which are as follows:
100 point wines from Neal Martin:
100 point wines from The Wine Advocate:
Cos d'Estournel
Latour
Leoville Las Cases
Mouton Rothschild
Petrus
Vieux Chateau Certan
100 point wines from Galloni:
Latour
Mouton-Rothschild
Pichon Comtesse
Tertre Rotebouef
Vieux Chateau Certan
Spotlight on: Chateau Figeac
Having just received its first ever 100 point score, the reputation of Figeac and scores for Figeac, already considered one of the top estates in Saint Emilion, is one to watch. Currently ranked 'Premier Grand Cru Classe B', it is a very strong contender to be elevated when the region undergoes a reclassification in 2022.
Should this occur, the price is likely to reach parity with the likes of Pavie and Angelus, both of which were upgraded in 2012. The potential upside here being as much as 100%.
Spotlight on: Vieux Chateau Certan
The only wine outside of Latour and Mouton to make its way into all three critics' perfect point's pot, it was even up voted by Martin from his initial 95-97.
With this critical praise across the board and it being the first ever solid 100 point score issued for the Chateau by The Wine Advocate (Galloni awarded it the accolade in 2015, also) this elevation alongside its small production, could close the price between itself and Petrus.
Spotlight on: Cos d'Estournel
The only non-first growth doubly elected to the 100-point pantheon this year, it is no surprise that Cos d'Estournel has dominated the week's trade on time of writing. Having already hit an all-time high of £1,840, it still sits 21% behind the equally scored 2009 and with the 2017 currently holding a 97-100 point spread, this could mark a watershed moment for the Chateau, especially if the 2018 is of commensurate quality.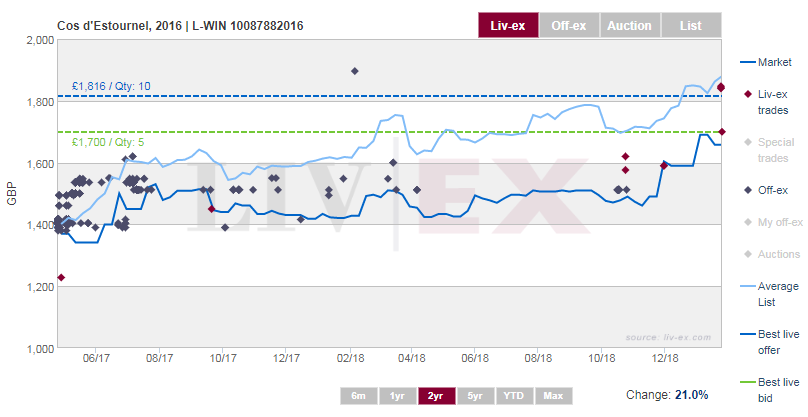 Cult Wines selection- where we invested during En Primeur
Top 5 by value
Pavie
Mouton Rothschild
Lafite
Figeac
With our insight into the 2016, we were able to isolate three 100 point positions in our top five AUM. With the score for Pavie yet to be finalised by The Wine Advocate, the 98-100 point range could easily place it within their company.
Big picture
2016 has been fairly unequivocally lauded as the vintage of the century and these scores will invariably provide a necessary market stimulus. The true impact will become clear over the next 6-8 months when the wines are physically landed. This will allow true secondary market trading to begin and stimulate the Eastern market, who are more prone to taking cases when physically available.
With the build up to the 2018 vintage, release prices will be the only major consideration. Quality, like 2016, is abundant, and the number '8' in the title plays strongly into the Chinese market.
We are confident that with our proven approach, we will be able to guide our investors toward estates with the correct release prices, point scores and potential to represent sound investment opportunities.