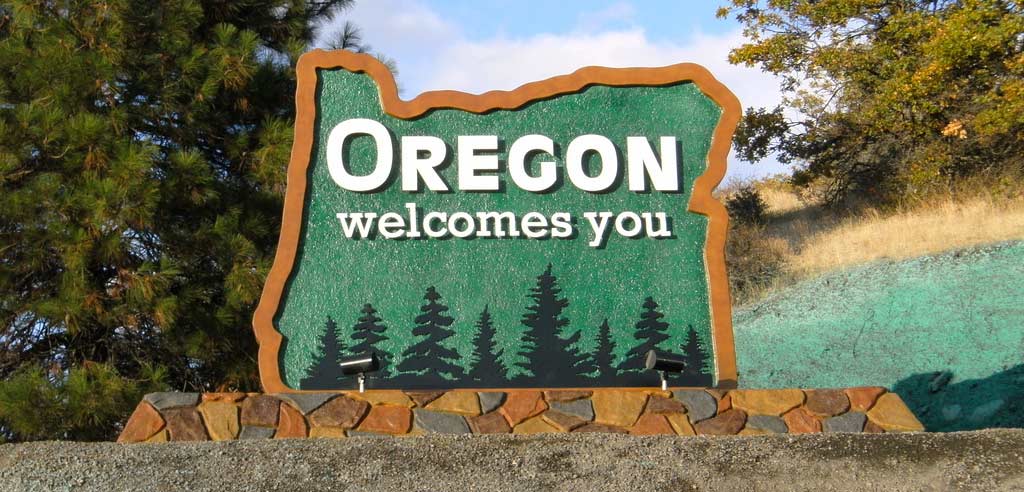 Oregon Overview
No less than 50 years ago, the first Willamette Valley Pinot Noirs were released into the market. At the time the 1980s guide to Oregon wine, featured less than two dozen wineries state-wide. Today, Oregon has close to 800 wineries, with Pinot Noir being the leading star in that success story. Although the Willamette Valley vineyards remain the standard bearers for quality, Pinot Noir is now widely planted across the state, from the warm-climate vineyards of Southern Oregon. Decades of research has gone into soils and site selection, with careful, non-intrusive winemaking having continually ramped up quality. Pinot Noirs from Oregon deliver outstanding value-for-quality when tasted against bottlings from Burgundy and California.
The French Invasion
Regardless of attention garnered from the local market, it is inevitably foreign investment, specifically that from established Old World producers, which accelerates the growth, quality and ultimately price in a wine region. Robert Drouhin's planting of vines in the Dundee Hills, an event which took place in 1987, can be considered the genesis of a movement which began to spark this global recognition, as well as attracting further producers to the area.
Since then, there has been an influx from Burgundy like never before, Maison Louis Jadot recently formed their new 'Resonance' project in the Yamahill-Carlton AVA, Domaines Henriot have purchased the majority of the Beaux Frères winery in Newberg and Dominique Lafon has taken up residence at Lingua Franca.
These are to name but a few: Louis Michel Liger-Belair has created 'Chapter 24', Jean-Nicolas Meo (Meo-Camuzet) have started Nicolas Jay, Laurent Montalieu is at Hyland & Solena Estates (owned by the prolific Jackson Family), Jacques Tardy at Torii Mor and Florent-Pierre Merlier at Van Duzer Vineyards (who have coined their own AVA, testament to how the region is beginning to recognise a Burgundian sub-division of vineyards).
The list is already long and expected to grow longer; Burgundian wine producers have not flocked to any other region in such a direct and concentrated fashion.
Bordeaux Legends 50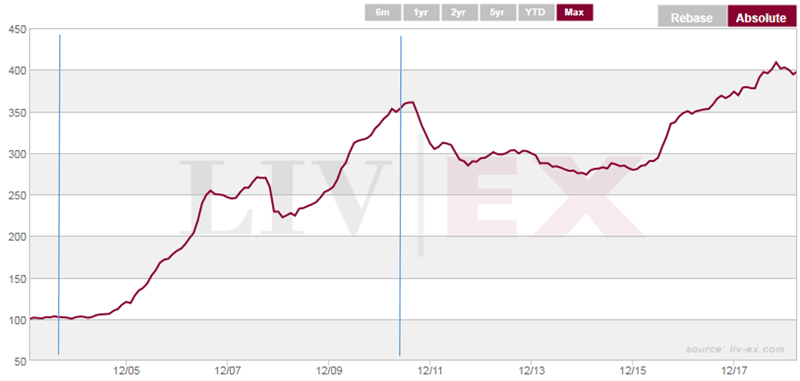 The index above which tracks the 50 most exceptional Bordeaux wines from older vintages demonstrates the most rapid section of Bordeaux's growth cycle. This sits between 2005 and 2011, a time in which China truly entered the fine wine market through the relaxation of import duty in Hong Kong. Top end Bordeaux wine, following this interest, has become an ultra-premium product- affordable to a select few.
California 50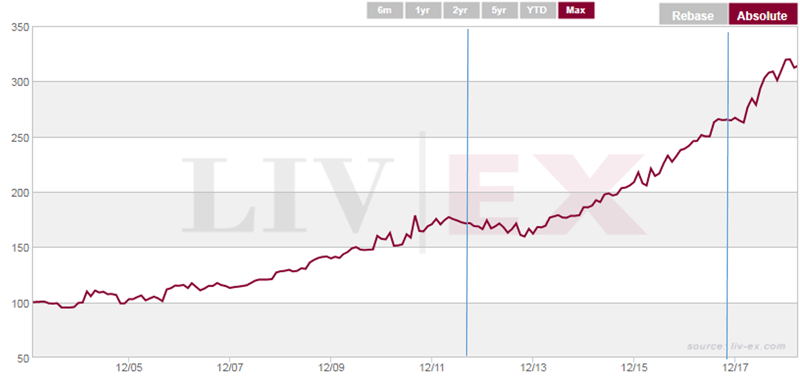 How this is reflected in the California 50 is fascinating. Consumers looking for wine outside of these Bordeaux legends turned to the global facsimiles, with California leading the charge. With commensurate scores, marketing and quality, a lot of consumers used these wines as substitutes for Bordeaux, due to their greater affordability- causing a similar upward trend in pricing which began just after Bordeaux hit its peak.
Burgundy 150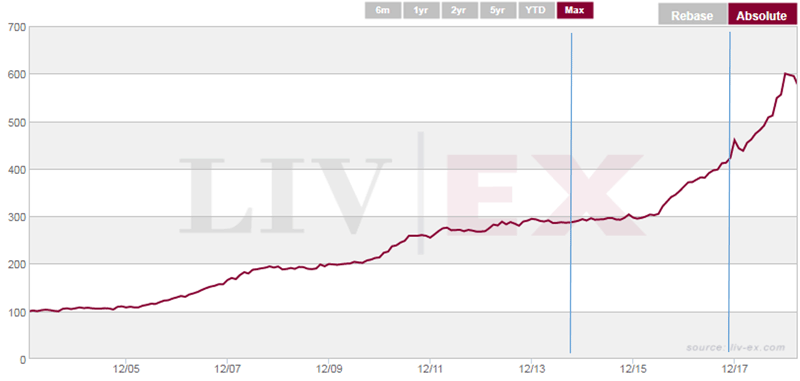 All wine investors are aware of the strength of the Burgundy market. Although this doesn't paint a complete picture, it is again easy to see how China is driving the market. A nation of consumers who began with the 'conspicuous consumption' aspect of Bordeaux, now have more WSET qualified individuals than any other country in the world and have expanded their interest toward Burgundy- considered by many as the most complicated wine region in the world.
Burgundy, especially near the top of the tree, is already the sole province of the ultra, ultra-wealthy; more so than Bordeaux ever was. This is due to the production being so finite (where Lafite may produce 20,000 cases, Domaine de la Romanee-Conti will produce 500). Whilst we predict that prices of Burgundy will continue to rise due this very limited nature, it will inevitably result in more consumers being driven to find global 'alternatives' in the same way as the shift from Bordeaux to California illustrated above.
The dramatic disparity: Burgundy vs Global Pinot Noir
The key driver to this strategy is the dramatic disparity between the prices of Burgundy and the great Pinot Noirs of the world. Whilst all of the major 'New World' countries offer outstanding Pinot Noir (Australia, New Zealand, Chile, California etc) they all take a back seat to one region in particular- Oregon.
Why Oregon? Whilst this very new wine region does not currently represent the next closest to Burgundy in price (or even second closest) it does present, climatically, one of the best comparisons with one other major, major factor: the producers.
Like no other, Oregon is receiving an influx of wine producers from Burgundy, and top end Burgundy to boot. The likes of Domaine du Comte Liger-Belair, Drouhin and Louis Jadot, some of the best regarded, powerful and crucially forward thinking, have begun setting up shop in this region. Moreover, these titans of Burgundian viticulture are already producing scores to rival their counterparts across the pond.
The chart below shows a price and point comparison between the top Oregon wine and top Burgundy wine produced by each Domaine with some interesting results. It is important to note that by no means are we drawing a direct comparison to the leading grand cru wines from Burgundy, nor expecting there Oregon counterparts to command a fraction of the price or global cache at any point in the near future. The purpose of this graphic is to outline the very strong possibility of the leading wines from Oregon commanding double the average price per bottle in 3-5 years' time as consumer's looks for better value Pinot.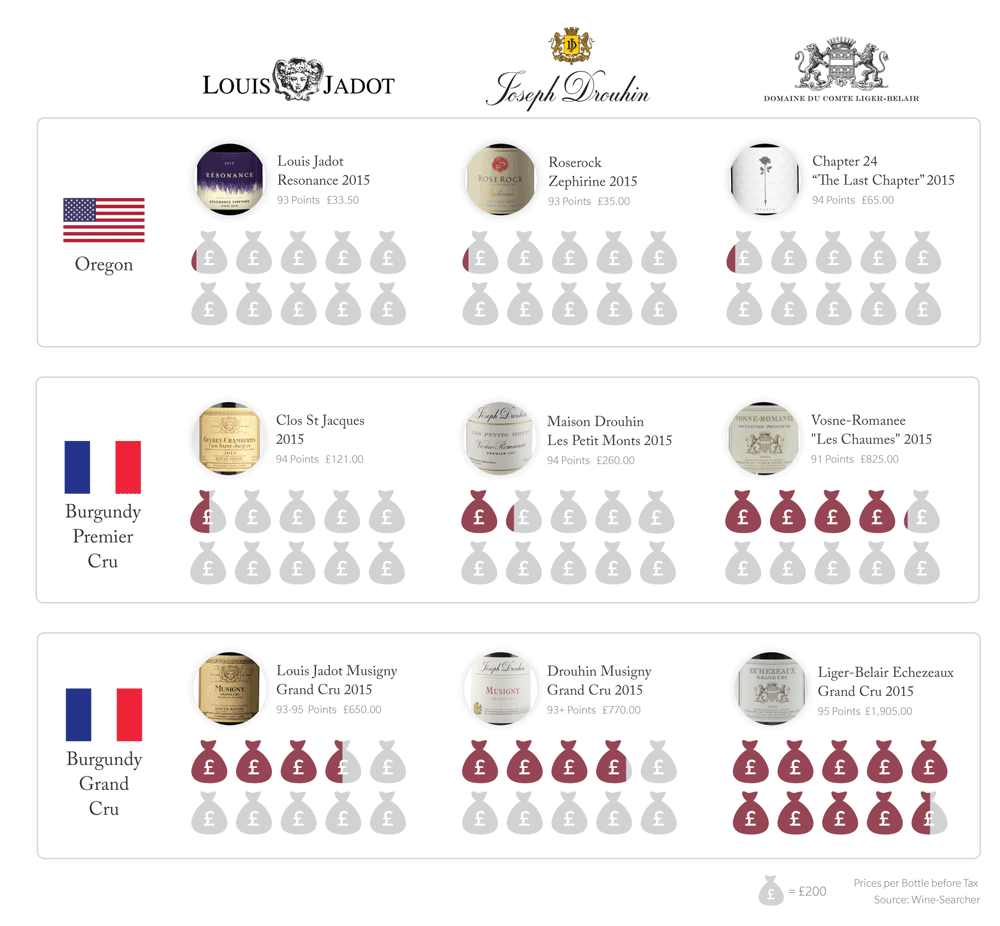 What's the risk involved?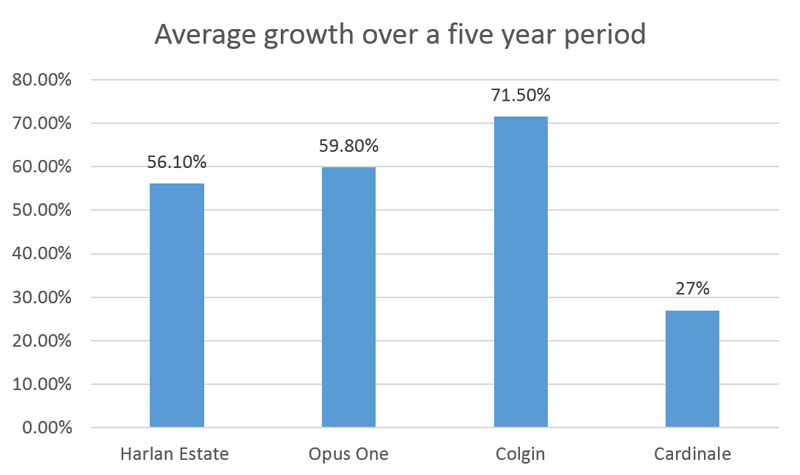 With any investment strategy, there is risk, especially when allocating funds to a new market. All of the data we have available, leans towards the theory that these wines are about to hit a critical point in in their growth cycle, but it is pertinent to consider past examples in which the market has not propelled newer brands into the global market place.
The graph above illustrates the difference between certain brands and their top wine's average five year performance. Despite the success stories of Opus, Harlan and Colgin, sometimes a brand such as Cardinale fails to catch the attention of the wine market (in spite of quality and scores). It is useful as a benchmark to illustrate how an Oregon Pinot Noir that fails to catch the global market's attention will perform, with a relatively stagnant performance of 4.5% growth PA.
Our general view of the market, producer insight and research gives us the best chance of being able to pick wines which have the greatest upside potential, and with the price disparity between Oregon and Burgundy being far greater than that of Bordeaux and California, the opportunity to purchase wine which will easily exceed the five year performance of even the most sought after brands above is abundant.
Summary Considerations
Medium/high risk – High reward strategy
• Highest element of potential risk is future liquidity
Minimum 5 year term
Max overall portfolio exposure of 20%
Growth forecasts (based on minimum 5/8 year term)
• Projected returns 100/150% across selected brands
• Conservative returns 30/40%