Bordeaux EP Weekly Summary 17 - 21st May
Bordeaux en primeur (EP) 2020 has arrived! Last week, the first busy week of the campaign, featured a range of prices with some new EP wines coming in higher than their discounted 2019 releases while other producers opted to stay in line with last year's successful EP.

The increases are not a surprise as improving macro conditions and lower volumes in 2020 compared to 2019 meant the steep discounts were not expected to repeat. The 2020 vintage also holds great potential, although results vary in some places.
"2020 is an irregular vintage that is perhaps on a par with 2017 in terms of the variability of quality; however, the peaks of quality far exceed 2017 and are right up there with the best of 2018 and 2019. Therefore, for some areas and terroirs, this is absolutely the third outstanding vintage in this trio." - Lisa Perrotti-Brown, Wine Advocate
This just stresses the importance of a selective approach, and we spotted a handful of compelling new releases during the busy week!
"A promising start to EP 2020! We're not going to see the across-the-board discounts we saw last year but most chateaux seem to be keeping prices reasonable. With volumes down though, competition for allocations is more intense, meaning access is key for the best wines." - Aarash Ghatineh, Cult Wines Executive Director
Highlights include Cheval Blanc, which kicked off the campaign back on 11 May with just a 3.5% increase (ex-London) versus 2019. Our proprietary football pitch analysis (below) reveals how this release price is below our determination of fair value for the 2020 Cheval Blanc, meaning this is an excellent opportunity to access the Right Bank First Growth at an attractive price – an encouraging start!
Cheval Blanc Football Pitch Analysis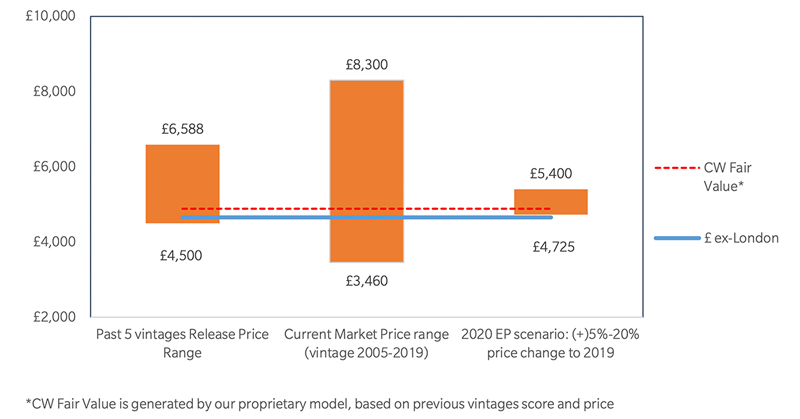 Source: Liv-ex, Cult Wines Ltd.

Chateau Angelus appeared early Tuesday (18 May) morning with a slightly more aggressive increase at £3,048 (12x75cl), a 13% step up from last year. However, the power of both the Angelus name and the wine itself - Wine Advocate (WA) scored it 98-100 points - means this is a purchase for the long term and represents a key component of an EP portfolio, in our view.

First Growth Chateau Pavie joined on Tuesday along with Pavie Decesse, a St Emilion wine in our Quality Price Ratio (QPR) category. Both came below their respective 2019 prices. Pavie Decesse also came below the current market value for its 2019 wine, indicating a good opportunity as both received similar scores (WA: 2020 95-97 points, 2019 95-97+ points).

Two of our annual favourites from expert winemaker Anthony Barton – Leoville Barton and Langoa Barton – also appeared on Tuesday. Langoa saw only a marginal increase versus the 2019 ex-London release, meaning it remains well below EP prices prior to the pandemic and a good value buy (WA 93-95 points).

In maybe the best-valued release of the week, Lafon Rochet arrived on Thursday at £325 (12x75cl) - a 3.3% decrease on its 2019 release. With favourable early reviews (Jancis Robinson: 17pts, Jeff Leve: 94-96pts), we think this could be one of the best Lafons ever!

On Friday, Chateau Batailley, a highlight from our own CW EP tastings, came with just a marginal increase vs the ex-London release and current market price of the 2019 wine. Chateau Branaire Ducru's EP price was up 6.9% over last year, but we still think it offers great value for a fantastic St Julien wine (WA 91-93+ points).
In our early reports about 2020, we highlighted that quality across Bordeaux terroirs and producers was uneven. Add the disparity in yields across appellations and a unique 2019 campaign, and we have a perfect backdrop for pricing dislocation. This week was about an EP campaign finding its mark with plenty of surprises yet to come! – Olivier Staub, Cult Wines' Investment Director