Chateau Ausone and Château Cheval Blanc's recent decision to not seek renewal of their Grand Cru Classé A classifications in 2022 comes as a shock for one of the Bordeaux's most prestigious appellations ahead of the renewal of the rankings next year. Here, we look at what could be the main impact on the market for these two wines as well as the wider Saint Émilion region.
Minimal impact on Ausone and Cheval Blanc
We don't expect any long-term impact on the pricing of Ausone and Cheval Blanc's existing or future wines. The brand reputation and wine quality of both estates is well established, meaning demand for these two Saint Émilion legends should remain just as strong even without the Classé A badge.
"It's just that we don't see ourselves in the criteria," said Château Ausone's Pauline Vauthier to the French Terre de Vins publication.
The stated reasons for both Châteaux leaving the classification system rest with their respective divergence with the criteria for Grand Cru Classé A status rather than any concern they were pre-empting a possible downgrade. Ultimately, as long as quality remains high, the market will continue to drive pricing for these two Right Bank First Growths.
Promotions and price rises more likely?
Ausone and Cheval Blanc's withdrawal could improve the likelihood of a promotion for other estates in next year's reclassification, which would in turn boost prices of their wines. Although Grand Cru Classé A status is not a 'one in, one out' system, some producers already had a very good chance of earning a promotion next year and now there may be added motivation to reward those estates that have taken big steps forward to reassert the appeal of the rankings.
Château Figeac forms a particularly strong candidate for an upgrade after recently completing a major state-of-the-art upgrade of its winery and cellar. However, who gets promoted is anyone's guess with Chateau Canon and Château Troplong Mondot among other possibilities.
An upgrade would certainly lead to higher prices as was the case when Chateau Angelus and Chateau Pavie attained Classé A status in 2012. Angelus's EP price went from £1,470 in 2011 (12x75cl) to £2,000 for the 2012 vintage while Château Pavie's EP price rose by 66% from 2011 to 2012. Back vintages of the two wines also saw price appreciation at the time of the upgrade, as shown in the below charts.
2012 sees jump in prices
Angelus and Pavie 3-year performance of back vintages, 2011-2014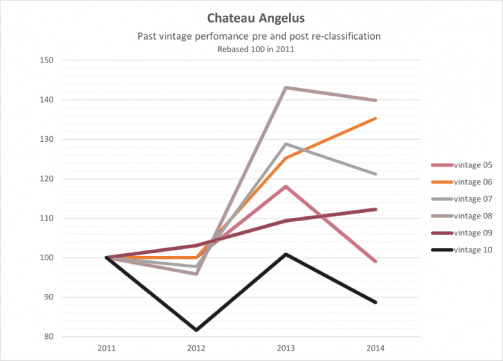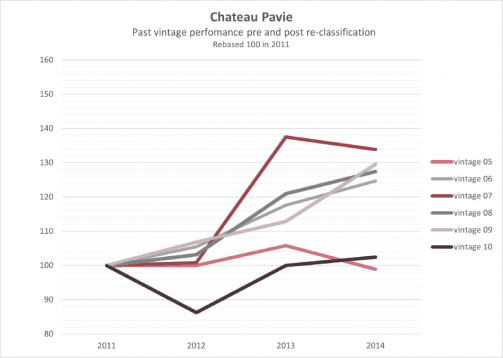 Market, not classification, drives prices
A closer look reveals that the effect of a Classé A upgrade may be greater on wines previously overlooked by the market than on those already enjoying strong demand due to high scores. Again, looking at the previous Saint Émilion upgrades in 2012, we find that lower-scored vintages (based on Wine Advocate scores) delivered much higher price growth in the years following the upgrades than the higher-scored, higher-priced vintages. Specifically, the 2007 Angelus (92 points) price spiked by over 50% in the three years after 2012 whereas the 2005 (100 points) and 2007 (99 points) rose by 11% and 9% respectively. Similar discrepancies emerge for Pavie wines.
What this trend re-enforces is simply that market demand, rather than the classification itself, drives market prices. This is why we think prestigious Ausone and Cheval Blanc wines should experience little pricing impact even as they leave the classification. The names and quality are firmly established.
The trend also underscores the importance of an analytical approach for buyers looking to capitalise on potential upgrades in 2022. The loss of Ausone and Cheval Blanc, the two original Classé A estates, could reduce the impact the classification system has on prices over the long term. However, potential upgrades would still trigger price increases due to enhanced global brand awareness for the new promotion recipients. But we expect this rise in brand prestige to lead to greater price rises on the wines currently overlooked or undervalued by the market.