16 December 2022
Part II – Regional outlooks: Can Burgundy and Champagne continue to sparkle?
The global fine wine market has enjoyed an impressive rally since the initial outbreak of COVID-19: Cult Wines Global Index +41.5% since April 2020. However, the results have varied by region with Cult Wines Burgundy Index up 67.9% over this period while Cult Wines Bordeaux Index a moderate 19.7% rise.
The year-to-date performances in 2022 also vary, highlighting why it's important to consider regional allocation. Here, we consider our outlook for each region in 2023.





** Outlook arrows relative to historic market trend.
Bordeaux - Cult Wines Bordeaux Index YTD 2022: 5.6%
Mixed quality and higher release prices of the 2021 EP releases capped performance upside over the past year.
The 2022 En Primeur (EP) coming up this spring will again form a key focal point. Harvest reports are extremely positive about the 2022 vintage thanks to a warm, dry harvest period. However, quantities of top wines could once again come on the low side due to drought conditions in summer.
EP release prices will determine the regional market direction. Given the mixed reception of the 2021s and the challenging economic backdrop, buyers may be more sensitive should producers continue to push pricing above the market for back vintages.
Burgundy - Cult Wines Burgundy Index YTD 2022: 30.3%
Burgundy wines jumped in price the most in 2022 (as of the end of Nov), according to Cult Wines Regional Indices.
Demand for the rare top Burgundy wines appears insatiable even if the pace of appreciation did ease in the second half of the year.
Looking ahead, the overall pace of the market could continue to ease. The mixed quality and small quantities (down 50%-80% vs averages in places) of the new 2021 mean buyers should be patient and selective.
Onward performance potential of some of the new wines could be limited if producers push price hikes too far to compensate for lower quantity.
However, the ultra-low quantity of the upcoming 2021 vintage release could push demand toward back vintages, adding to their performance potential.
As the market matures, we're seeing increasing price differences between vintages of a certain wine. Seeking out relative value can unlock sustained performance.
Champagne - Cult Wines Champagne Index YTD 2022: 18.6%
Champagne's star rose higher in 2022 by posting the largest regional gain (as of end Nov) among Cult Wines Regional Indices outside of Burgundy.
Following two years of sustained outperformance, some may view Champagne as having reached its peak, but we believe it can continue to trend higher, even if the pace eases.
Top-end vintage Champagnes continue to see sharp supply-demand imbalances, which should keep prices trending higher despite the difficult economy.
Champagne's status as the preeminent luxury drink helps spur demand from different types of buyers and creates a strong correlation between age and price.
Figure 1 – Rewards of time with Champagne
Price comparison of old and new vintages of select producers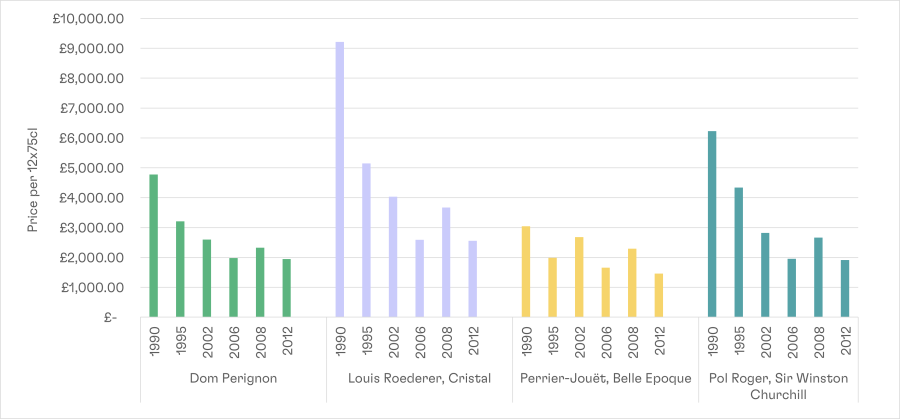 Source: Pricing data from Wine Searcher as of 01 Dec 2022. Past performance is not guarantee of future returns.
Demand for Champagne remains concentrated in Europe and North America. The potentially massive Asia market remains relatively untapped, indicating more demand could still come on board long term.
Rhone - Cult Wines Rhone Index YTD Return: 9.5%
Historically, Rhone provides a consistent source of healthy gains even during downturns, making it a safe option in the current climate even if the return potential of its wines is less than those elsewhere.
Rhone wines have a strong following in the US. The relative strength of the US dollar could add a tailwind to Rhone's performance potential in the year ahead.
Italy - Cult Wines Italy Index YTD Return: 8.2%
Italian wines saw steady gains for most of 2023 but we think many of the region's wines hold more potential in the year ahead.
Italian wines offer excellent quality at relatively accessible prices when compared to many of the best fine wines from other regions. As the market becomes more selective due to higher prices, many Italian wines could outperform the wider market.
The regional market also may get a lift from new releases. The Barolo 2019 vintage will hit the market early in 2023, and it's considered better than the 2018s released this past year. Several Tuscans from the reportedly strong 2020 vintage will also get released during the year. With the new Burgundy wines in short supply, buyer attention might look to Italy more than usual.
Figure 2 – Italian relative value
Prices and scores of leading Super Tuscans and other Bordeaux blends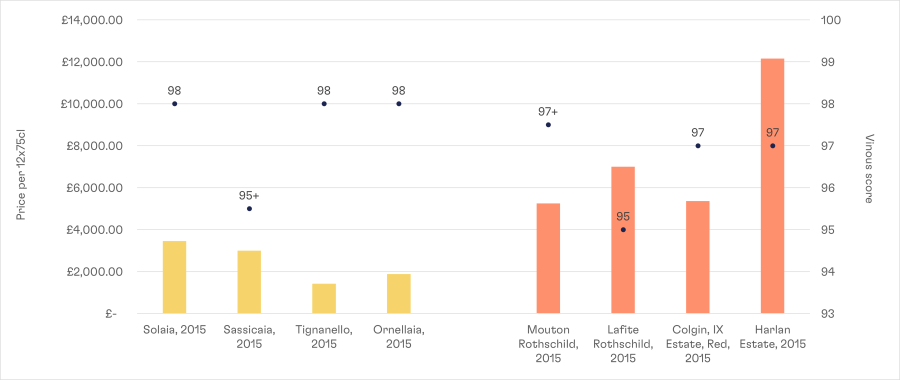 Source: Pricing data from Wine Searcher as of 30 November 2022. Scores from Vinous Media.
USA - Cult Wines USA Index: 13.0%
Cult Wines US Index sat third among regional indices performance with a month left to go in 2022.
Iconic US names have been garnering a greater market share among buyers in Asia. This added demand alongside scarcity is contributing to the outperformance.
Damage from wildfires and smoke in recent years has hurt volumes. Some producers have indicated they will not release a 2020 wine, including Realm, Continuum and Scarecrow. This could push demand toward other vintages.
The high prices among top Napa names also suggests buyers will look increasingly to other California AVAs such as Russian River Valley and Santa Rita Hills as well as further north in Oregon and even Washington state.
Rest of World - Cult Wines Rest of World Index: 9.4%
The outlook for Rest of World wines is two-tier – the less-established nature of the RoW market could experience more volatility, but the macro backdrop and high prices among core fine wine regions could shift attention to up-and-coming names.
Certain wines that offer top quality at lower prices versus French and Italian wines could still form potential low-risk buys. Top quality Rioja and Ribera del Duero wines form a particular area of interest. Names such as Remirez de Ganuza and Telmo Rodriguez are enjoying increased attention from leading international critics and wine press.
---
Disclaimer: Past performance is not indicative of future success; the performance was calculated in GBP and will vary in other currencies. Any investment involves risk of partial or full loss of capital. The Cult Wines Global Index is a representative benchmark for the fine wine market. The results depicted here are not based on actual trading and do not account for the annual management fees that may be charged to a Cult Wines customer which ranges from 2.95% to 2.25% depending on the size of the portfolio, and there is no guarantee of similar performance with an investor's particular portfolio.