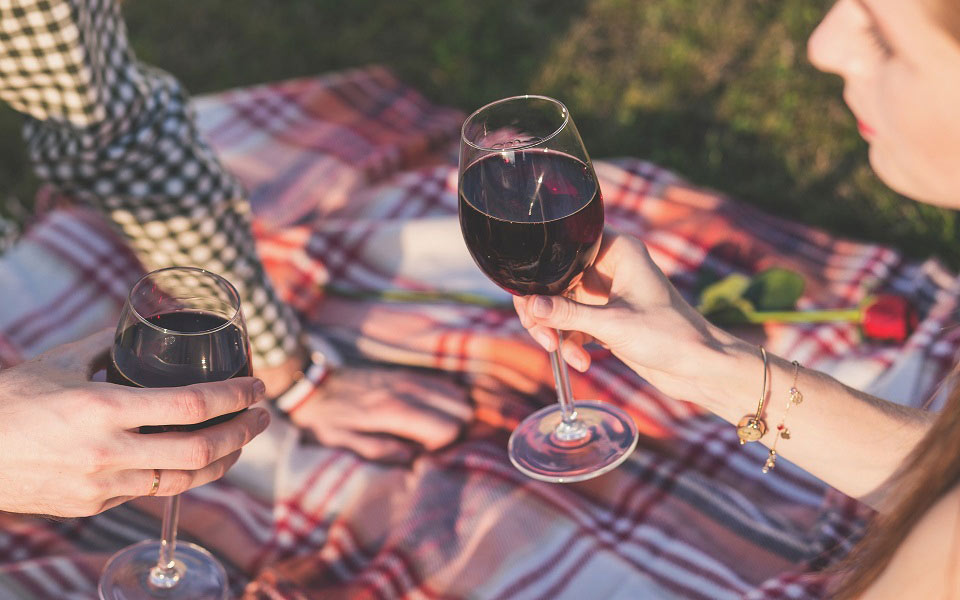 As the last dregs of winter slowly subside, the sunnier mornings, clear skies and warming temperature brings the creeping optimism of spring, and the sense of promising new beginnings in step with the changing season. So it's time to retire those rugged reds and dense whites to the cellar for now, and introduce some fresher flavours to your everyday wine rotation.
White Wines
Vinho Verde
Literally translated to 'green wine', this low-alcohol wine from northern Portugal is meant to be drunk young. It's bottled early, so a small amount of fermentation continues in-bottle, giving it a slight but refreshing fizz that makes it a perfect option for a leisurely afternoon on a patio.
Cult Wines Sommelier Recommendation:
Vinho Verde, Azevedo, 100% Loureiro
@ ~£6.00 per bottle
Grüner Veltliner
While many Austrian wines have come to be associated with the colder months, Grüner Veltliner boasts a zesty, lime-like fruit character and a crunchy acidity that makes it a great accompaniment to light springtime vegetable dishes.
Cult Wines Sommelier Recommendation:
Loimer, Grüner Veltliner, Kamptal, Austria
@ ~£9.00 per bottle
Albariño
Little known just 20 years ago, Albariño has quickly become a firm favourite with inhabitants of its Spanish homeland. Hailing from Galicia in the North West of the country, this celebrated white is medium-bodied, with aromas of white peaches and a brisk freshness, making it an ideal companion to seafood and light fish dishes.
Cult Wines Sommelier Recommendation:
2017 Martin Codax Albarino, Rias Baixas, Spain
@ ~£12.00 per bottle
Prosecco
A tried-and-true springtime favourite, Italy's Prosecco is softer and more rounded than Champagne – and arguably more versatile, which is a key springtime requirement. Enjoy it as an aperitif on a pleasant afternoon, with fruity desserts after dinner, or as a punchy ingredient in a zesty cocktail.
Cult Wines Sommelier Recommendation:
Mionetto Prosecco Valdobbiadene Superiore DOCG, Veneto, Italy
@ £13.50 per bottle
Red Wines
Gamay
Refreshing and full of juicy fruit, Gamay hails from 10 crus in Beaujolais, boasting an aging potential not commonly found in lighter reds. An excellent choice for a springtime picnic, Gamay pairs well with meats, cheeses and spreads, as well as roasted veggies.
Cult Wines Sommelier Recommendation:
2016 Touraine Gamay, Domaine Joël Delaunay
@ ~£12.00 per bottle
Poulsard
Poulsard – sometimes spelled Ploussard – is a lesser-known but highly-drinkable red from France's Jura region. Historically used in blends, its light body and pale colour makes it a fine springtime red, and it pairs well with almost everything.
Cult Wines Sommelier Recommendation:
2015 `Poulsard de l`Ami Karl` Arbois, Domaine de La Pinte
@ ~£23.00 per bottle
Nerello Mascalese
This versatile Italian red is Sicily's answer to Pinot Noir. Grown in the cool-climate, high-altitude region of Mount Etna, Nerello Mascalese boasts a light-to-medium body, tart red flavours and a distinct volcanic minerality that's as refreshing as springtime is welcome after the dark, cold months.
Cult Wines Sommelier Recommendation:
2017 Azienda Agricola Cortese 'Nostru' Nerello Mascalese Terre Siciliane IGT, Sicily, Italy
@ ~£13.00* per bottle
Bonarda
The Argentinean grape that no-one's ever heard of, Bonarda (or its French name, 'Douce Noir') certainly lives in the shadow of Malbec but is actually one of the most-planted grapes in the country. It can taste similar to Malbec but it's lighter and snappier, with low tannin and bright acidity. Great for the first cautious barbecue of the year.
Cult Wines Sommelier Recommendation:
2017 Trapiche 'Estacion 1883' Bonarda, Mendoza, Argentina
@ ~£13.50* per bottle
* This price is based on an in-bond price - Duty and Tax would be added for delivery.