Italy continues to gain momentum and establish itself alongside Bordeaux and Burgundy as one of the ultimate wine investment regions. With a favourable supply/demand dynamic we strongly believe that the secondary market for Italian wines will grow over the next 3 to 5 years for a number of producers, beyond the famous five Super Tuscans.
During this coming of age for investment in Italian wines we expect certain producers to go through a phase of high and accelerated growth. Some of the most obvious wines have already recorded stellar performance and although they might not have reached their peak valuation the entry price is already high.
In our constant search for great relative value investment opportunities we have identified a select number of wines with strong credentials for delivering returns. Whilst performance is never guaranteed, we are confident that the risk reward profile of the following wines is attractive. Similar to a venture capital approach; by spreading exposure across four different producers with high scores and a low entry price we believe we have created a portfolio that increases the probability of striking on a future Cult Wines unicorn whilst limiting the downside.
Portfolio Recommendation

The rising profile and quality of Super Tuscans make this the time to buy. From a relative value perspective when taking into account points over price, these wines occupy the same space as the 'super seconds' in Bordeaux, all of which routinely trade for over £100 per bottle in their youth and significantly more with maturity.
We recommend 1 to 3% of your portfolio should be allocated to speculative wines and at that price point and with the supporting facts below, the risk for downside is virtually non-existent:
Every portfolio should have exposure to these wines as an exciting and opportunistic part of their Italy allocation
Saffredi le Pupille
The 2017 vintage marks the 30th anniversary release of Saffredi's 'le Pupille' Super Tuscan. Over these 30 years, it has been moulded by some incredible talents- Giacomo Tachis, Decanter Wine Magazine's Man of the Year 2011 and winemaker for Antinori; Christian Le Sommer, ex technical director at Chateau Latour and now Lucca d'Attoma, who has worked at both Tua Rita and Le Macchiole.
The wine has just started reaching the high 90s from critics, with 2016 and 2017 hitting the heady heights of a respective 98 and 97. This Bordeaux blend, at under £300 per 6, represents exceptional value.
2017 - 97 points - £310
2016 - 98 points - £295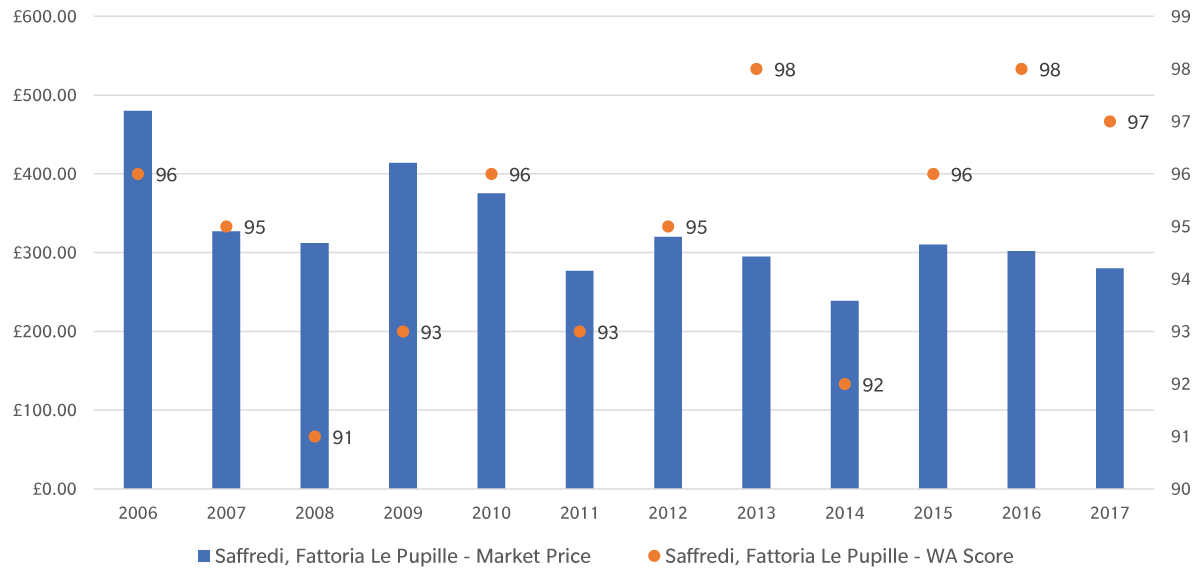 Camartina
Making an average of just 1,500 cases per year, Querciabella's Camartina is assembled only in exceptional vintages and composed mainly of Sangiovese, followed by Cabernet Sauvignon and the occasional touch of Merlot. Obvious comparisons can be drawn between this and Tignanello, with scores for recent vintages coming very close to the Antinori's flagship wine.
Spearheading vegan and biodynamic practice in the region, this forward-thinking producer presents superb relative value against its peers.
2015 - 96 points - £300
2013 - 95 points - £275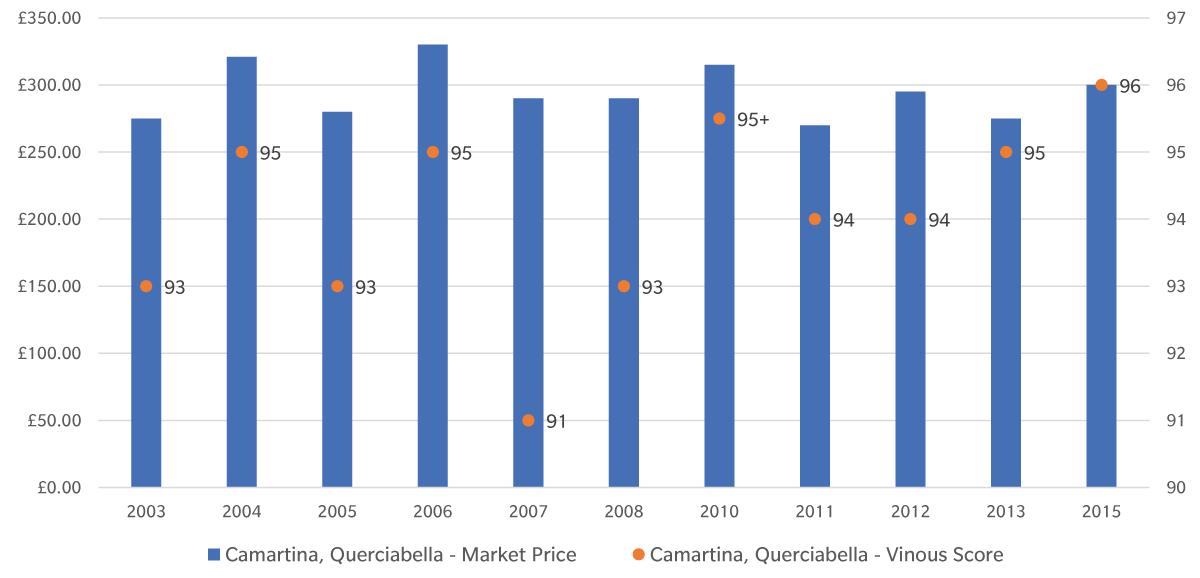 Tua Rita, Giusto di Notri
From Tua Rita, the estate most famous for Redigaffi, arguably formed what could be referred to as the 'second generation' of Super Tuscans. With grapes from their early plantings in the Maremma going into Sassicaia, Tua Rita quickly established their own reputation which has led to Redigaffi attracting prices in excess of £150 per bottle.
Giusto di Notri is their Bordeaux blend and it is both outstandingly well scored (the 2016 attracted 97 points from The Wine Advocate) and incredibly well priced, at just £200 per 6. The benchmarks against the similar scored 2010 are also sensational, with a disparity over 400%! Not to be missed.
2017 - 96 points - £210
2016 - 97 points - £230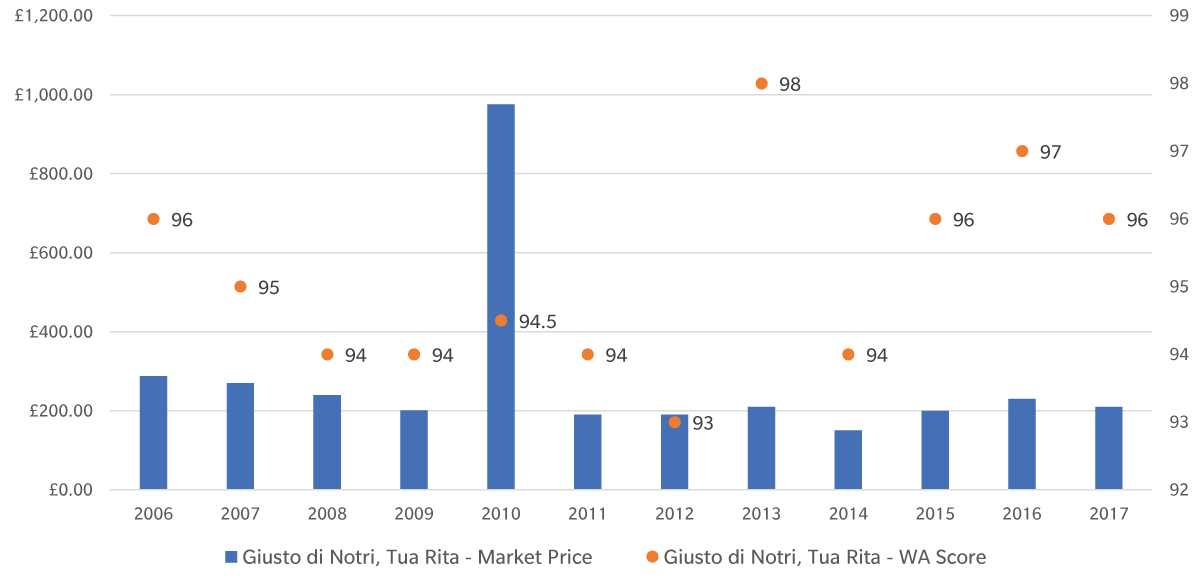 Mazzei Siepi
Owned by the Mazzei family since 1435, the Siepi estate only began producing its eponymous Super Tuscan in 1992. Just 2,500 cases are made from this 6 hectare single vineyard plot of Sangiovese and Merlot- like all these wines, the scores in the last five years have really found form, moving from late 80s up to mid 90s.
With the huge resources and history of the Mazzei family behind it, this young wine will continue to build into an icon of the region. The 2013, at under £300.00 per 12 and with a 95+ point score, sits at the most prime point in the market.
2013 - 95+ points - £280