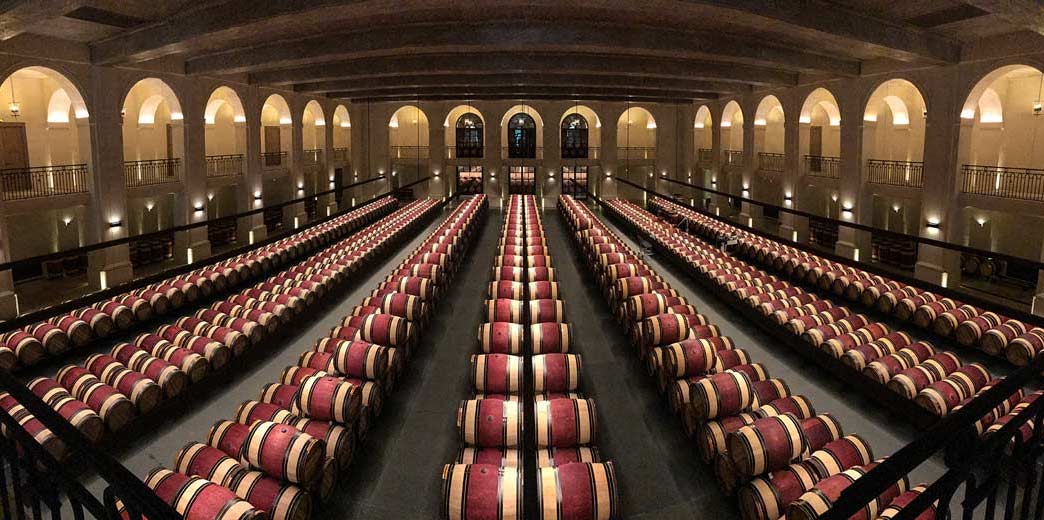 Only a few days ago, we were still sceptical we would be preparing our Bordeaux 2019 En Primeur report.
The Coronavirus impact is widespread, humanly and economically. The virus spared no one and no region of the world. As governments imposed lockdowns to save lives and mitigate long term effects, life came to a standstill. Bordeaux and the wider wine community were certainly not immune. Events were cancelled, wineries closed their doors to visitors worldwide and, whilst confinement certainly encouraged wine consumption, the outlook was grim and the focus was certainly not the new Bordeaux En Primeur, with Europe in full lockdown and lives under threat.
When the traditional En Primeur campaign was suspended with a very uncertain future, rumours abounded about the release of the 2019 vintage. Would it ever happen before it was bottled? Would the Union des Grand Crus, which federates Bordeaux producers, organise a virtual release? Who would be able to taste the new vintage from barrel? Would the En Primeur system altogether disappear?
As with everything post Covid 19, we are about to witness a great experiment of adaptation from Bordeaux and the wine industry, demonstrating once again the resilience of this unique product which has been part of human history and heritage for centuries. After all, Bordeaux survived wars, revolutions and epidemics throughout history and the release of a new vintage was only delayed because of WW2.
France exited full confinement on 11 May. Whilst there was initial scepticism about a campaign in 2020, it is with immense pleasure and excitement that we can confirm we will run our CW En Primeur 2019 campaign in June and July. For sure details are still being sketched out and there is little that is certain in these unprecedented times so plans could still be thrown out, but there is a will and some conviction emanating from Bordeaux. And we have rapidly moved from 'will there be a campaign' to 'how good are the wines', 'will there be appetite' and, very importantly, 'what will the price be?'
The price…
A comparison with 2008 En Primeur campaign is inevitable. Then, as today, the world had suffered a major economic shock and uncertainty about global demand for the new vintage reigned. We were in the middle of a global crisis and the mood was sombre.
But we would argue that this is where the comparison stops. In 2009, the crisis was financial and the human impact was limited. The world didn't stop even if it appeared that way at the time. Central banks and governments ensured the system was kept afloat and the economic activity supported and sustained. The present crisis is not only economic but also very human, with tragic loss of lives and jobs, limited freedom of movements and potential long-term scarring.
From an En Primeur perspective, critics could taste, assess and score the 2008 vintage and the campaign went ahead as planned. History will remember that it was an extremely successful campaign as prices were reduced by up to 50% from the 2007 release and attracted strong interest.
What of 2019 then?
Well, before Coronavirus was part of our daily vocabulary, Bordeaux was experiencing severe headwinds. Its market share of the wine trade was gradually eroding to reach an all-time low of 41% this year. Mixed return performance of recent vintages despite quality, evolution of tastes and global demand, competition from other wine regions all weighed on Bordeaux wines. Then, USA imposed a 25% tariff on European goods, targeting French wines in particular, threatening to increase it to 100% in trade war escalation. The added uncertainty from the second biggest market for Bordeaux was the last blow to confidence. Over the last 12 months, the Liv-ex 500, the benchmark for Bordeaux, dropped 4.6%.
Liv-ex Bordeaux 500 Index: April 2017 - April 2020 (Source: Liv-ex)
Against this backdrop, price will be THE most important factor in the success of this En Primeur campaign and Bordeaux, in general. We were mentioning experiment in the opening paragraphs. With virtual tastings, limited numbers of samples sent to critics and the press and in the absence of the usual En Primeur week in Bordeaux, we feel that more than ever, Châteaux need to lead with aggressive pricing.
Considering the above, for the first time in 20 years we could have the combination of a high scoring vintage with a very attractive En Primeur release price.
Indeed, with the confirmation of the high quality of the vintage by the leading critics and producers, there are reasons to be excited about this campaign. With comments comparing 2019 to 2015, 2016 and 2018, a quasi-perfect growing season and the return to a more classic Bordeaux style, there will undeniably be some amazing wines, possibly legendary.
It could be just what Bordeaux needs. The 2008 and 2014 En Primeur were released at very attractive prices relative to their respective prior vintages. They were good vintages but not perceived as exceptional. As mentioned earlier, the 2008 campaign happened during the Great Recession whilst 2014 came out after the correction of the China led bubble in wine prices. As seen below, both campaigns triggered a 2-year long rally in Bordeaux wine prices.
Liv-ex Bordeaux 500 Index: Price Rallys (Source: Liv-ex)
As always, Cult Wines will apply the same approach, one of rigorous analysis and selection, based on solid fundamentals and return prospects. We are incredibly fortunate that our Purchasing Director, Hubert Buchmuller, is based in Bordeaux and has been able to taste the wines, sometimes at the Château. This gives us and our clients unparalleled insight in the quality of the wine.
This year, more than ever, there has been wild speculation about release prices. We have heard it all – from 2014 prices to a reduction of up to 40% on 2018 En Primeur prices. In order to cut through the noise, we have decided to apply a range of 5-20% discount to last year's pricing as a base case in our scenario to assess the vintage.
In the following pages we share our conclusions from in-depth quantitative analysis to qualitative reviews of key producers. We are extremely excited by this campaign and we are confident that this could provide the spark to re-invigorate the Bordeaux market and deliver superior returns for the savvy investor.
Update
Just before publishing our report on Thursday 28th May, we were greeted with positive news from Chateau Pontet Canet, who have released the 2019 at a significant 30% discount to the 2018 offering. EP investors will recall that this isn't first time that Pontet have been out of the blocks early. They did the same in 2013, before the rest and before any scores were released. This time around, the 2019 is being touted as similar quality to 2018, 2016, 2010 and 2009 – all of which trade at a significant premium.
Historically, the first major release can play a crucial role on future releases and ultimately the success or failure of the campaign. With mounting pressure to bring prices down on last year's release this sets a strong precedent for what's to come.