Fine wine can provide an excellent long-term hedge against an uncertain inflation outlook. As the global economy recovers from the COVID-19 downturn, ongoing government spending and high savings rates are unleashing pent up consumer demand, causing inflation to accelerate. The US Consumer Price Index (CPI) hit 5.4% year-on-year in June, a 13-year high. UK inflation is also jumped faster than expected, hitting 2.5% year-on-year in June. Although equity markets continue to rise, inflation surprises have triggered bouts of volatility as investors gauge possible shifts in monetary and government fiscal policies. Should a sustained rise in inflation take hold, major central banks could tighten policies quicker than expected, leading to a more volatile backdrop in mainstream financial indices.
This is where real assets, such as fine wine, can shine. Fine wine has delivered positive real returns over the long-term, meaning it has outperformed the IMF's worldwide CPI inflation rate. Figure 1 below shows the Liv-ex 1000 fine wine index, the broadest measure of the market, compared to worldwide CPI going back to 2003. Figure 2 makes this same comparison using the Fine Wine Investables Index. This more concentrated index of around 200 wines from 24 top Bordeaux chateaux can experience more short-term volatility than the larger Liv-ex 1000 but forms a useful tool to see how fine wine performs over the longer term as it has data going back to 1988. Both charts clearly show fine wine delivered consistent returns above the rate of inflation.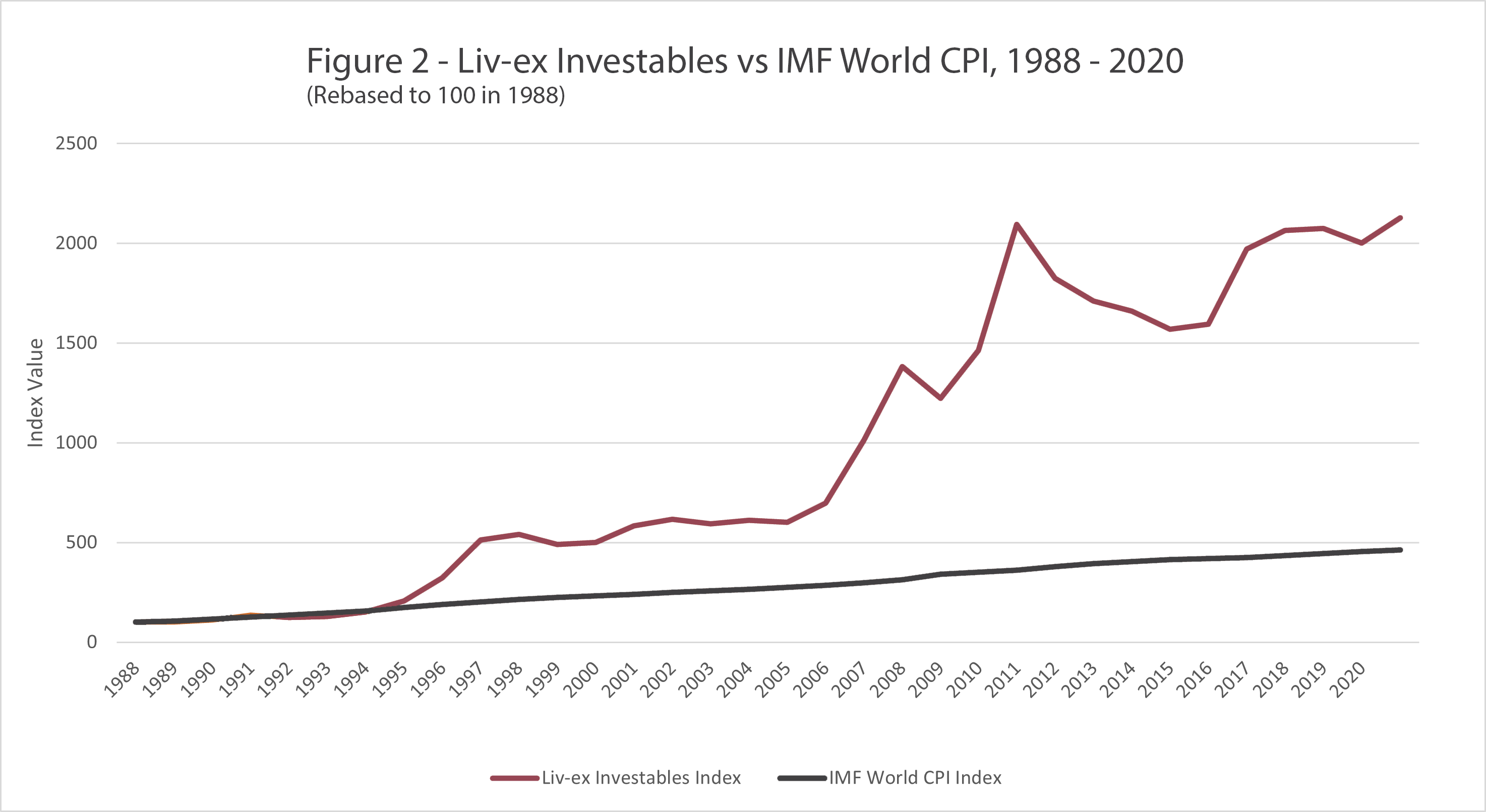 Sources for Figure 1 and 2: IMF, Liv-ex.
We believe fine wine continues to represent an excellent option as we potentially enter a period of higher inflation. Fine wine's unique market dynamics help insulate it from swings consumer prices, keeping its volatility relatively subdued compared to many other assets. This means wine prices might not spike in the short-term just because inflation leaps higher but instead offer a long-term hedge in the current environment due to the following credentials:
Supply/demand imbalance - Supply levels of fine wine are constrained as only specific vineyards in certain wine growing regions have the necessary qualities and recognition to produce top quality wines. This scarcity element and the fact that demand for fine wine as a collectible luxury product goes beyond its immediate benefit as a financial instrument can help keep price performance consistent and above the rate of inflation in different macro backdrops. Going back to its inception in 1988, some of the Liv-ex Investables' best-ever returns came in the mid-1990s alongside relatively high inflation as fine wine's global appeal as an investment asset took hold, causing demand, and prices, to soar. The index's average return exceeded 50% from 1994-1996 with CPI inflation averaging 8.8% according to IMF data.


Collectible real asset - As an alternative 'passion' asset, the primary drivers of fine wine prices are internal factors, including supply/demand, wine quality and brand prestige. Fine wine is, therefore, less susceptible to changes in the inflation or wider economic outlook than other financial assets. As a result, fine wine does not demonstrate a direct correlation to inflation as its track record includes periods of strong returns during higher inflation environments of 1990s as well as during more recent subdued inflationary backdrops.


Favourable current backdrop - Currently, the table is set for fine wine's ongoing success after a strong start to 2021. As we recently highlighted in our Q2 report, the economic recovery as economies reopen should prolong the current fine wine rally even if inflation rises. The recent end to the US tariffs on EU wine imports as well the news that the UK has removed costly red tape for all wine imports should only fuel strong global demand, helping maintain healthy real returns.