Château Figeac has been a star performer in recent years, both in terms of wine quality and price appreciation. Figeac vintages from 2005 through 2018 have posted a total return over 19% over the two-year period ending 31st July 2021, outperforming the wider Bordeaux 500 index's 6.0% return over the same time span. We think there is more to come for this red-hot Saint-Émilion producer.
Figeac is a strong candidate for a promotion to Premier Grand Cru Classé A in next year's re-classification of the Saint-Émilion rankings. We saw Figeac's potential two years ago when we made its wines a core part of our investment strategy, recognising that an upgrade would lead to significant price growth, as we saw with Château Angelus and Chateau Pavie wines when they attained Classé A status in 2012.
This view has since reaped rewards as the expectation of a promotion along with the amazing quality of Figeac wines has pumped up the prices of new and old vintages alike.
Figeac's 2-year price growth
Price and Wine Advocate (WA) score comparison – July 2019 vs July 2021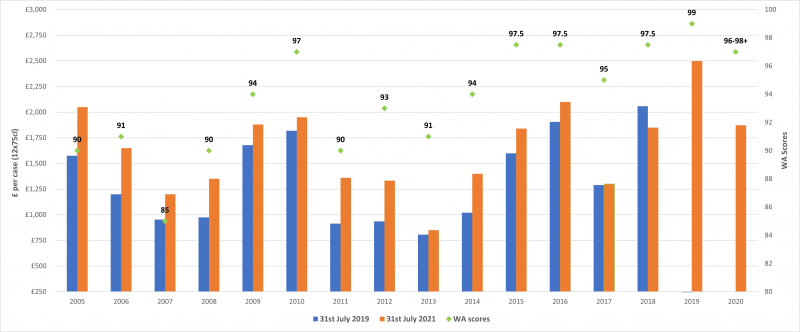 Source: Liv-ex as of 31 July 2021
The chart shows that lower-priced vintages from the early years of the 2010s delivered some of the bigger steps up in price. This is not a surprise as these 2011-2014 prices were not just lower to other vintages on an absolute basis but also lower relative to their Wine Advocate scores (Price-per-Point ratio – PoP). We saw the same trend among Angelus and Pavie wines when they jumped in price around the 2012 upgrade. The increased attention from a Classé A upgrade can make a larger impact on wines overlooked by the market - and therefore better-valued - than on those already enjoying strong demand.
Best yet to come?
So far, these impressive returns stem only from the market's expectation of a promotion. If Château Figeac's 2022 promotion does indeed come through, prices would only rise further. The news that Chateau Ausone and Chateau Cheval Blanc will not seek renewal of their Grand Cru Classé A classifications in 2022 may reduce the prestige of the classification system over the long term, but a Figeac upgrade would still boost attention on the impressive upgrades to its winery, cellars and overall quality of wine in recent years.
Figeac wines also still trade at a discount to the most recent Classé A members – Angelus and Pavie. For example, Figeac's 2013 current price is at £1,000 (cheapest listed offer for 12x75cl) with a score of 91 points whereas Pavie's 2013 with the same WA score fetches £2000. More recent, high-scored vintages also show a gap as the 2015 Pavie (98 points) market price is 44% higher than 2015 Figeac (97+ points) and the 2018 Angelus market price sits 70% above the same-vintage Figeac (both 97+ points). Classé A status for Figeac would cause these gaps to narrow.
Furthermore, the recent Bordeaux 2020 en primeur campaign drew attention toward the region's best-valued back vintages. Several Figeac back vintages still offer excellent relative value, meaning our original investment thesis can still bring in significant rewards.