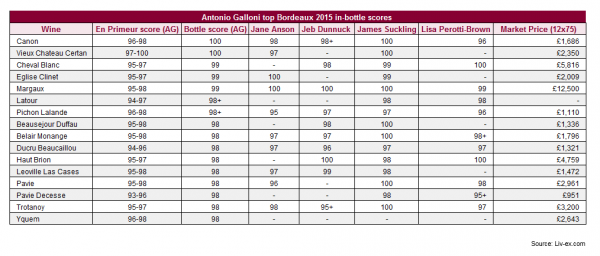 Antonio Galloni has released his Bordeaux 2015 in-bottle scores. In his report, 2015 Bordeaux: Every bottle tells a story, he says he is "impressed by how much freshness and structure the 2015s show today. Although 2015 is not an across the board success … the best wines are truly phenomenal."
He adds that while it's "tempting to compare 2015 with 2009 and 2010" he believes the 2015s "aren't as flamboyant as the 2009s nor do they have the combination of elevated ripeness and structure of the 2010s". However, he found perfection in Canon and Vieux Chateau Certan, scoring them both 100 points.
James Suckling is the only other critic to give Canon a perfect 100-point score, although it has been rated highly in-barrel by Neal Martin (98-100), and was ranked joint third favourite 'value' wine of the vintage by Liv-ex members.
Vieux Chateau Certan also received 100 points from Suckling, and an equally impressive 98-100 in-barrel score from Martin.