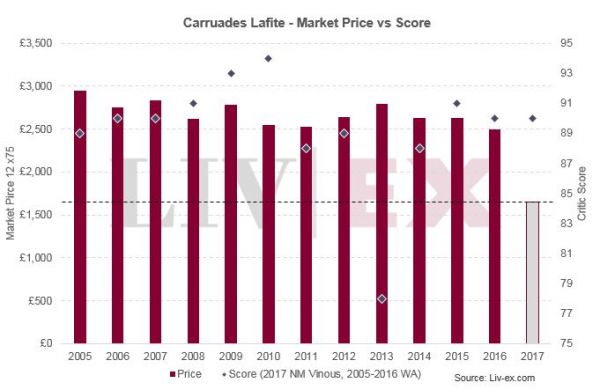 Carruades Lafite 2017 has been released at what looks like €135 per bottle ex-negociant, the same as the 2016 release price. According to Liv-ex, some negociants are still considering their opening price due to Vinexpo. There have also been suggestions that the release will be delayed while Lafite considers ways to "tie" the offer to other wines from its offerings, such as Rieussec and Evangile.
Nonetheless, the wine has been praised by critics. Neal Martin awarded it 89-91 points, while Lisa Perotti-Brown commended its "great poise and long savoury finish", scoring it 90-92 points.
As Liv-ex notes, today's opening price "looks attractive" for buyers who are able to source stock (reports suggest volumes available are down 10% on last year). There is no correlation between price and score, instead the newest offering tends to normalise with the market prices of vintages trading in the secondary market within months.
It's also worth noting that the Carruades Lafite index is one of the best performing chateaux indices in the last 12 months, posting a gain of 22%. Over the same time period the Bordeaux 500 index is up 6%.