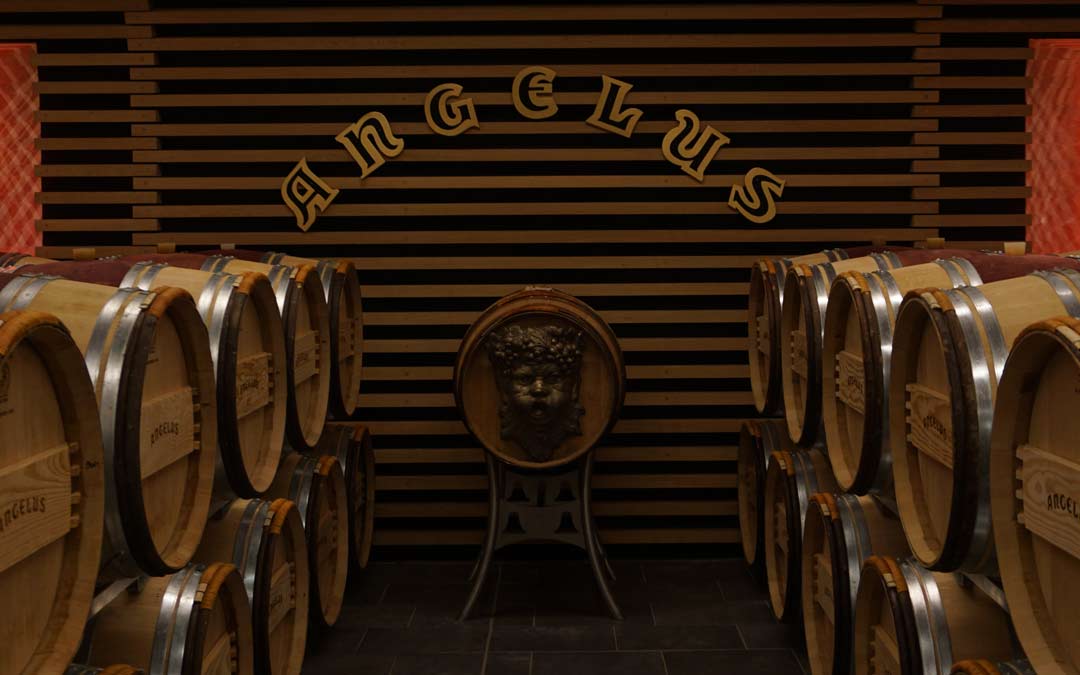 The Wine Advocate moved their publication date forward by a week and so Lisa Perotti-Brown's scores become available yesterday (23rd April) evening UK time. As anticipated she scored the vintage very highly, with Angelus receiving a potential 100 point score of 97-100 pts. As we wrote last week, high scores from both TWA and GWS mean that this is certainly a wine to purchase en primeur this year.
The 2018 Angélus is blended of 65% Merlot and 35% Cabernet Franc, to be aged 18-22 months in barriques, 100% new, plus two new foudres. Deep garnet-purple in color, it slips slowly, sensuously out of the glass with beautiful black raspberries, kirsch, warm plums and red roses scents, building in intensity to reveal chocolate-covered cherries, raspberry coulis, black tea, woodsmoke and powdered cinnamon notions with a waft of black olives and charcuterie. Medium to full-bodied, the palate delivers a wonderfully profound, multilayered, seamless experience of red and black fruits intertwined with earth, spice and floral notions and framed by exquisitely ripe, satiny tannins, finishing with amazing freshness and length. Incredibly, finely, expertly, seamlessly knit. Stunning. (97-100)
On the 16th April, Chateau Angelus 2018 was released at the same opening price as the 2015, down 8.7% on the 2017 and 14.3% below the 2016. The opportunity to purchase Angelus at a more advantageous price than the 2016 and 2017 vintages and at around the same level as the 2015 – is an opportunity not to miss. As the first major Chateau to release early, a strong precedent has now been set for its peers and should they follow suit, this bodes very well for the 2018 En Primeur campaign.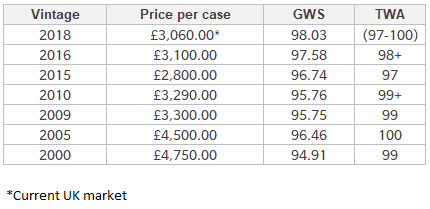 As the table below demonstrates, the 2015 vintage has performed very well across the board since release:

Of the four major critics, James Molesworth (Wine Spectator) and James Suckling are the only ones to have published their scores. Suckling's rating of 99-100pts equals his barrel rating for the 2016, whilst Molesworth's rating of 95-98pts suggests the 2018 could mark an improvement on the 96pts achieved in 2016. We're in agreement with both critics, 2018 is equal to, if not, superior to 2016 however we're not prepared to release our allocation to our clients until all critic scores have been released.
With Neal Martin not scoring the vintage until the Summer, we believe that the Wine Advocate will have the most influence over price and demand. Despite the mantel being passed onto Lisa Perotti-Brown, a high score from 'The Wine Advocate' still holds a lot of influence as shown in recent months. Secondary to 'TWA', the global wine score will be the next most important and influential score we use to evaluate the vintage, this is a consensus score based on an aggregation of all the major critics. With TWA not scheduled to be published until April 30th and GWS unable to aggregate until all scores are in, it's prudent for us to wait until we have the full picture before advising clients on which wines to purchase from this vintage.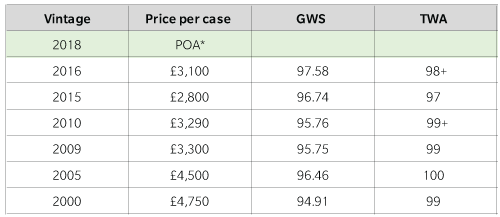 If, as anticipated, the 2018 receives a score from TWA within the region of 96-98 to 98-100 and the GWS score supports the overall consensus view that 2018 is a stellar year for the estate, then it will be a strong buy recommendation. As the chart below shows, the wine has worked well in recent primeur vintages when priced well.
Vintage performance since EP release (rebased 100)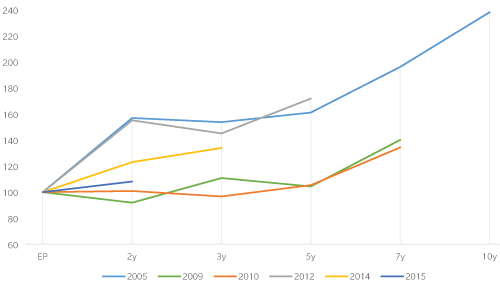 For Cult Wines clients, if all goes to plan, Angelus and Carillon d'Angelus will be allocated to clients who participate in our En Primeur Priority Allocation system, a process we have used to great success over the past few campaigns in ensuring our clients get access to the best wines at the most competitive prices. In order to access Angelus and allocations of the best wines from this year, it is imperative that you participate in this allocation process.
Vinous Media and Wine Advocate are the major publications yet to release their scores, nonetheless we anticipate the potential of them exceeding the 2016 effort, placing the 2018 amongst the greatest vintages of all time. If pricing follows the lead Angelus has set, then this could be one of the most in-demand en primeur campaigns of recent times. But as always price is a key determinant in success.
Our full EP'18 report will be out in a few days' time. Meanwhile, please read below an extract from the upcoming report, describing our visit to Angelus.
In order to register your interest in receiving an allocation of Angelus and any other wine from the 2018 EP campaign – please contact your Portfolio Manager in order to participate in our Priority Allocation System.
Bordeaux En Primeur Tastings: Day One - Chateau Angelus
Leaving the hill of Chateau Ausone, now is time to drive down to taste a third Premier Grand Cru Classe A, the first one in the alphabet… you guessed it, Chateau Angelus! Having arrived slightly ahead of schedule, we negotiate our way in with the hostesses, and are welcome with a glass of Carillon de l'Angelus 2018 by the delightful Victoire Touton. We are quick to pick a few bites of cheese; En Primeurs tasting is a tedious exercise, and even though most of us are spitting, it is recommended to feed your stomach here and then.
Carillon de l'Angelus is not the second label of Chateau Angelus anymore, rather, it is now a wine with its own identity, produced from 3 specific terroirs. Carillon de l'Angelus is produced from 85% Merlot and 15% Cabernet Franc, and made to be approachable sooner, with more purity, freshness, fruit and elegance. Following a meaty nose, it is full but not heavy, with well-made tannins kicking in and giving way to a powerful and long finish. The wine already starts to be integrated.
Last but not least, the wine that everyone has been patiently waiting for: Chateau Angelus 2018! It is the result of a tough selection from 60 to 80+ year-old Cabernet Franc vines which were planted by the current owner's grandfather. With 65% Merlot and 35% Cabernet Franc, the Grand Vin is showing a deep and charming nose, with ripe aromas of dark berries. The lovely and soft attack is followed by a smooth, fresh, light and balanced mid-palate with a good volume and a long finish. Chateau Angelus 2018 is a confident wine, settled and effortless, a wine for connoisseurs, which would be best summed up with French expression 'force tranquille', loosely translated as 'quiet force'. During the later lunch, owner Stephanie de Bouard emphasized the finesse and purity of the 2018, noting that it was the most complete, elegant and refined vintage ever produced at Chateau Angelus. This is the fourth top Saint-Emilion which we have tasted this morning, and it confirms that 2018 is a really wonderful vintage in the making!
Here is a short parenthesis on recent release prices, while we enjoy the aftertaste of the 2018 vintage of the Grand Vin. Last year Angelus 2017 was released at £3,360 per case of 12, and now trades at a 15.2% discount, or £2,850. We did not take a position then. Two years ago Angelus 2016 was released at £3,576 per case, while our clients could get it from us at £3,190. Here again the performance has been negative: -15.0% in two years, or still -4.7% had you purchased it from us. Three years ago, Angelus 2015 was released at £2,680 per case, now trading at £2,800, which is a 4,5% increase, or a 16.6% growth had you purchased it from us at £2,400. The current average price of a case of Angelus over the past ten vintages is £2,900, which is roughly the same as the current market price of the latest 2017 vintage one year after release. In conclusion, we should probably only consider the 2018 vintage if it is released below £2,850 per case.