Fine wine investments are on firm footing as we head into 2021. Our favourable outlook rests on fine wine's stable track record and growing geographic diversity. After posting a positive return in 2020 amid a range of macro challenges, we think fine wine can build on its recent performance as its long-term growth rate suggests the market still has room to improve.
Fine Wine has Room to Grow
Liv-ex 1000 Rebased at 100, Dec 2003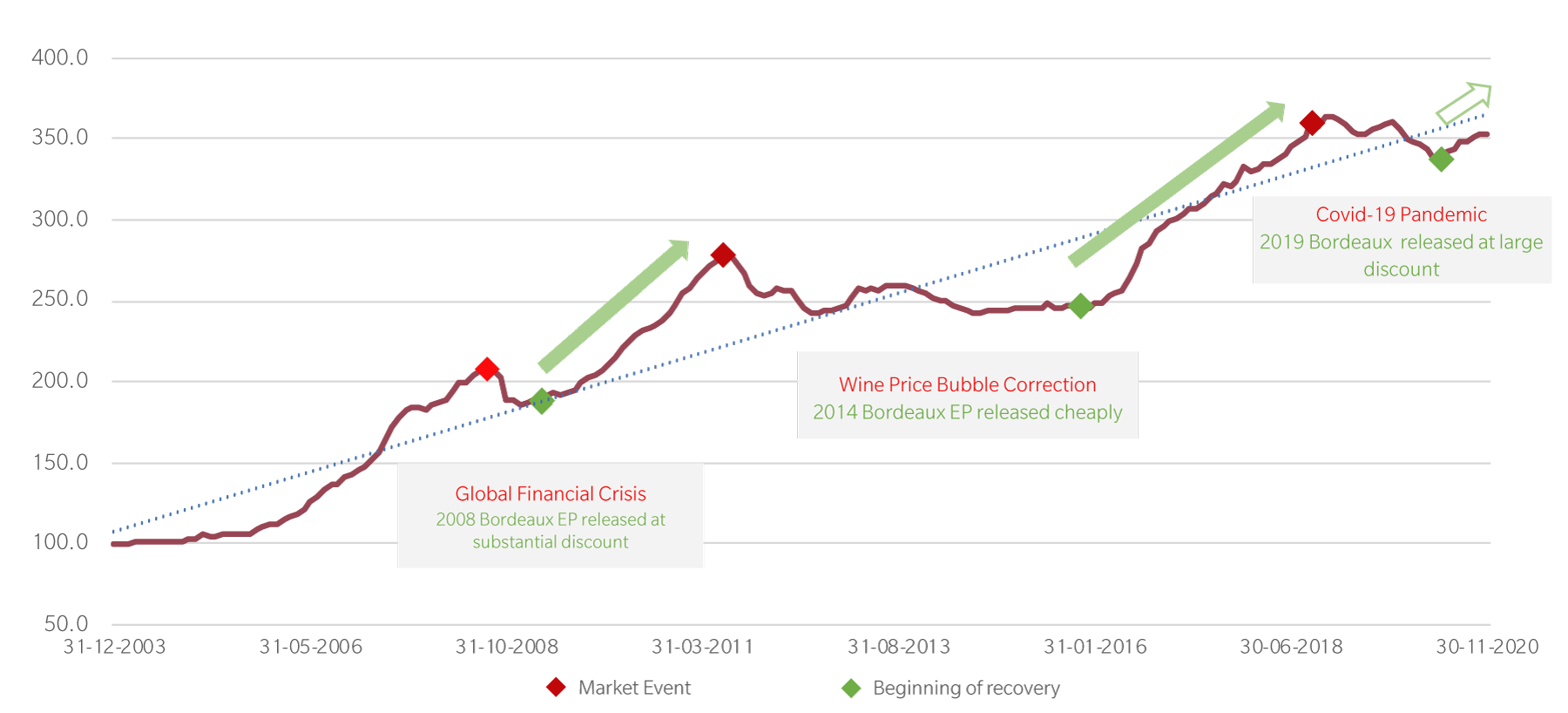 Data source: Liv-ex as of 30 Nov 2020
2020 Overview
The past year underscored that fine wine is a resilient investment. Despite challenges from the pandemic and global trade disputes, fine wine managed a favourable return while displaying low volatility relative to most financial markets. Champagne and Italian wines stood out as the top performers. The development of these regions and other global wine regions added to the market's diversity, helping investors find opportunities for continued performance through the shifting backdrop.
At the beginning of 2020, we anticipated a rebound which was delayed due to the many disruptions early in the year. But now the emerging recovery in the second half of 2020 could continue and potentially gain pace in the new year. However, many uncertainties remain, and we believe investors should take a selective, analytical approach to uncover the best wine opportunities over the year ahead.
The performance of fine wine will depend on the following key themes
Covid
Fine wine would benefit if COVID vaccines help the hospitality sector normalise. But can fine wine remain stable if the economy continues to suffer?
Brexit
Brexit creates additional obstacles for the wine industry, but the greatest impact could come from the value of the British pound. Would a weak pound have a positive or negative effect on fine wine prices?
Tariffs
US tariffs hurt certain segments of fine wine in 2020 but Joe Biden's election could mean Bordeaux en primeur enjoys a boost in US interest this year.
Region

2020 Return*

2021 Outlook**

Key Drivers

Bordeaux

2.9%

2018 in-bottle scores

2020 En Primeur pricing

-1.2%

Recent lag

creates rebound potential
Up-and-coming producers
2019 En Primeur campaign

Champagne

8.3%

'Growers' momentum

Increased appetite in Asia

Rhone

3.6%

Rhone's moment in the sun has not yet come

Relative value

Italy

6.7%

Strong momentum

Recent vintage quality

US tariff exemption

Relative value

Emerging Markets/Rest of World

-3.9%

South American, Spanish and German wines' recent critical praise

Relative value

China tariff on Australia

US

-1.5%

COVID impact

Prices are high

Asian demand
*Liv-Ex indicies as of 30 Nov
**Arrows indicate regional outlook relative to wider fine wine market performance
Region

2020 Return*

2021 Outlook**

Key Drivers

Bordeaux

3.1%

2018 in-bottle scores

2020 En Primeur pricing

Burgundy

8.5%

Recent lag

creates rebound potential
Up-and-coming producers
2019 En Primeur campaign

Champagne

9.1%

'Growers' momentum

Increased appetite in Asia

Rhone

10.8%

Rhone's moment in the sun has not yet come

Relative value

Italy

6.8%

Strong momentum

Recent vintage quality

US tariff exemption

Relative value

Emerging Markets/Rest of World

17.9%

South American, Spanish and German wines' recent critical praise

Relative value

China tariff on Australia

US

6.8%

COVID impact

Prices are high

Asian demand
*Liv-Ex indicies as of 30 Nov
**Arrows indicate regional outlook relative to wider fine wine market performance
Region

2020 Return*

2021 Outlook**

Key Drivers

Bordeaux

3.1%

2018 in-bottle scores

2020 En Primeur pricing

Burgundy

8.5%

Recent lag

creates rebound potential
Up-and-coming producers
2019 En Primeur campaign

Champagne

9.1%

'Growers' momentum

Increased appetite in Asia

Rhone

10.8%

Rhone's moment in the sun has not yet come

Relative value

Italy

6.8%

Strong momentum

Recent vintage quality

US tariff exemption

Relative value

Emerging Markets/Rest of World

17.9%

South American, Spanish and German wines' recent critical praise

Relative value

China tariff on Australia

US

6.8%

COVID impact

Prices are high

Asian demand
*Liv-Ex indicies as of 30 Nov
**Arrows indicate regional outlook relative to wider fine wine market performance