Liv-ex has released a raft of data highlighting 2016's best performers.
According to the trading platform, Lafite Rothschild 2010 was the most traded wine of the year by value, demonstrating a 19.6% increase on its first trade in 2016 (£6,040 versus £5,050 per 12x75). As Liv-ex notes, "despite these increases, the wine, which Robert Parker called 'a very impressive … big, rich, full-throttle Lafite Rothschild' (98 points) remains significantly discounted on its high En Primeur release price of £12,000.
The chateau's second wine, Carruades Lafite, has taken second place, as seen in the table below.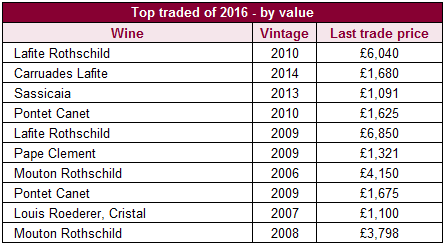 Among the top-performing Bordeaux wines of 2016, Pape Clement has emerged triumphant. Only four wines of the Bordeaux 500 have been stronger. The Pape Clement index – which tracks the price movements of the last ten physical vintages – is up 36.8% over the last 12 months. It has outperformed the Bordeaux 500 index, which has gained 22.7% over the same period. According to Liv-ex, the 2009 vintage was the highest riser, up a "staggering" 76.7% over 12 months.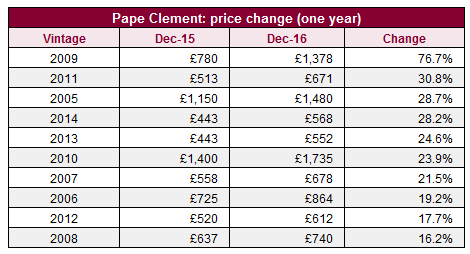 When it comes to regions, both Bordeaux and Burgundy have bounced back from lows in previous years, with Rhone and Rest of the World holding steady.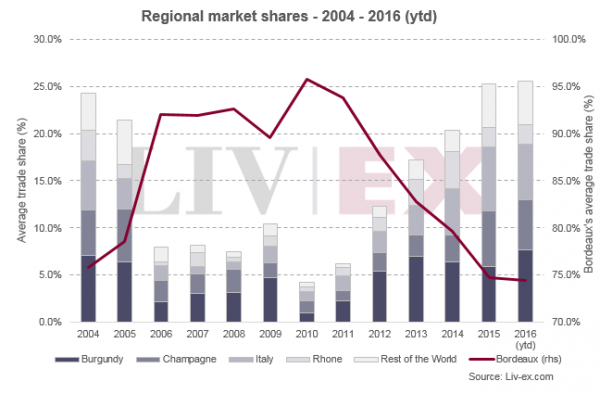 Finally, Liv-ex examined the most searched for wines of 2016 and found that Bordeaux First Growths continue to attract the most attention. Lafite Rothschild is now in first place, taking it back from Mouton Rothschild which topped the table last year. Margaux and Latour have also switched places.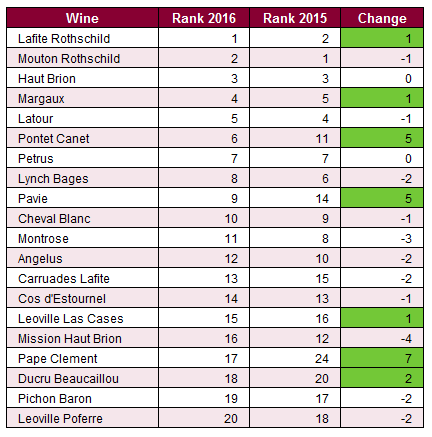 The three wines that climbed the most are Chateau Pontet Canet, Pavie and Pape Clement. Pontet Canet jumped into sixth place, making it the most viewed wine outside of the First Growths. Liv-ex also notes that Pavie and Pape Clement have seen a lot of attention recently thanks to significant price increases since the beginning of the year.