Al of the wines in the Right Bank 50 (Petrus, Pin, Ausone, Chateau Lafleur, Angelus and Cheval Blanc) have retained their status as First Growth wines in Liv-ex's most recent classification.
Despite being elevated to St Emilion Premier Grand Cru Classe A in 2012, however, Pavie has still not yet caught up and remains a Second Growth.
The 1855 classification system – which ranks wine by price – traditionally overlooks wines from the Right Bank of Bordeaux, so this year's classification was extended to look beyond the Right Bank 50 and 100, with many wines appearing for the first time.
The highest debut is Mondotte, entering as a Second Growth with an average trade price of £1,880. Evangile follows at £1,384, while all those classified as Third and Fourth Growths are new runners as well.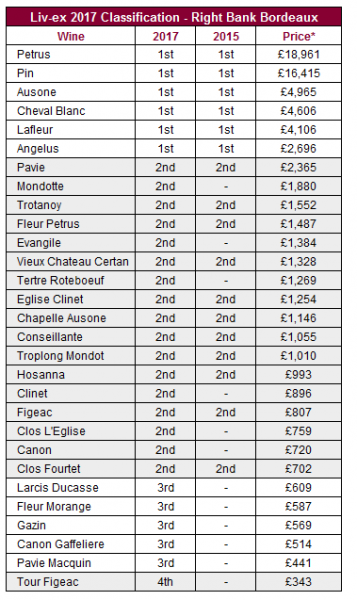 The news follows Liv-ex's Left Bank and Left Bank second wine reclassification, announced earlier this week.