What do Domaine de la Romanee-Conti, Domaine Leroy and Domaine Hudelot-Noellat all have in common? Well, aside from the fact that they are all historic and prestigious domaines in Burgundy of the very highest order, they are the only three domaines to own plots in both Richebourg and Romanee-St-Vivant. At a recent dinner in Hong Kong, hosted with Charles Van Canneyt, we thought it only right to make the Hudelot Noellat expressions of these two enchanting and almost mythical vineyards the main focus.
Alongside 16 guests at Sai Ying Pun's half New York loft, half Restaurant, Umami Concepts (special thanks to Nolan for what was our final dinner there before closure at the end of January), Charles expertly guided us through 5 wines. The 2004 Vosne Romanee 1er Cru 'Les Suchots', the 2010 & 2012 Richebourg, and then Romanee Saint Vivant from the same two vintages. Admittedly the '04 was actually purchased in error (my fault, oops) as I was under the impression we were buying the 2014. Although I could sense Charles' slight apprehension at what is often considered a 'challenging' vintage, it turned out to be a joy to taste. No signs of the greenness or dreaded ladybug here, the wine was silky with plenty of sweet red fruit with just a hint of tertiary characteristics starting to show themselves. Also pleasing to note that the domaine no longer had any of this wine, so it was a rare treat for Charles too; a wine that he was obviously pleasantly surprised about! Chapeau Alain!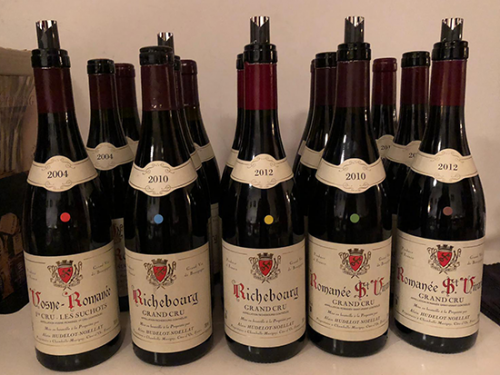 In 2008 Charles' grandfather Alain asked him to take the reins at the domaine. At the time he was 20 years old, and by his own admission knew very little about winemaking. Over the past 10 years he has experimented with the wonderful terroir at his disposal and has honed his skills to become an exceptionally polished wine maker. We decided to showcase what are widely considered his two most successful vintages so far during his fledgling career, the 2010 and 2012. The first flight was the two vintages of Richebourg. They own a plot of land that is sandwiched between Jean Grivot, DRC and Thibault Liger-Belair (see below), and Charles joked during the dinner that he has to keep telling the guys from DRC to keep of his plot whilst they are attending theirs. Whilst both wines are young, they are both incredibly complex, layered and exceptionally well made wines. The 2010 is certainly the more brooding of the two, but even for a wine that is so young it was a real treat to taste. The wine was incredibly rich and powerful, exuding lots of spice and plenty of fruit. It's obvious that this wine will evolve into something very special. The 2012 was my personal favourite wine of the evening. It shared a lot of the characteristics of the 2010, the spice, fruit and richness, however there was a more pronounced savoury edge to the wine, and it was definitely the more approachable of the two. Charles explained that during 2012 he experimented with keeping some whole clusters, and to me (and several others around the table) it was definitely an experiment that worked.
We then moved on to our final flight, the two vintages of Romanee Saint Vivant. Again, they have a wonderful plot in the vineyard bordered by DRC and JJ Confuron (see map below). Considering that only a path separates the two vineyards its quite amazing how different the wines are, even more so after Charles explained to us that he uses the exact same winemaking techniques for each wine at the domaine. The 2010 RSV came first, and if the Richebourg is a powerhouse waiting to unleash, this is far more delicate, but in no way less complex. What struck me about this wine, and the 2012 for that matter, was how precise and well balanced they are. Charles discussed how crucial the acidity in the wine is, and for both of these wines he got it absolutely spot on. The line of acidity that runs through the wine perfectly amplifies the fruit, spice and mineral flavours that are simply bursting out of these wines.
At this stage, as you can probably tell, conversation around the table was in full flow, and Charles was providing everyone with very interesting insight into his experience with the domaine over the past 10 years. I found it particularly amusing that whilst all of the winemakers are good buddies, an element of 'smoke and mirrors' is at play when discussing between them about how they have approached each vintage.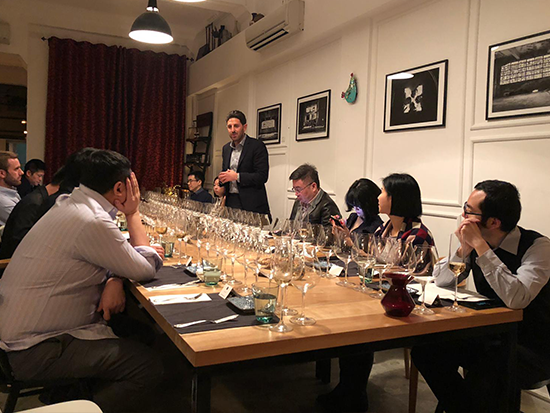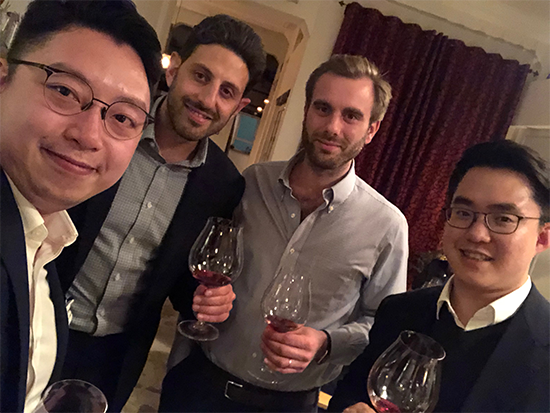 For the icing on the cake, we opened a 1999 Richebourg. We were hoping to get a glimpse into where the 2010 and 2012 might be heading, but whilst the '99 offered huge amounts of pleasure, it could have quite easily been made 10 years later – still very youthful, and actually still very tight. Charles explained that it's currently in an unpredictable period, and some days it can be very open and expressive and others it doesn't show as well. That will show us for hosting a wine dinner on a Lunar Calendar Leaf Day. Zut Alors!
Overall this was a fantastic experience. We knew the wines would be special, but having one of the most exciting young wine makers in the world in attendance to talk through arguable his greatest two vintages so far, is something that I doubt anyone in attendance will forget anytime soon. An event we will make sure happens for years to come.