A perfectly turned out Japanese gentleman took his seat for dinner at The Fat Duck one evening in the early 2000s. After carefully inspecting the wine list, he ordered a bottle of Harlan Estate 1994. At that time, working as Heston Blumenthal's sommelier, I knew where it was in the cellar, but that was about all.
After presenting and decanting, I serve the wine, upon returning, I was caught by surprise; the Japanese gentleman offered me a tasting. I can vividly recall its rich flavour profile, which lingered in my mouth for minutes and imprinted on my brain forever.
Returning home at 1am after a long day on the floor of the three Michelin star restaurant, I was eager to find out more about this dense, athletic and powerful wine. Before bed, I started researching this estate and trying to understand its essence.
It all started with Bill Harlan, a southern Californian who discovered Napa in the late 1950s. He first bought a piece of land where Meadowood, his luxury resort, now stands, and embarked upon a decade-long hunt for a suitable spot to plant vines. In 1984, the search culminated in his acquisition of a 40-acre piece of rugged land in the hills above Oakville, which became the first slice of Harlan Estate. During the course of the next decade, Harlan added several hundred acres of wild hillside land to the property. However, most of its remains untamed. Planting was gradual: six acres planted in 1985, another 18 acres in 1986/87, and an additional 15 acres in the early 1990s. Today, the vineyard covers just 37 acres with a clear focus on red Bordeaux varieties.
The first vintage was produced in 1990 although it wasn't released until 1996. Since my first encounter with Harlan on that fateful evening at The Fat Duck I have been luck to taste across the vintages with the highlights including 1992, 1994, 1997 and 2001. These wines gain greater complexity with a decade or more in bottle, and start to resemble mature Bordeaux.
Harlan Estate is not just a vineyard, it is a family affair where the people are as important as the vines: many of the Estate's personnel have been working on this land together for a quarter of a century. Harlan, the man, has a 200-year plan and his two children, who were born in the years between the planting of the first vine and the production of the first wine, have now joined their parents in the pursuit of producing a California 'first growth' in Oakville.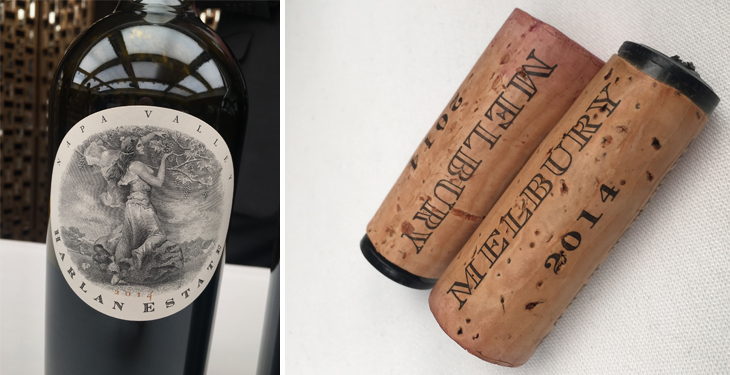 2014 Harlan Estate (85% Cabernet Sauvignon with balance with Merlot, Cabernet Franc and Petit Verdot).
Rich and ripe, this wine is almost juicy and sumptuous but has exquisite balancing freshness on the finish. It is hugely aromatic with complex layers: at this stage it still exudes primary fruit including cassis, dark cherry as well as violet and earthy undertones. The mouth is coated with rich tannins on the long, fragrant finish. This has huge appeal and is already approachable but it has all the hallmarks of a wine that will mature gracefully in your cellar over the next decade.
96+ pts