With sustainability taking centre stage on the global agenda, we're more aware than ever before of our collective environmental footprint. The impact of petrol and diesel vehicles is well documented, as are the effects of leaving lights on, cranking up the thermostat and wasting water. Materials consumption is also under the spotlight, and while public enemy number one is arguably plastic, there's room for improvement in all sectors – and that includes packaging within the wine industry.
Glass bottles have been wine packaging's poster child for hundreds of years, and while they are on the surface considered a reasonably green receptacle – glass is easily recyclable, after all – their impact on the planet should not be underestimated. Both making and recycling glass requires enormous amounts of heat, and therefore energy. Glass is heavy, putting additional strain on transport logistics, and it's fragile, demanding additional packaging for protection. If you consider that the vast majority of wine is purchased to be consumed almost immediately, these glass bottles are needlessly adding thousands of tonnes of CO2 into to our already troubled atmosphere every year.
But times are changing. The Waste and Resources Action Programme (WRAP) has already made strides in reducing the impact of glass packaging. Its GlassRite Wine project – which encourages manufacturers to take steps to lightweight their bottles – has already reduced the amount of glass packaging on the market by 11,400 tonnes a year, reducing CO2 emissions by 7,800 tonnes per year – that's the equivalent of taking 2,400 cars off the road.
But glass isn't the only wine packaging option available nowadays, and as the examples below demonstrate, clever packaging innovation could well spell the end of the traditional wine bottle.
Cans
There's a reason pre-mixed spirits in cans have done so well in recent times: convenience. It's much easier to pop a couple of tins in a bag for a long journey or picnic than it is large, cumbersome bottles. And the same applies to wine. Canned wine has made major gains this year thanks to its increasingly prevalence in supermarkets, and while convenience is king, its environmental credentials are decent, too. Some 69% of drinks cans are recycled globally, compared to just 46% for glass, and cans are smaller and lighter than glass, resulting in a smaller carbon footprint during transportation.
Flat bottles
Invented by Garcon Wines, these flat plastic wine bottles were originally intended for use as novelty gifts, but now the company is taking on wine manufacturers and suppliers with the aim of producing them at a much larger scale. Each bottle takes up 40% less space and is 87% lighter than conventional bottles, reducing carbon emissions by more than 500g per bottle and massively reducing transport costs.
Paper bottles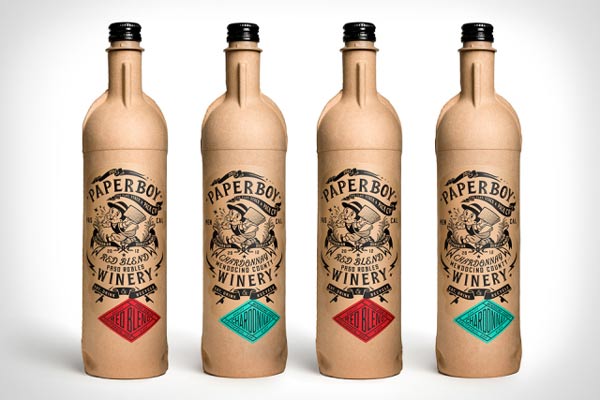 While glass is highly recyclable, paper and card boast much higher recovery rates – and it's an easily renewable material, too. This is why a number of US companies have been experimenting with the idea of a paper wine bottle. Californian wine brand Truett-Hurst, for example, launched a product called 'PaperBoy' in 2013 – a moulded paper outer shell (made of 80% pre-consumer corrugated waste) in the shape of a traditional wine bottle, with a plastic liner inside. According to Truett-Hurst, if all wine shipped annually in the US was packaged in the PaperBoy bottle, the industry would see savings of 50,793,750 gallons of diesel and 560,000 tons of CO2.
Flax bottles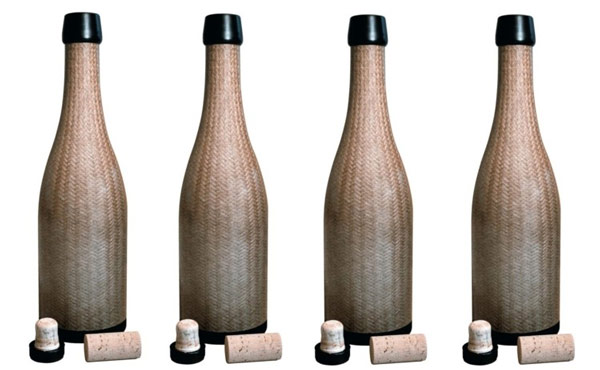 This flax bottle, created by SAS Green Gen Technologies, is made from natural, biodegradable material, providing a much greener alternative to glass, with no impact on taste. A 75cl bottle weighs just 190g, doesn't require any heat-intensive processes for its creation and will harmlessly break down via anaerobic digestion. The company says the bottles will arrive on the market this year, and is already working on bamboo, hemp and sugar cane containers for launch within the next two years.
Kegs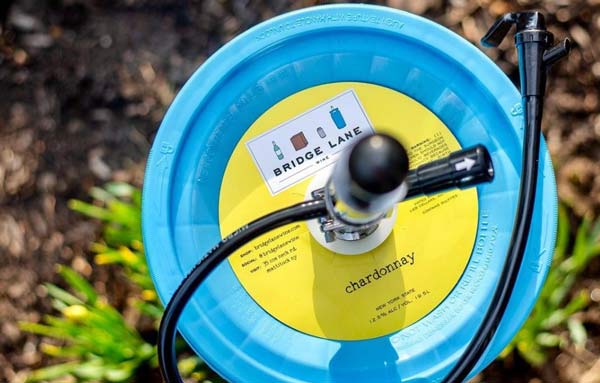 Serving up a keg of wine is probably a little uncouth for an intimate dinner party, but for large gatherings these 100% recyclable containers from Bridge Lane Wine make a lot of sense. Each holds the equivalent of 26 bottles (that's 130 glasses) and has a lifespan of up to two months after tapping. Once empty, the whole thing can be recycled, leaving a much smaller environmental footprint in terms of material use and CO2 emissions than its glass bottle equivalent.
Bring your own container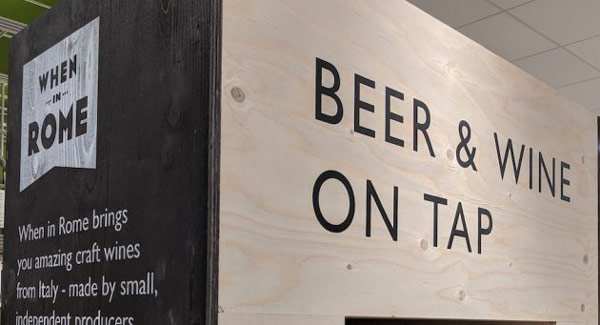 Again, not necessarily the best option for a swanky soiree, but refillable wine systems could certainly be the future of everyday wine drinking. Many eco-conscious stores already offer refillable options for dry goods such as pasta and rice, but Waitrose has recently expanded the idea to cover wine, in a bid to reduce packaging waste. The system is currently on trial at the chain's Oxford Botley Road store and will run until August. If deemed successful, the term 'bring-your-own-bottle' could have a very different connotation.