Before national lockdowns and travel restrictions tightened, our Head of Fine Wine Lukasz Kolodziejczyk managed to spend a few weeks in Burgundy last year and is one of a small group of professionals to have firsthand and on field experience of the vintage. Over the coming weeks we will be releasing producer spotlights and highlights from Lukasz's trip to the Cote d'Or. This is the eighth profile of our Burgundy spotlight series featuring Domaine Coquard Loison Fleurot.
Domaine Coquard Loison Fleurot - Burgundy 2019 En Primeur Producer Profile
"Your new favourite Domaine."
– Neal Martin
Coquard Loison Fleurot, affectionately known as CLF, has the credentials to rank among the upper echelons of Burgundy's elite. It owns six grand cru sites across the Cote de Nuits with an impressive collection of 50+ year-old vines. However, prior to 2010 these were all locked into historic contracts in which the grapes were mostly sold to negociants. Consequently, CLF has yet to be fully discovered and is something of a hidden gem.
Since 2010 when winemaker Thomas Colladot joined CLF, the wines have begun to draw the eye of the large publications. The Wine Advocate's Neal Martin set out to taste his way through as many back vintages as possible, following a visit which, in his words, "sent tingles down my spine." Although many critics have yet to taste the new 2019 wines, initial reviews have been favourable. The 2019 Clos de la Roche Grand Cru is among the top-rated grand crus from the Morey-Saint-Denis area thanks to a high rating from Jaspar Morris of Inside Burgundy.
Thomas shares a close friendship and common approach to winemaking with Sébastien Cathiard of Domain Sylvain Cathiard. Under Colladot, CLF's grand crus exemplify power alongside purity and concentration of fruit, magnifying the individual site characteristics.
CLF wines are still incredibly valued when set next to their peers and are produced in quantities as small as 600 bottles per appellation. However, CLF's wines are already delivering impressive performance, with their Clos Saint Denis sitting at the top of the tree with 120% growth across five years, measured over the last five physical vintages. As the wider wine world wakes up to the potential of CLF, demand, and prices, for these wines could soar even higher.
The 2019 vintage:
Clos St Denis, Grand Cru 2019 96-98 points (Neal Martin)
"The 2019 Clos Saint-Denis Grand Cru, matured with 25% whole bunch and 50% new oak, is cohesive and nuanced on the nose, offering gorgeous black fruit, briar, undergrowth and crushed stone aromas with aeration. The palate is medium-bodied with svelte tannins, a fine bead of acidity and superb salinity on the finish. This was the last Clos Saint-Denis that I encountered in five weeks of tasting in Burgundy, and – blow me down! – it might be one of the best."
Clos de Vougeot, Grand Cru 2019 94-96 points (Neal Martin)
"The 2019 Clos de Vougeot Grand Cru has a very perfumed, floral bouquet of ebullient dark plum and elderberry fruit intermingled with light sea spray/seaweed aromas, all beautifully defined. The palate is medium-bodied with sappy black fruit, a fine bead of acidity and a crunchy, minerally finish that does this ancient clos proud. Superb. Give it 5–6 years in bottle."
Clos de la Roche, Grand Cru 2019 96-97 points (Jasper Morris, Inside Burgundy)
"One of the more delicious noses, perhaps helped by the whole bunch component. Roses and raspberries. Sweet and savoury together, with that mineral crunch, fills out the mid palate very nicely, now a feel of ripe strawberry too, exceptionally persistent."
5-year average prices and returns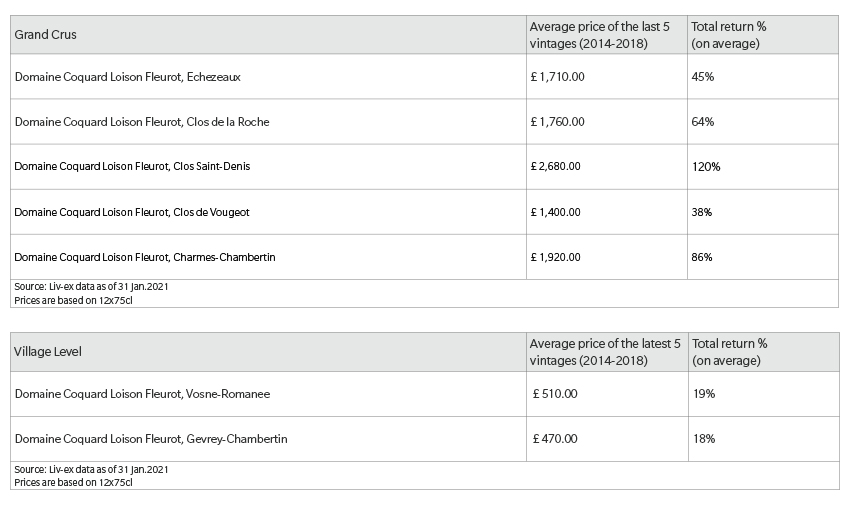 Coquard Loison Fleurot's wines
Village-level
• Vosnee Romanee
• Chambolle-Musigny
• Gevrey-Chambertin
• Morey-Saint-Denis
Grand crus (plot size)
• Grand Echezeaux (0.18 ha)
• Echezeaux (1.29 ha)
• Clos de Vougeot (0.64 ha)
• Clos de la Roche (1.17 ha)
• Clos Saint Denis (0.17 ha)
• Charmes Chambertin (0.32 ha)
Download the Burgundy En Primeur Report 2019
Complete the form below to download your free En Primeur Report today.
Main Photo Credit: WineHog