Source: Liv-ex, investing.com, gold.co.uk, MSCI
Fine wine, as measured by the Liv-ex 1000, rose 1.31% in July, its highest monthly increase so far during the strong 2021 campaign. Champagne continued to sparkle with another strong performance, but the clean sweep of positive returns across all regions emphasizes the overall health of the global market.
The favourable macro environment for fine wine remained intact over the period as the economic recovery and easing of COVID-19 restrictions continued. However, the spread of the Delta variant dented near-term optimism of a swift and smooth return to normality. Equity markets were mixed in this backdrop. North American markets ended the month higher, but the Delta variant contributed to UK markets underperforming.
Asian markets declined on the month as Chinese authorities continued to tighten the regulatory environment to balance sectors within the economy. The longer-term outlook remains more positive, however.
Talk of rising inflation also clouded the near-term outlook as there are signs consumer demand may outpace the recovery in supply chains in some instances, which would exert upward pressure on prices. This has potentially been a factor behind the continued strength of fine wine which can act as a hedge amid a higher inflationary backdrop.
Despite the inflation concerns, core bond prices rose, sending yields lower. Markets may have been taking the view that that the rising yields earlier in the year may have been too much, too quickly.
Fine wine regional breakdown
All regions of the fine wine market posted positive returns in July as the Liv-ex 1000 index added to its record high. The strong month came on the heels of the Bordeaux 2020 campaign, but it was the Champagne 50 which stole the show with a 2.78% gain, resuming a steady upward trajectory after a brief slowdown in June. Champagne's performance used to be more seasonal, but its extended run goes back to 2020 and highlights its rise as a developed investment market.
The Rest of World 60 posted the next highest return at 2.11%, while the Burgundy 150 rose 1.67%, maintaining its place as the best performing region so far in 2021. Rhone carried forward the momentum from a strong June with a 0.94% rise in July.
Bordeaux prices also rose in the wake of the 2020 EP releases. The campaign saw mixed pricing levels but opportunities for growth emerged among the new releases as well as back vintages. The first growth-only Bordeaux Legends 40 climbed by 1.59% in July while the wider Bordeaux 500 ended 0.77% higher.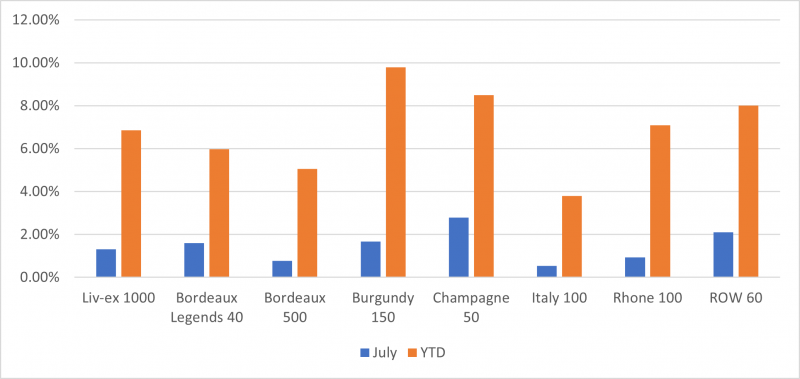 Source: Liv-ex