20 February 2023
China's thirst for wine returns
Pent-up demand in China could add fuel to the fine wine market at just the right time. As Europe and North America contemplate possible recessions in early 2023, high savings rates and an end to zero-COVID policies in China could improve the outlook for performance by keeping the global supply-demand imbalance in place.


Hot start to 2023
The wine market in China has seen a surge in activity in early 2023. Cult Wines' first quarter trade sales in Greater China are on pace to reach the highest quarterly total since before the pandemic (Q1 2020) despite the lunar new year holiday interrupting business in January. The February pace is on track to set a new all-time monthly record for the region.
Asia drives new year sales surge
Cult Wines' quarterly trade sales by region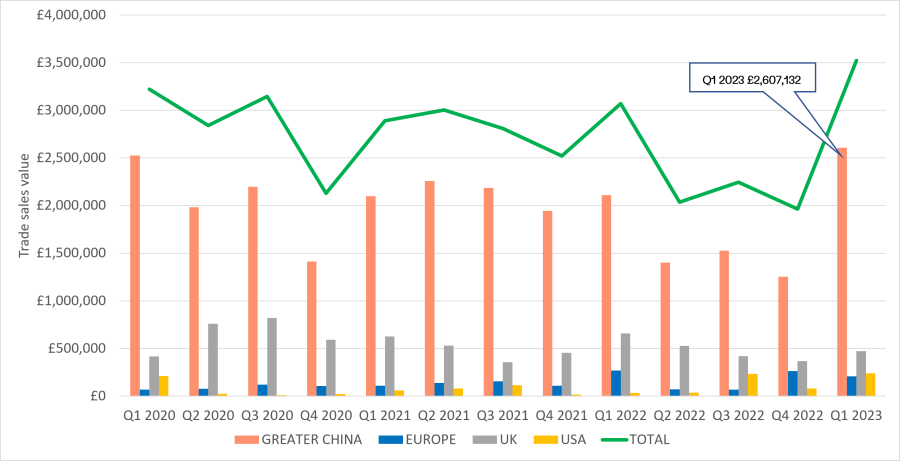 Source: Cult Wines as of 16 Feb 2023.

We've seen demand for a range of wine regions and market tiers. At their current pace, Bordeaux sales in Q1 will more than double their average quarterly total from 2022, but Champagne sales are even higher with a Q1 pace 175% above the 2022 average. Rhone and Chile are also seeing healthy jumps.
Signs recovery can continue
What a difference a year makes. The hot start to 2023 contrasts with 2022 when China's imports of wine halved compared to 2021 as the extended COVID restrictions weighed on economic activity. The abrupt end to the lockdown in late 2022 is likely a key driver of this recent jump in demand.
The question then becomes is this a short-term spike or the beginning of a meaningful recovery? We see a few signs that favour the latter:
Precedent
When hospitality and travel sectors in Europe and North America reopened in 2020-2021, more wine was consumed, and cellars had to be replenished. This led to a sustained rally in fine wine markets stretching from April 2020 to the end of 2022 (Cult Wines Global Index +42.58% over this period[1]), despite below-potential demand from China.


Saving rates
Household savings rates in China are at record highs due to COVID restrictions creating a wall of pent-up demand.
Excess savings rates in North America/Europe contributed to the rally in 2020-2022, and the sheer size of the Chinese market suggests the rising demand for fine wine can last beyond Q1.

Savings rates on the rise
Increase in household savings deposits – USD billion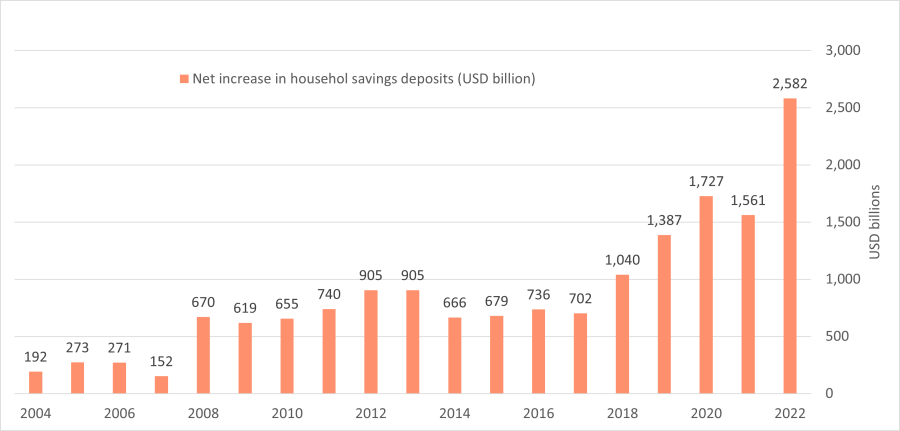 Source: Eeagli Advertising Services.
Other macro tailwinds
China's gross domestic product grew by just 2.8% in 2022, but is expected to recover to 4.9%, according to a recent Reuters poll.
Although the Chinese 'weather' balloon controversy and other geopolitical tensions dominate current headlines, US-China trade figures hit a new record in 2022 despite sanctions still in place. Container shipping costs have fallen recently, with short-term rates below pre-pandemic levels.[2] This should provide a direct boost to demand for wine by lowering wine import costs as well helping the wider economy by keeping the prices of other imports down.
The potential for more stimulus from the country's central bank, which has pledged to implement a 'precise and forceful' policy this year, forms another reason for optimism. The combination of high savings rates and pro-growth policies should help consumer products, including fine wine.
Impact on fine wine: Bordeaux to benefit?
The return of the giant Chinese market couldn't come at a better time for fine wine. The Cult Wines Global Index showed the market slowing in January (-0.52%). This could just be a short-term blip, but our 2023 Outlook did acknowledge that growth could ease temporarily in 2023 as cost-of-living concerns catch up with soaring wine prices. The resurrection of Chinese demand could counteract this slowdown by keeping the global supply-demand imbalance in place.
Bordeaux could emerge as one of the primary beneficiaries. An influx of Chinese demand for Bordeaux wines drove a surge in prices back in 2007-2008, and the region's wines still form the largest outlet for Chinese demand, helped by strong brand followings, an important driver of performance potential in China.
Improved relative value versus Burgundian peers could also lift Bordeaux's potential in 2023. Bordeaux performance has lagged the rest of the fine wine market since the beginning of 2020; Cult Wines Bordeaux Index rose 13.68% from the beginning of January 2020 to the end of 2022, well below the Cult Wines Global Index mark of 42.58%. A few different factors lay behind this, but the subdued China buyer base likely contributed, meaning a return to form would be welcomed by Bordeaux's producers and investors, especially as the En Primeur campaign for the high-quality 2022 vintage kicks off in Q2.
---

Past performance is not indicative of future success; the performance was calculated in GBP and will vary in other currencies. Any investment involves risk of partial or full loss of capital. The results depicted here are not based on actual trading and do not account for the annual management fees that may be charged to a Cult Wine Investment customer which range from 2.25% to 2.95% depending on the size of the portfolio, and there is no guarantee of similar performance with an investor's particular portfolio.

[1] Source: Cult Wines Global Index 30 Apr 2020 – 31 Dec 2022. Pricing data from Wine-Searcher. Past performance is not a guarantee of future results.
[2] Source: https://www.ft.com/content/d739cd47-e434-43c3-9b4e-472bcef4abaf