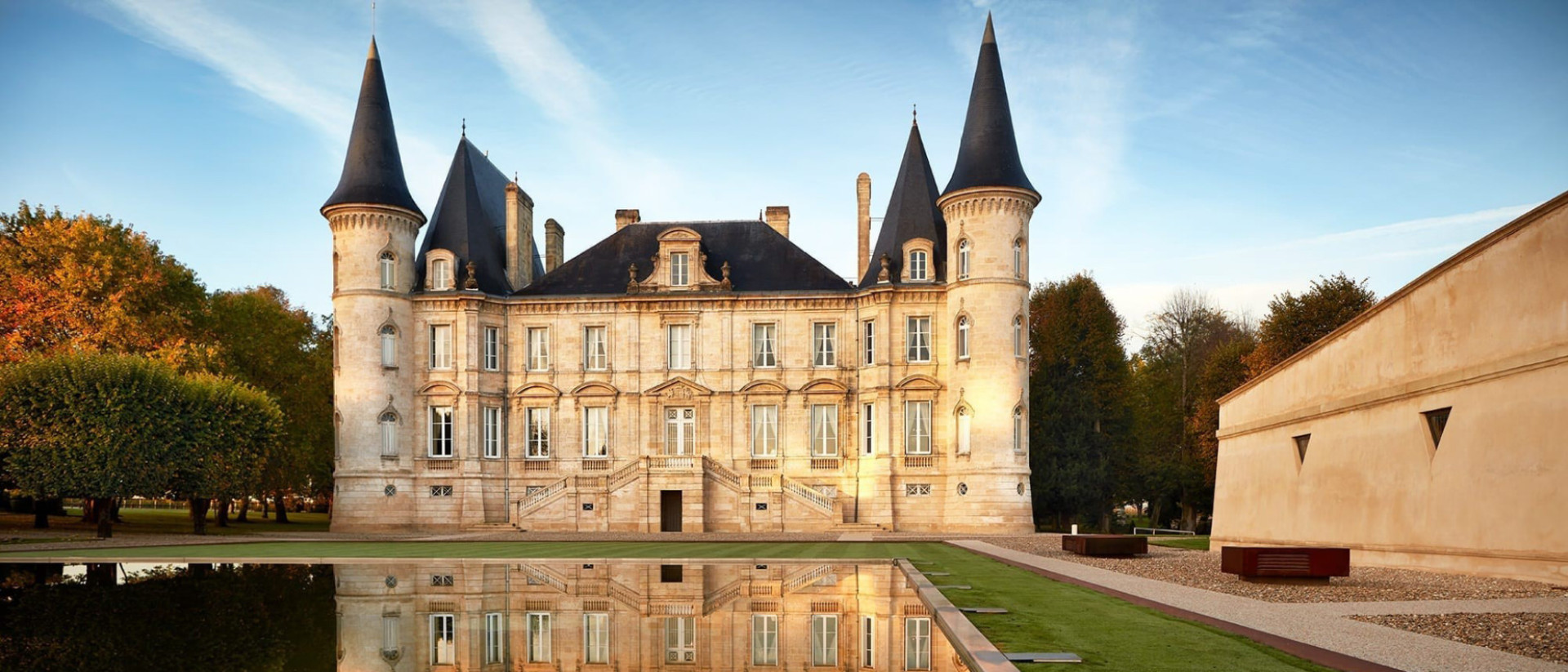 Producer profile
Annual Production (Grand Vin)
Deuxièmes Crus (Second Growths)
Les Tourelles De Longueville
One of the most state-of-the-art wine producers in the Médoc region with innovations including a handsome réservoir that provides natural temperature regulation for the cellars below it.

The estate's aquisition by AXA Millesimes, a viticulture subsidiary of investment giant AXA that holds a fearsome portfolio including the châteaux Suduiraut, Petit Village and Pibran, has been a saving grace to the Pichon Baron name. The estate now has one of the most state-of-the-art wineries in Médoc, with innovations including an optical sorting machine which roots out bad grapes. Englishman Christian Seely's unrelenting strive towards improvement has paid dividends and the brilliance of recent vintages has helped Pichon Baron gain significant momentum in the Far East, with the Chinese in particular holding the Grand Vin in a position of high regard. A fraternal relation to neighbouring Pichon Comtesse de Lalande, traditionally Pichon Baron has been priced cheaper, though in 2011 both vintages were released at the exact same price reflecting recent market sentiment towards its renaissance.
The improvements made under the stewardship of Michel Cazes and Christian Seely had immediate effect, fully reversing the slump in quality seen through the 70s and 80s, and returning this wine to where it should be - at the top of its game. Oft described as a 'classic Pauillac' due to its style and terroir, the 1990 vintage was described by Robert Parker as a "blockbuster", outranking Pichon-Lalande - a landmark achievement. The 1990 is still in great demand, with prices around £2,500 per case and as it has been forecast another two decades' longevity there is certainly potential for long-term growth. More recent Pichon Baron vintages have been remarkably consistent in quality and have scored well with an average score of 94-points since 2000, and the 2009 and 2010 winning great critical appraisal. In short, this is a winery going from strength to strength.
Following its 1855 Classification as a second-growth estate, Pichon Baron (full name Château Longueville au Baron de Pichon-Longueville) was passed down the family line until 1933 when a lack of potential heirs forced a sale to the Boutellier family, who maintained its good reputation. The beginning of the 1960s marked the beginning of a decline in the estate's fortunes however; following the death of Jean Boutellier leadership was criticised as weak and investment lacking. Careless environment control led to the quality of the Grand Vin falling far below expectations of a Second-Growth. This decline was halted following the sale of the estate AXA Millesimes and new leadership in the form of Michel Cazes. The entire chai was rebuilt to an award winning design that incorporated wine cellars being built underneath a new pool to the front of the château residence itself, allowing for a process of natural climate control. By the time Christian Seely was named new president in 2000, Pichon Baron's fortunes were restored and the château has earned a fantastic 97-point average for its three most recent vintages from Robert Parker.
An investment like no other
We make investing in fine wine as effortless as drinking it - combining human expertise, data-driven tech and a love for fine wine.



Wine from this producer: Pichon Baron